Yoga Darwin | Free Yoga In Darwin
Try Flametree Yoga Darwin NT. Online & Studio Classes.
Flametree Yoga Darwin NT offers the best deals for yoga online, or in-studio. In short, there's both beginner or non-beginner introductory deals. In addition, Flametree Yoga Studio has a Darwin yoga space in Woolner,  Palmerston & Casuarina. So you'll get classes to let you easily experience the best yoga space Darwin.
To get started, check out the deals at the 4 orange buttons below, or find a yoga class time via the yoga timetable, or via the timetable and reservations page. Further down this page, there's also useful information & links to Special Focus classes, & more.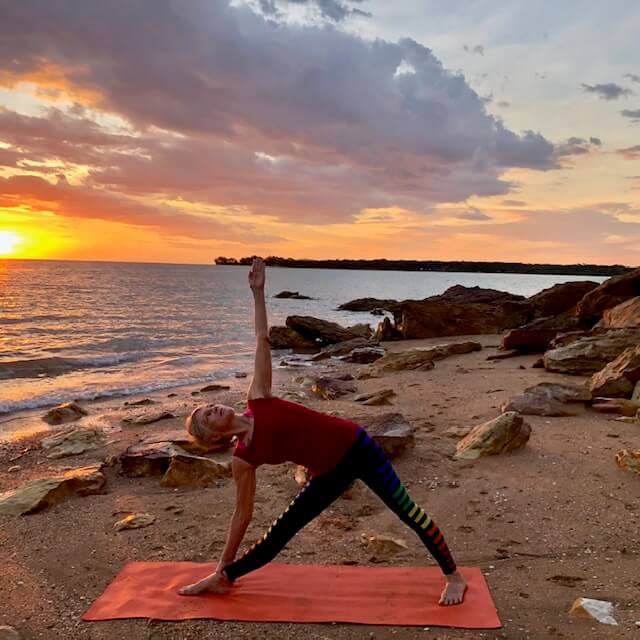 Chris Lalor, accredited Senior Teacher, leads Flametree Yoga in Darwin & online.
At Flametree Yoga Studio, try class types & options for all levels of experience
For a class styles range, choices include many class types. For example, try Gentle Yoga, Back Neck & Shoulder Yoga, Fifty Plus Yoga, Women Only Yoga (for hormonal systems focus), & Immune System Yoga.
In addition, Flametree's timetable is in five levels, from gentle beginner yoga to experienced yoga. So classes will always be at a suitable level for you.
Moreover, you get top quality yoga, in a supportive environment, with beautiful studios. Flametree's experienced yoga posture (asana) teachers will also ensure a serene atmosphere in a beautiful space.
Most importantly, it's all taught or supervised by an accredited Senior Yoga Teacher with over 12,000 hours of training. All of the teachers are experienced asana practitioners.
Above all, there's many generous in-studio yoga classes options, or online yoga deals. So you start your fist class, or re-start yoga, at no risk to you.
Flametree Yoga Darwin quality for all age levels
Meanwhile, even a small amount of regular yoga classes will get you many of the benefits of yoga.
Moreover, the yoga you'll practise is for people of all ages.
For both yoga in Darwin & online, you'll learn modern classical yoga (also know as Iyengar yoga). It also has similarities to several other styles. This means it's also a good option for Ashtanga yoga Darwin. Flametree's restorative yoga classes are also another good way to get yin yoga Darwin classes.
Flametree's way of using 5 levels of yoga means that it is absolutely possible to work just at the level that suits you.
With the Iyengar yoga links to classical yoga, you do poses worked out over thousands of years, and now proven by modern science.
Benefits of Darwin yoga at Flametree
Beyond all this, if you want more, check out the yoga benefits link, on see Yoga Insights at the bottom of this page. For instance, you can explore more details of yoga in Darwin or online, or see studies of yoga. In the same vein, you can read stories of how yoga has worked for many others.
In short, the benefits of yoga classes include improving fitness levels, as well as calming your nervous system. Contrary to what you've heard, you don't have to be flexible to start. But your flexibility will steadily increase. You can work at a level that suits you.
Meanwhile, others do yoga for sleep, better relationships, managing weight, happiness, menstruation, menopause, men's health, personal growth, or trauma.
For instance, there's over 100 health conditions that yoga has been proven to help.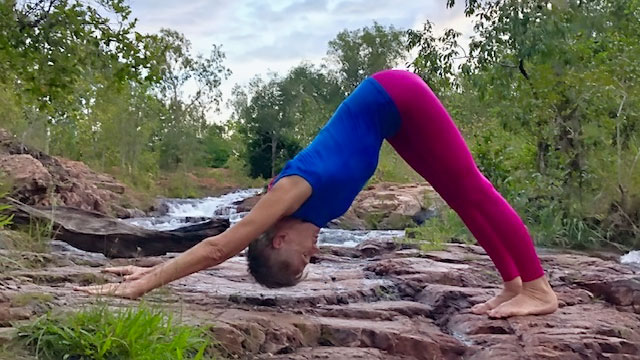 Ten FREE breath meditation classes for yoga in Darwin & beyond
Furthermore, Flametree's Senior Yoga Teacher (Chris Lalor), has 25 years of experience teaching pranayama breath meditation.
Above all, breath meditation and yoga practices work very well together (or separately).
Moreover, Flametree Yoga Darwin is one of the few studios that gives you two important services. It is both a top yoga course provider, and a studio providing regular, full length pranayama classes. You get all of it with high quality teaching.
Most importantly, non-beginners can do TEN FREE full length pranayama classes.
By the way, Flametree nearly always sticks to English terms. For example, we don's ask what are Chitta name meanings. (It means Mind, which enables a person to be aware of the world.) At Flametree, from your first class and forever, you will never be confused by jargon.
In summary, we do modern classical yoga, and breath meditation, Unlike Agoy Yoga, we don't do more than one style of yoga, and we don't think its necessary to do so.
Four easy steps for Flametree Darwin yoga online classes
To sum up, we suggest you get set up for online yoga or pranayama (breath meditation). Then you try an even wider range range of classes and yoga class times.
Further, with online, can also take your favourite yoga classes with you when you travel for work or play. Share our yoga space Darwin anywhere.
Here are the four easy steps to set up for online yoga classes, so you never miss your weekly classes yoga.
Then get settled and wait for the teacher's easy instructions on what to do. When it comes to yoga teaching, we're not about creative expression of the teacher. Instead, we just give you simple verbal help, along with demonstrations of poses.
Summary of Flametree's Yoga in Darwin options, with 2 week FREE trial, & unlimited classes
Certainly, if you prefer privacy, or you have particular conditions, we offer private classes. They can be done as yoga in Darwin, or online. So you can create your own very private Darwin yoga space, no matter where you are.
After you get to class, if you don't have a yoga class pass, please pay before class starts.
During class at 19 Bishop Street, Woolner, all yoga props are provided. But if you wish, you can bring a BYO mat.
When at yoga Casuarina classes, or Palmerston, please bring your own mat.
Also during the year, watch our Instagram or Facebook for regular workshops & yoga retreats. Sometimes, there are other experiences classes. Plus there are other annual training options. Sometimes they are part series (or parts of a bigger training).
Gift cards are available.
Ph +61 468 362 641  or  +61 448 11 22 51.
Most importantly, Flametree acknowledges Larrakia Nation. They are the traditional custodians of the land of the yoga territory in which we practise.
Check Out Darwin Yoga Deals
If you wish, get more information from our yoga teachers at our 3 Darwin yoga studios. Teachers can act as a yoga lifestyle guide, as well as offer classes that are the best fit for your yoga classes. As a result, you can get maximum lifestyle support.
Alternatively, reach out via our phone number or email address.  (Or stay in touch to hear about our community activities).
Get free 2 week trials, including beginner courses, at the NT's home of yoga.
Yoga students with at least 6 weeks of yoga can also get top quality meditation on the breath via 10 free pranayama classes.
So use all these different class offerings to get the highest quality instruction for a top-notch education in yoga.
Try the NT's place of high value yoga.
Chris Lalor, demonstrating the good alignment principles for which Iyengar yoga is famous. If you're also after yin yoga, or Ashtanga yoga, then Flametree Yoga NT is also an excellent option. Of course, all yoga in the NT is hot yoga (or an escape from hot yoga). We mean that you can retreat to our aircons if you choose. Try the best yoga territory in Darwin today. 
Insights From Flametree Yoga Darwin NT