Getting enough sleep can be a challenge. Try any or all of these yoga poses for sleep, and it can transform your life.
But deep and sufficient sleep is one of the best things you can do for productivity, longevity, looking and feeling good, reducing irritability or disease, and more.
Dr Walker, one of the world's top sleep experts, discusses the benefits of good sleep, or the horror of not getting it, in another of our sleep posts.
Given the terrible impact of not getting enough sleep, this post is about how to fix it.
The pictures with this post show some very simple poses that you can do before you go to sleep, or even if you wake up, and need to get back to sleep.
These yoga poses all work because of the way they work with your glands, hormones and other regulators in your body.
This post won't go into why they work. Instead, this Post will just show you how to do them.
Doing any or all of these poses during the day will also calm you down, so you are more likely to sleep well.
Among other things, Professor Matthew Walker has also explained why they will improve your intimate life. 
How yoga improves sleep
Doing regular yoga classes will also help with getting to sleep, and sleeping soundly. Regular yoga will relax you even more, and give you some appropriate degree of workout. Both of these help even more.
However, to do the poses below, you don't have to necessarily do yoga by regular classes or extended daily practise of yoga at home. It will help even more if you do, but these yoga poses for sleep will help anyway.
Yoga props or supports to do the poses in the pictures will also help, but again they are not essential. Other supports from around the home will do the job, such as folded blankets, firm cushions, or anything in the shape of a firm brick. (If you want, here's more about yoga prop options).
A pile of hard cover books is also another yoga prop improvisation, especially if you put something soft on top, such as a small piece of foam.
Here are two poses that you can do even if you wake in the night, and need to get back to sleep. They are the two easiest poses of all.
Leg Up The Wall is a favourite for improved sleep
The first yoga pose for sleep is "Legs Up The Wall. You can see it in the picture below.
It's done with a firm bolster, or firm cushion, or a couple of folded blankets, under your buttocks. Hold the pose for at least 5-10 minutes, and the longer the better. If you legs go to sleep, fold them down and then put them up again in due course.
To get more precise, it's best to position your lower back on the bolster.
It also helps if you put a brick (or books) between the bolster and wall, so the bolster stays the right distance from the wall. Ideally, the distance from the wall should be about the width of your hand.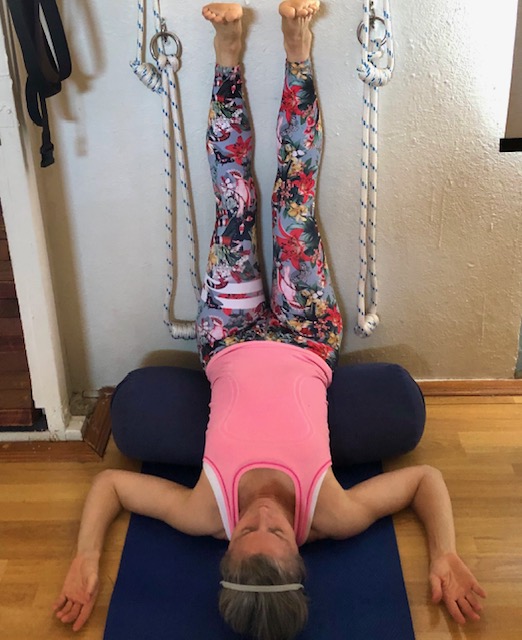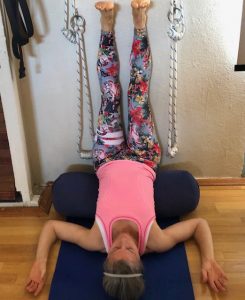 Legs Up The Wall Pose For Sleep and Calming
Two versions of Bridge Yoga Pose for sleep
Bridge pose with block or bolsters is the second pose that is very effective and easy. It is also easy to do if you wake at night.
I have the matt and bolsters set up in the house, so I can just lie over them if I need to.
One version of Bridge pose for sleep is called T-shaped Bridge pose. Here are the steps to get into it.
Put a bolster or folded blankets against the wall
Put another bolster or blankets at 90 degrees to it, out from the wall.
Your feet go on the support that is at the wall, and your spine goes along the support out from the wall.
Position the support under your back so your shoulders just touch the floor.
Start with bent knees, and press away from the wall so your feet end up press pressed firmly to the wall.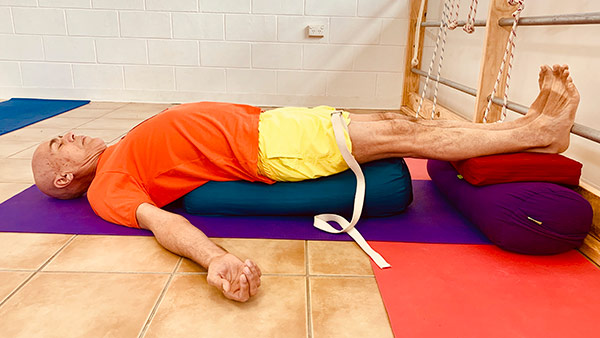 Bridge pose with T-shaped bolsters, folded blankets or similar supports
Another version of this pose, which is a bit harder, but more effective, is to simply put a firm brick under your lower back (or sacrum).
Wedge your feet to the wall so you can stay as long as you choose… such as ten minutes or more.
This pose is a bit stronger. Personally, I find it more effective for really calming me down, and helping get off to sleep.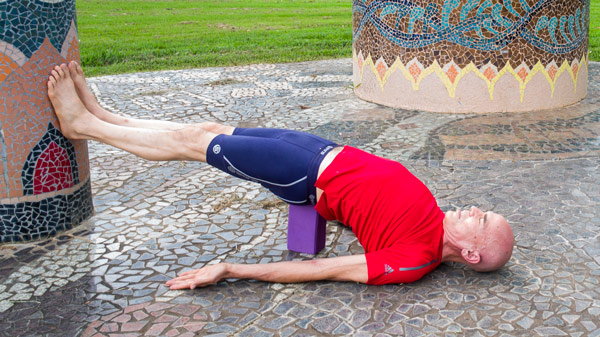 Bridge pose with a block under sacrum or lower back
Other yoga poses for sleep, calming, stress or rejuvenation
The other three poses below are also good to do at any time of day, so as to relax or rejuvenate or both.  When its time to sleep, they will have calmed you so you sleep better.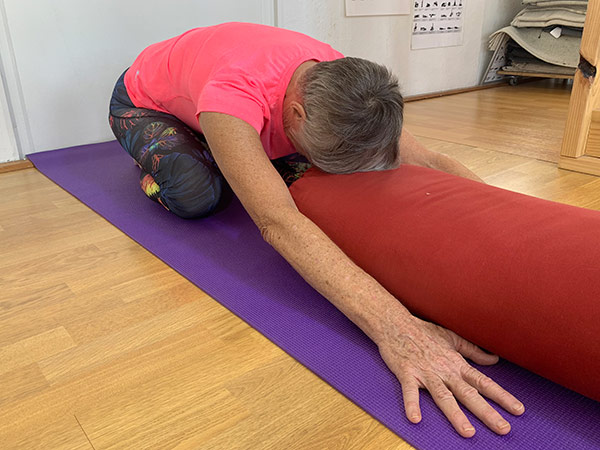 Forward Virasana pose with head support for better sleep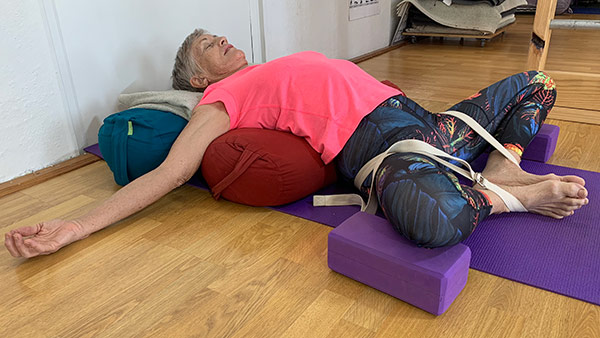 Badda Konasana with 1 or 2 bolsters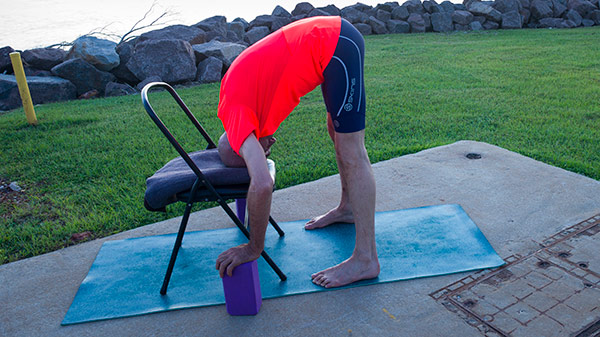 Supported standing forward bend
Restorative yoga classes are especially good for sleep
All of the poses discussed in this post are so-called Restorative Yoga poses. Flametree has at least two restorative classes a week.
There are also restorative yoga classes for beginners, or so-called Easy Restorative.
Restorative poses are also built into a range of yoga classes. Here is the timetable for beginners, and non-beginners. 
Doing a restorative class is an excellent way to both calm and de-stress, as well as to improve your sleeping.
Leg's Up The Wall pose, or Bridge pose, are also often done by students when they waiting for a Flametree pose to start, or as part of the relaxation at the end of class.
Breath meditation is also excellent for improving sleep.
More on sleep from Flametree Yoga
If you search for "sleep" on Flametree's Facebook Page, you also find several more posts, including some about poses that help.
In particular, I recommend this post in which I summarise recent research by the world's top sleep expert.
Yoga as revolutionised my sleep and sleep quality. But yoga is not the only thing I do for it. I take care to darken and cool my bedroom, consume in the right ways, and do the various other things that sleep experts recommend.
But I absolutely would not be successful at getting enough sleep if I did not also include yoga and breath mediation in what I do. The key thing about yoga is that it gives you a systematic way to reduce stress, calm down, and reduce anxiety.
Anxiety is important because it has jumped significantly in these COVID times. Some studies show that up to 40% of people have some type of anxiety, with much of it influenced by COVID.
Anxiety, difficult as it is, is possibly less of a problem then the others caused by lack of sleep. In another post on sleep, the deadly problems of not sleeping are summarised in an extract from Professor Walker's book on sleep.
Improve your sleep with yoga or breath meditation
The next 6 week beginner yoga course, with up to 2 weeks free, is one good way to start.
You get an unlimited mix of beginner classes, online or in-the-studio, or both.
The beginner poses are easy, introductory poses.
There are even special, optional beginner classes like Gentle Yoga, Backcare Yoga, and Easy Restorative Yoga.
You can see all beginner classes and options in the beginner timetable.
There is a also a Beginner Yoga week-to-week pass.It's online or in-studio, or both, with a 2 week free trial and money back guarantee. With this pass, you can start anytime.
The beginner double pass even gets you 25% off each beginner course pass.
NON-BEGINNERS, who are new to Flametree, or lapsed students, get 14 days of unlimited classes for just $29. That's less than $2 a class for daily non-beginner yoga. Learn more here.
All Flametree packages, including casual classes, subscription and ten pass deals, are here.