Yoga Retreat Bali 2024: Schedule, Rooms, & Prices.
All Different Styles Of Yoga Are Welcome.
Plus, useful things to know, take, & do.
Flametree Yoga Retreat at Pondok Pisang Resort, Candidasa, Bali, Indonesia.
Looking for, or coming to, the Flametree's yoga retreat Bali 2024? This yoga retreat in Bali 2024 is the best Bali yoga retreat 2024. See why. By the way, a vegan yoga retreat Bali option is included. You get a full 6 night's accommodation, with 3 meals a day, 6 days of very high quality yoga and breath meditation instruction, and a half day off in the middle for sights, chilling out, or other options. It's the best deal of that an affordable yoga retreat Bali has.
So, welcome. This guide gives more detail on room and price options, daily activities at the retreat, and more. It also helps you prepare for the retreat, know what to expect, what to bring, and gives you the schedule of each day.
If you have any questions, talk to us in our regular classes, or  contact us, or reach out via the Chat on this page.
Pondok Pisang, Candidasa, Yoga Retreat Resort 2024
Take a wonderful Iyengar yoga tour to the best yoga escape Bali has.
The aim of the retreat is not necessarily to leave with a set of fancy poses. But, if you wish, there will be plenty of opportunity to steadily improve your yoga or breath meditation, or both.
In addition, Chris Lalor, as an accredited Senior Iyengar Yoga teacher, can work with you to develop whatever you want to focus on, including any particular condition you want to manage better.
Some other key objective of the retreat are to:
learn more about your relationship with yourself
learn to use yoga and breath meditation to quieten your mind,
develop more inner peace, and
move you along a path towards higher consciousness.
Our inspiration lies in the ancient yoga book called The Bhagavad Gita. It says: "Yoga is the journey of the self, through the self, to the self."
A Kriya yoga approach, otherwise known as yoga in action, will be an important route to attaining these outcomes. If you wish, read more about Flametree's Kriya yoga approach.
Shared & Single Room Options
The next sections tell you more about room options at the retreat.
At Pondok Pisang, there are shared rooms and single rooms.
The single rooms have their own private bathroom and toilet, as well as air conditioning.
The shared rooms have either 2 or 3 people per bungalow, and share a private bathroom between them.
The shared bungalows are roomy & free-standing, & have both an upstairs & downstairs room (connected & sharing the same bathroom / toilet).
Where only 2 share a bungalow, each person has either and upstairs or downstairs section of the Bungalow.
There are only 2 bungalows where a maximum of 3 share the bungalow. These are to two largest bungalows. One is directly overlooking the ocean. The other is a very large Family Bungalow which in other scenarios could sleep up to 7 people.
Sharing Arrangements
In a shared room at Pondok Pisang, you can indicate who you want to share with, & discuss with us before you book.
Alternatively, tell us the other person/s also booking, with whom you will share.
We cannot make 100% guarantees about sharing arrangements, because it depends on who attends.
If the final sharing does not suit you, you can withdraw, subject to our cancellation policy.
Plus, once any sharing arrangement is agreed with you, we will of course stick with it. Otherwise, you have the right to fully withdraw, with no cancellation fee.
If there is any uncertainty about who you will be sharing with, we will stay in touch with you as arrangements firm up, so you can make decisions as needed.
Single Room Options At Either Pondok Pisang, Or Close By
There are also single room options outside of Pondok Pisang, at the 4 star Sea Breeze Hotel (4 small street blocks away).
This is a 4 star hotel, right on the sea front. All rooms are full air conditioned. It's a very pleasant modern hotel, with plenty of Balinese features, a swimming pool, and gorgeous sea views.
All 3 meals each day are with the rest of the retreat group at Pondok Pisang.
A private, chauffered, car shuttle will operate as required to ferry you the 4 blocks to and from the retreat site. It's also a very walkable distance, around 500 metres.
In this Sea Breeze single room option, you can, if you wish, include a life partner, who's not part of the retreat. They organise their own meals, and their own agenda around Bali. You pay just the single room rate. (In other words, they can be an extra person in your double room, at no extra charge).
More about the Sea Breeze Hotel Resort room
More details of the single room option at the resort hotel that's 500 metres away from Pondok Pisang. Features of this single room option include these.
Sleeps one or two, in double or twin bed (with king size bed)
Ensuite bathroom / toilet
Airconditioned, with a room size of 38 square metres (8 metres by 10 metres)
Sea view with breathtaking views overlooking the Indian Ocean, Nusa Penida & Nusa Lembongan Island.
Balcony, Hairdryer, Cable/Satellite LCD TV, & Internet access
Safety box, plus kettle, tea, & coffee
Room is just 60 meters from the ocean
18 x 8 meters swimming pool, plus ocean swimming in front of resort
a partner can share this type of room with you (as a double), or it can be configured as a twin room (if you wish to share with a friend who is, or is not, going to the retreat). 
I'll also be staying at the this outside resort, so you'll also have all the usual access to my time.
Summary of price options at early bird rates
The rates below are for 6 nights accommodation & 3 meals a day.
All of these prices can be paid in a single payment, or in 3 instalments. (That is, a deposit when you book, & the balance in late Jan & Feb 2024).
The early bird shared room at Pondok Pisang is $1,549.
The early bird single room rate at Pondok Pisang, is $1,849.
The early bird single room deluxe room off site in the nearby sea front hotel is $2,290.
To pay a deposit, or learn more, follow the orange link below. (If the deluxe room option is not on the site when you visit, then please come back within a day or less, and we'll have it available).
Below, the dedicated yoga room (or shala) at the best 6 day yoga retreat Bali has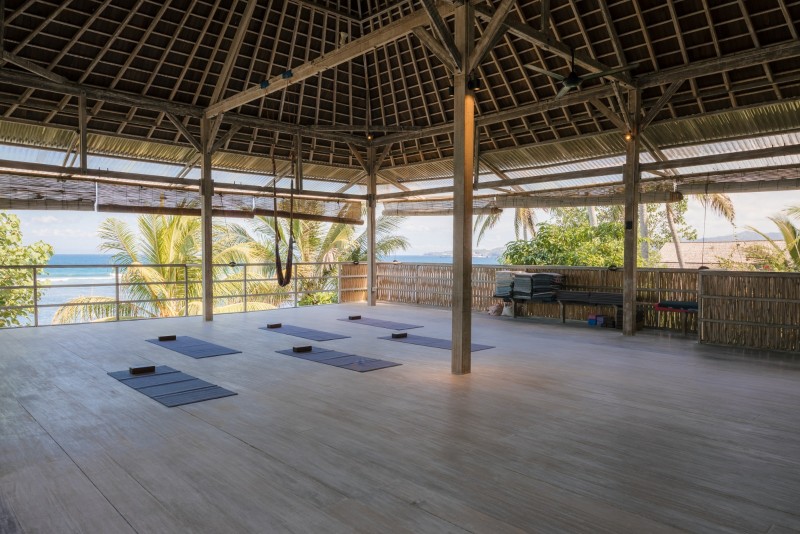 This yoga retreat center has a dedicated yoga room ​with ocean views. It's right above the dining room. Use the room anytime classes are not on.
Daily schedule
Thursday 4 April 2024
Arrive during the later afternoon usually, but check with us if you arrive earlier.
5pm-6:00pm –  Subject to arrivals, there may be a restorative yoga class.
6:30pm – Dinner.
Friday 5 April. (First day of our daily yoga sessions)
The first day of several days that will follow roughly this schedule (subject to updates closer to the retreat).
All classes with Senior Teacher Chris Lalor.
6:30am – Pranayama breath meditation (aka breathwork)
7:45am – First daily breakfast
9:30am-11:30am – Yoga asanas. (Wide range of active poses adapted as needed to individuals).
Noon – Lunch, followed by free time
4:30pm-6:00pm – Restorative yoga, & immune system yoga
6:30pm – Dinner
7:30pm-8:30pm – Yoga talk and discussion.
Saturday 6 April, & Sunday 7 April
6:30am – Pranayama breath meditation (aka breathwork)
7:45am – Breakfast
9:30am-11:30am – Varying sequences with standing poses, inversions, twists, forward bends etc.
Noon – Lunch, followed by free time
4:30pm-6:00pm – Restorative yoga, & immune system yoga
6:30pm – Dinner
7:30pm-8:30pm – Yoga talk and discussion, & one free evening over the weekend.
Evening talks
There are 4 evening yoga talks over the 6 days.  Some options we could cover include these:
My yogic approach to intermittent fasting, & mindful eating
How your nervous system and fascia interact
How Immune System Yoga, & Restorative Yoga work together
Elements of Kriya Yoga for inner peace
The 8 limbs of yoga, & how they fit together
How Pranayama breath meditation & breathwork help, and why
Chris' story of starting a vegan yoga retreat Bali journey (after her last retreat), & what she got from it
Any of the many other topics Chris covers on the Flametree blog.
What preferences do you have on what you'd like to hear about?
The Many Ways To Use Yoga Ropes
The purpose built yoga room at this Bali retreat has some yoga ropes (& yoga swings).
They can be used for simple or more challenging poses. They're fun, give lots of benefits, & help improve your yoga. 
Monday 8 April. Classes in morning, & afternoon off.
6:30am – Pranayama breath meditation
7:45am – Breakfast
9:30am-11:30am – Yoga Asana class
Noon – Lunch
Afternoon free 
If you wish, the resort has a range of short tours of almost any part of Bali.  You can organise them by yourself, or with others. You do them at whatever extra cost you work out with the Resort, or whatever. (Wayan, the taxi driver we suggest, also can provide options, or put you in touch with them).
If you wish, another option at your expense includes a Balinese cooking class at the resort.
Alternatively, you may prefer to do your own thing on this half day off.
They'll be more details when you arrive. Please chat to us if you want some suggestions or questions.
6:30 pm: Dinner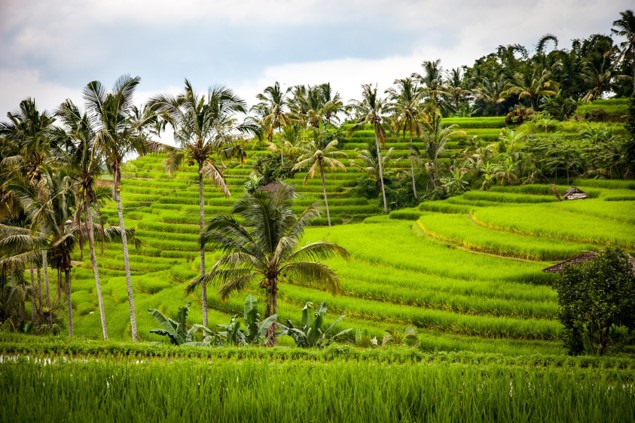 Enjoy an affordable yoga retreat Bali style
Tuesday 9 April
6:30am – Pranayama breath meditation (aka breathwork)
7:45am – Breakfast
9:30am-11:30am – Each day, all sequences varied for interest, & customised to those in the class.
Noon – Lunch, followed by free time
4:30pm-6:00pm – Restorative yoga, & immune system yoga
6:30pm – Dinner
7:30pm-8:30pm – Yoga talk and discussion.
Wednesday 10 April
6:30am – Pranayama breath meditation (aka breathwork)
7:45am – Breakfast
9:30am-11:30am – Each day, all sequences varied for interest, & customised to those in the class.
Noon – Lunch, followed by free time
4:30pm-6:00pm – Restorative yoga, & immune system yoga
6:30pm – Dinner
7:30pm-8:30pm – Yoga talk and discussion.
Thursday 11 April
6.30-7.30am – Optional pranayama breathwork
7:45am – Breakfast.  Check out and Farewell
Noon – Optional lunch, or packed lunch available to get you to a total of 36 meals over 6 days.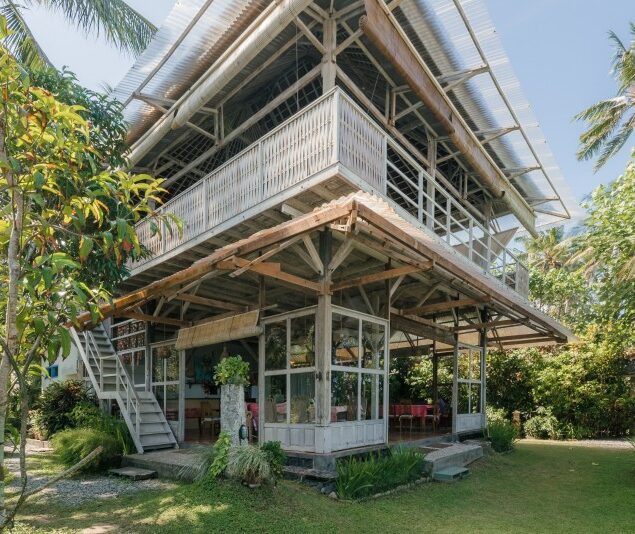 The dining room, with the purpose built yoga retreat room, on top.
(By the way, there's options so you'll also get the best vegan yoga retreat Bali has).
A dedicated yoga room is the most important feature that an affordable yoga retreat Bali has to have.
Bonus: 4 pranayama videos & 10 extra classes
As soon as you purchase this yoga and breath meditation retreat Bali package, you also get unlimited access to 4 pranayama training videos by Flametree's Senior Yoga Teacher Chris Lalor.
When you've completed those video classes, you also get 10 FREE passes to Chris' ongoing, weekly pranayama classes at Flametree Yoga Studio (either online or in-studio). You get these 10 classes even if you've accessed them via some other package.
If you've already done a pranayama breath meditation course with Chris (or a number of her weekly pranayama classes), you can start using the 10 free classes as soon as you like.
Those who've not done pranayama breath meditation, or who want a refresher, can do any mix of the video classes before, during, or after this Flametree Yoga Retreat.
The pranayama classes are normally $21 each, and the 4 pranayama videos are normally $49. So, this bonus gives you an extra $250 of valuable breath meditation training.
What to bring
Here are a few items you may not otherwise think of. By way of background to your packing, this Bali yoga retreat resort has a fully dedicated yoga room with bolsters and mats. There's also some yoga swings, yoga ropes, & some blankets.
1-2 foam yoga bricks and a yoga strap
2 thick beach towels, & ideally a blanket (for pranayama)
Your own yoga mat if you have one (but they're also provided)
Favourite swimmers and / or sarong
Whatever yoga clothes you prefer, & other casual clothes
Phone charger and conversion plug (WIFI is available)
Mosquito repellent (they're not a big deal, but just in case)
Shawl or light jumper
Shoes for walking
Your own coffee (if you don't happen to like the Balinese style of coffee)
Your own "designer" tea bags like the Pukka brand or whatever you may especially like
Any snacks you want in your room (in sealed containers)
Any medications, & own travel first aid items like headache pills, betadine anti-septic ointment, & Band-Aids
Books you're reading.
Washing powder (but very low cost clothes washing is also available).
By the way, if you're serious about coffee, consider taking own, as we mention above. Maybe even include your own plunger, or at least higher quality coffee bags. Most Bali coffee is weak by Westerner standards.
Let's know if your own list has extra's that you want to share about.
Use the bottled water at the retreat
Even good tourist sites and magazines, will tell you NOT to drink bottled water in Bali. We agree!
The resort provides unlimited bottled water.
This includes cleaning your teeth with bottled water.
In addition, if you buy a drink elsewhere in Bali, make sure that it does not have ice or other tap water.
What to expect at this 6 day yoga retreat Bali 2024
Sessions will be paced around the experience of the group and differentiated where appropriate.
The yoga space is available for your use when classes are not running.
No alcohol during the retreat, please. All food is vegetarian. However, if you request it, we can ensure there are additional vegan options, so you can definitely have a vegan yoga retreat Bali experience.
If you have any concerns about so-called "Bali Belly", then we recommend that you only eat at the Pondok Pisang resort, and take a packed lunch on the day you leave. In over 10 years of retreats, we've never had a case of Bali Belly from those eating this resort's food.
Your free time is your own. You can read, snorkel, swim, sleep, have a massage, go for a walk to the local village, or whatever.
Delicious vegetarian food at this Bali yoga retreat, & vegan options.
Best 6 day yoga retreat Bali has.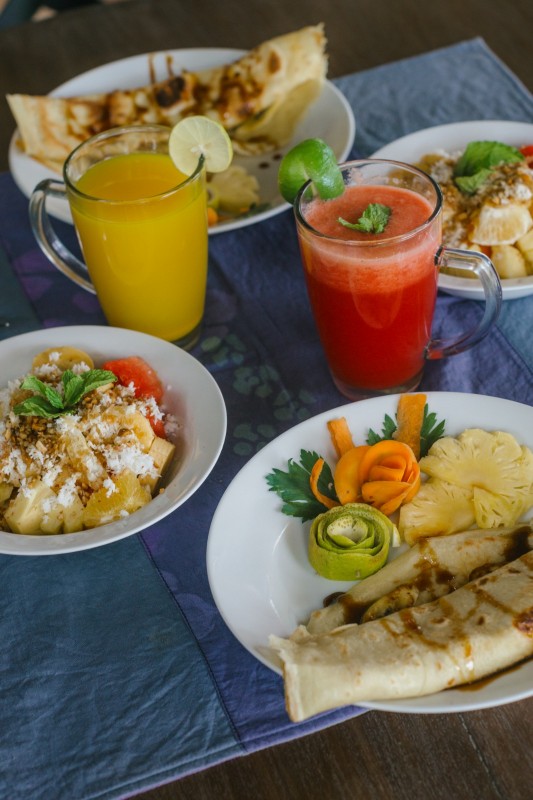 This Bali yoga retreat provides 3 delicious meals a day, for 6 days. All food it vegetarian. If you're so inclined, you'll also find that it's the best vegan yoga retreat Bali has.
Below there's other background information. You may find it helpful either before you leave, or if you're still considering if you will join our 2024 Flametree Bali Iyengar Yoga Retreat.
Room allocation for this 5 day yoga retreat Bali 2024
For those who are sharing, Chris Lalor will allocate the bungalows and rooms as soon as we know who exactly is attending, and their preferences.
To give your preferences, please use the form on our Bali Yoga Retreat purchasing page.
The bungalows take either two or three. If two, options include one person on the upper level, and one on the lower level, in the same bungalow.
There's also some double room options for couples etc.
Each bungalow is also very roomy… as you can see on the pictures on our retreat purchasing page, and Facebook page.
If you have not already, just download the personal information form on the same page that you use to buy (also under the PASSES tab on site). Please use it to tell Flametree about your preferences around rooms etc.
For those who have bought single rooms, or are sharing, the resort will know which room you are in. So, when you arrive, just check with reception in the normal way.
​Airport transfers to and from airport
To arrange a taxi, the easiest option is to use the private driver that several of us have used for many years. His name is Wayan, and he speaks English well, and drives safely. (He does not give us any commission!).
The best way to reach him is to call or text him on WhatsApp, at +62 878 6314 6433.
If there are more than 4 for a cab, he can arrange other cars. (He lives near the retreat resort). You can obviously liaise with him around the return, or using him on the half day off in the middle of the retreat.
If you book with him before you go, he will be waiting for you with your name on a board he will be holding up as you come out of Customs.
For affordable yoga retreat Bali options, see our our INSTALMENTS page.
One way fare per car in rupiah is AUD$45
Wayan knows you're coming, and that you're going to the Flametree Pondok Pisang retreat.
Split the fare among you, depending on how many there are.
Getting some Indonesian Rupiah before you go is probably easiest… but you can obviously change money at the airports. The total one-way fare for the whole car … with up to 4 people if you want… will be 450,000 Rupiah (AUD$45).
Drivers in Bali also expect a small tip.
We deliberately did not include the taxi fare in the retreat cost, because people have told us they prefer the freedom of arranging it all directly themselves. As you can see, if you share taxis, it's not expensive.
Setting up WhatsApp for texts & calls
By the way, if you've never used WhatsApp, it's a service owned by Meta / Facebook. If you have WIFI, it gives you free text and calls.
If you want any directions on setting up or using WhatsApp, here is a simple one pager by the Australian Government on HOW TO USE WHATSAPP.
To arrange a taxi, another option is to contact the Pondok Pisang resort direct on [email protected]  OR, phone the resort on + 62 363 41065. They will charge slightly more than Wayan.
Passports and vaccinations
Remember, Indonesia requires that you must have 6 months of passport validity (& no tears in the passport).
From 9 June 2023, Indonesia is no longer requiring COVID vaccination. This is reported at many sites, including this set of useful Bali information (https://bali.com/)
So, try the best affordable yoga retreat Bali has, including the best vegan yoga retreat Bali option.
For affordable yoga retreat Bali options, see our our INSTALMENTS page.
30 tourist visa & customs declaration
To travel to Indonesia, you will need a 30-day tourist visa. You can apply online for an e-Visa here or purchase on arrival at Denpasar airport. The cost is  AUD$50.00.
You will also need to complete a Customs Declaration form. You can either do this 3 days before departure here and save the barcode on your phone, or you can complete it on arrival at Denpasar airport. This is free of charge.
Travel insurance and medical insurance is recommended
We suggest you have both travel insurance and medical insurance.
Here is a useful guide from the Australian Government, including Choice, about travel insurance.
Obviously, we make no recommendations on the insurance providers to use. However, this medical evacuation insurance blog post has much useful information.
It's also worth checking what's provided by any existing private health care you may have.
If you have any tips from your own investigations, we're happy to pass them onto others.
Try the best 6 day yoga retreat Bali has.
For affordable yoga retreat Bali options, see our our INSTALMENTS page.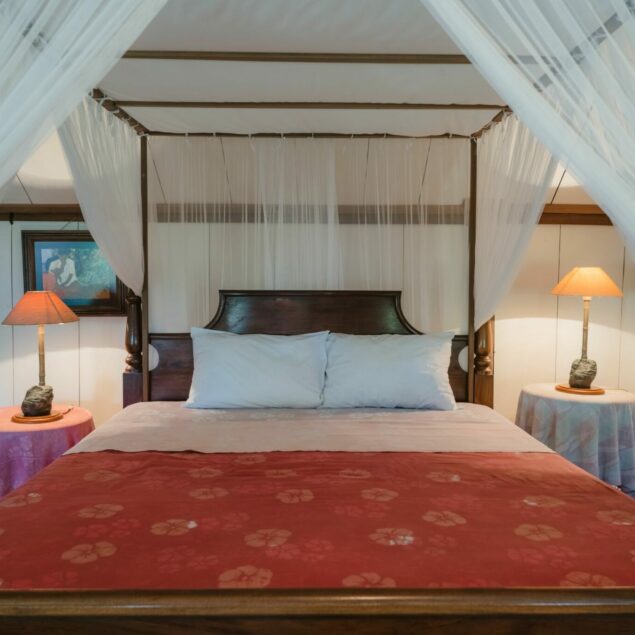 Each day, via yoga & breath meditation, swimming, & more, you'll sleep well in the beautiful yoga resort bedrooms.
Why this is the best 6 day yoga retreat Bali has
There's a range of important reasons you'll find this among the best yoga retreats. For a start, you'll get plenty of daily yoga classes to improve your yoga practice.
The schedule above shows how it's also a breath meditation retreat. In the additional time you have you can also increase your inner peace, via additional yoga and meditation practices.
Other key reasons why it's among the best retreats include:
daily vegetarian meals of delicious food
​extremely healthy meals that never make you sick!
if you wish, you can also have a vegan yoga retreat Bali experience.
yoga adapted to individual skill levels
time so appreciate cultural activities in this "Island Of The Gods", including ancient temples, and many other aspects of Balinese culture
​Candidasa (aka Candi Dasa) is a great place to see traditional life in rice fields, rice paddies, & other local culture
surroundings that are the best place to get to the core of your inner self
plenty of free time to appreciate the natural surroundings of this resort
​opportunity in our classes to meet your individual needs or situation
classes will work with a variety of yoga styles, such as yin yoga, hatha yoga, or vinyasa yoga, with the primary style being Iyengar yoga.
A perfect place to practice yoga, & have a yoga holiday
Chris Lalor is among the best of highly experienced yoga teachers you'll find. As a certified Senior Yoga Teacher, she has immense training via the Iyengar yoga teacher training method.
Her breath meditation sessions also originated in the work of Mr BKS Iyengar.
Chris has also spent a lot of time in Bali, so she's able to give you top tips on the best places to visit for more unforgettable experience of the island of Bali, and it's daily life.
For example, Candidasa is noted for its coral reefs, and is popular with divers.
This retreat package is a good choice because there's time for it to be focussed on whatever is your priority. For example, it could be that your after wellness retreats, spiritual growth, breath meditation classes, or improving your yoga skill level.
If you wish, discuss your needs and priorities with Chris, and she can make very effective adaptions to the yoga and breath meditation you practise during the retreat.
​Essentially, you'll have a full week to focus however works best for you.
For affordable yoga retreat Bali options, see our our INSTALMENTS page.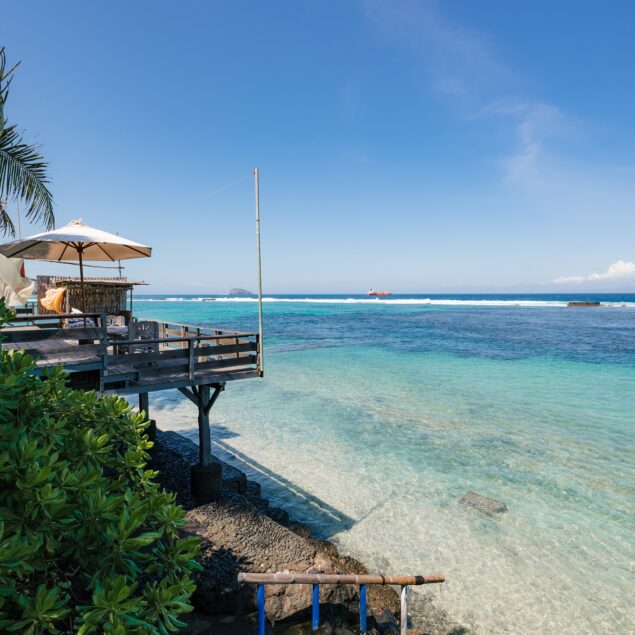 Enjoy the beautiful garden and views. Come to the best affordable vegan yoga retreat Bali has. 
More key elements of an affordable yoga retreat Bali
​You can see from the pictures and videos that you're essentially getting a luxury yoga retreat at an affordable price.
If you'd like it as an extra, the resort also can provide services like a Balinese massage.
Meanwhile, the yoga swings in the yoga center give you an Iyengar yoga version of aerial yoga.
​The healthy lifestyle you can pursue during the retreat is maybe the greatest luxury of all.
Come and enjoy this perfect destination.
An ideal place for yoga lovers
Among many other benefits you'll get, your immune system will get a boost from this yoga escape.
With the yoga and breath meditation you'll be doing, you won't need any focussed yoga nidra for sleeping.
Over these retreat days, if you choose, between formal classes and extra time in the yoga room, you can treat yourself to essentially unlimited yoga classes.
The healthy food, time out in the luxurious retreat, and the magic of Bali, will give you a unique experience away from your everyday life.
So, attending this retreat is a great choice for yoga enthusiasts. Get the best deal of that an affordable yoga retreat Bali has.
A wellness retreat like no other
Don't miss this retreat start date. Get fit and well with the most affordable yoga retreat Bali has.
Pay a deposit, and allow ample time to get the best airline tickets for your 2024 plan.
Yoga and breathwork are a key part of almost every health retreat, because they work.
In addition, some of the benefits and retreat experiences you'll get, that you may not even have realised yet, include:
growth in inner strength
live music you can visit in the Candidasa village (if that's your thing)
gorgeous tropical gardens to relax in
strength training via Chris's effective asana classes
amazing food, including lots of tropical fruit
a safe space to work through whatever's important to you
optional activities on your half day off, including cultural excursions
making new friends
yoga sequences for a seasoned yogi, or someone newer to yoga.
a harmonious blend of yoga, breathwork, wellness practices, and more.
By the way, if air conditioning is important to you, then check out the single room option at the Sea Breeze resort.
So, use the orange link below to check out our payment options and payment plans.
Flametree Bali wellness retreat
The best wellness retreats also need excellent yoga and breathwork for your wellness journey. That's what Chris' classes will give you.
​In addition, a wellness experience needs a holistic approach, in beautiful surroundings.
That's why this retreat is the perfect opportunity for whatever healing journey you want to pursue.
For example, it could be as straight forward as kick starting your weight loss, or starting more fitness classes.
Alternatively, you may want to explore how a vegan yoga retreat Bali style can add to your health.
But it also may be about getting out of your comfort zone and finding your true self.
Whatever your price range, Flametree's transformative experience will help deliver what you're after.
Students loved the recent Bali retreat
I worked closely with my team to ensure the recent Bali retreat went off very well. All the feedback I've had indicates that it did.
For example, on the second last day of the retreat, Kelley commented by email:
The retreat has been amazing…. I'm not quite ready to go home tomorrow.
Plus, Helen, in a post you'll see on Facebook, said:
An experience never forgotten… to be repeated again!
Gillian, a long term Flametree student, who's been on several retreats at Pondok Pisang, said recently on Flametree's Facebook Page:
…as always, please can you put me down for a spot on the next retreat. Can't wait.
Over 4-10 April 2024, to ensure you have a wonderful, powerful retreat, I'll be doing everything I've learnt in over a decade of running retreats in Bali, and 30 years of teaching Iyengar yoga. Please join me at our next retreat.