How Yoga Full Body Flow Can Deliver The Best Full Body Yoga Stretches For Weight Loss
Outline of in-studio and online yoga classes for weight loss, including videos
Below, you hear about the best type of yoga for weight loss. Plus, you'll see the options for in-studio or online yoga classes for weight loss. The discussion includes yoga full body flow. You'll also learn what's the best full body yoga stretches to use, & why yoga is the best way to lose weight.  If you wish, just follow the links to go direct to weight loss yoga for beginners.
Most of all, don't miss Dr McCall's explanation below, on why yoga works to cut weight, or manage it better ongoingly, or both. In particular, it does not require fat burning difficult exercise. You'll see that it's more about using yoga poses that reduce stress.
To hear or see yoga's weight loss results, read Angie's story of how she lost weight with yoga, or watch her video about it.
Why to mix full body yoga flow, & relaxing yoga
To find the best type of yoga for weight loss, the first thing to note is that yoga cuts stress. That means your body produces less of the stress hormone called cortisol. In turn, that lowers your appetite.
Yoga also makes you more mindful about what you eat. As a result, all this means that yoga can be the best weight loss exercise.
In addition to cutting stress, and producing mindful eating, studies have found yoga is good as weight loss exercise.
As you will see below, well known medical practitioners have written about how you can lose weight with yoga.
For instance, further down this page, there's a section by Dr McCall. He talks about why yoga works, and scientific studies that show it does.
The good news is that it means you don't have to jump about furiously looking for the best weight loss exercise.
It's more important to do a range of our easy postures that reduce stress. These include easy restorative classes, gentle yoga, women only yoga, and others.  These classes are all part of Flametree's beginner yoga and non-beginner yoga programs.
People of all shapes and all sizes do yoga very effectively. Flametree does not have a view about body size. However, if you choose to use yoga postures for weight loss (especially for stress reduction, and relatively mild exercise), then they can help a lot. Many of our students have found this too. Stories by some of those students are also below.
The outcome is that best type of yoga for weight loss is not what you might have thought. In addition to what we've already said, Dr McCall explains this at more length below.
Yoga for weight loss success stories
On Flametree's Facebook Page, you can see some weight loss success stories our yoga students have shared.
If you view the stories, come back to this page for current yoga class details. For example, we have a new 6 week beginner course that has replaced the beginner courses that these student's did. (In other words, this page has the most up to date links).
Do Yoga To Eat Better & Manage Weight
The postures used in this video are at experienced level. The good news is that the easy, introductory yoga poses taught at beginner yoga will work just as well for reducing or controlling weight.
Other benefits from yoga full body flow, combined with relaxing yoga
Studies show some of the major benefits of yoga, are:
Reducing tension and stress
Getting stronger physically and mentally
Feeling happier
Getting more "me" time
Feeling less lonely
Unplugging from tech.
You don't need to be flexible to start yoga! Our easy, basic yoga classes are suitable for all ages and fitness levels.
online yoga classes for weight loss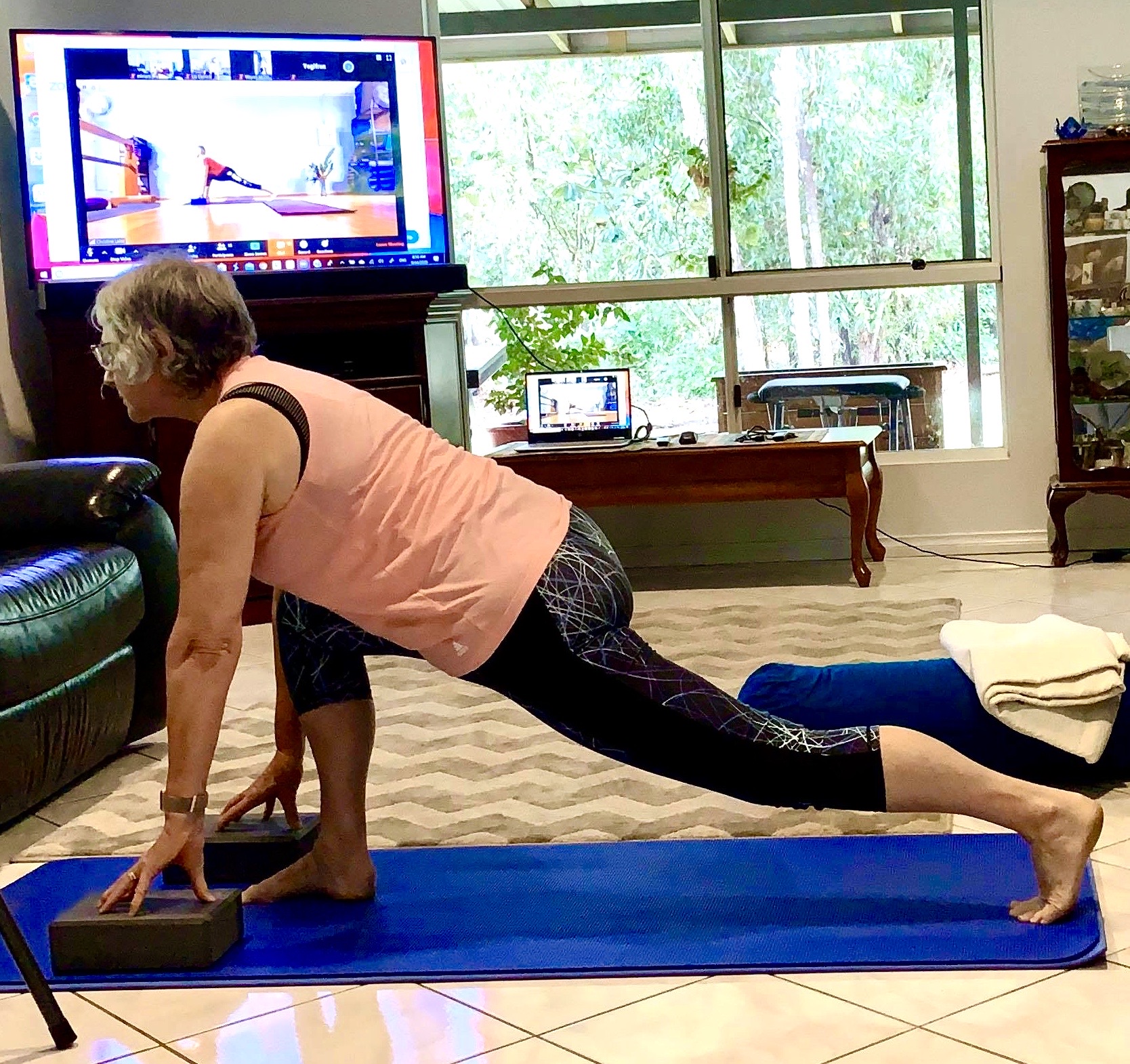 Dr McCall: on how yoga full body flow, with relaxing, works
Here's Dr McCall* on why yoga produces long lasting weight loss, plus other benefits. He's a medical doctor & yoga therapist in the USA. He says:
"Can yoga help you lose weight? Certainly, the scientific evidence is that it can. However, it's not for the reasons that you think.

In contrast to conventional ideas, what yoga does, is that it relieves STRESS. In addition, it does it by lowering the levels of the stress hormone cortisol. In turn, this lowers your appetite.

Furthermore, when you eat extra calories in a state with a lot of cortisol [from stress] in your bloodstream, then your body is very efficiently going to turn those extra calories into fat.

Even worse, where's it going to put that fat? It will put the fat in between the layers of your abdominal organs. It is the worst place from a health standpoint, because that's tied to diabetes, heart attack, inflammation, metabolic syndrome, and many other things."
Studies show yoga is very effective weight loss exercise
In addition, Dr McCall goes onto to say:
"… The data also shows that people who do yoga tend to weigh less. For instance, this has been shown in several studies.

First, in the Ornish studies of heart disease treatment, … they lost 24 pounds (11 k's) in the first year of the program.

Over the second year of the program, …they kept about half of it off. Consequently, the outcome was that about 12 pounds (5.5 Ks) of weight loss, was able to be maintained.

Furthermore, a more recent study, … found that among women over 45 … the more hours of week of yoga they practised, the lower their body mass index (BMI).

… Those women or men who are losing weight with yoga are also tending to SLEEP better. In addition, they have a better MOOD, have less bodily pain and many other of the benefits of a yoga practice."
Yoga improves mindfulness & peace of mind, plus reduces appetite
As well as all this, Dr McCall also talks about how mindfulness helps. Such mindfulness can include the type of mindful meditation and yoga that you'll get in Flametree's breath meditation or yoga classes, or both.
"…. When you start to be aware of your eating, for example, when you're really paying attention as you eat, you may notice the subtle cues that suggest that you're getting full.

In comparison, if you're distracted, such as if you're watching television, or playing with the computer as you're eating your food, you may not notice those cues. As a result, if you make your food time … [more mindful by yoga], then you really do notice those cues.

…That is to say, there's evidence for this as well in scientific studies. In summary, the more people practise yoga, the more they tend to improve their other habits.
Wholistic process to keep weight off
Lastly, Dr McCall points out how yoga is a long term weight loss process that is part of an overall wellness plan.
"Really, losing weight is part of a holistic plan where you look at everything. For example, you look at your psychological well-being, and your dietary habits. In addition, you look at your exercise, and at your stress levels. You should consider all those things. The outcome is that you make your whole being function better in a holistic way.

Then, things like body weight tend to just sort themselves out. Consequently, your body will naturally slowly move you in the healthy direction.

…In order to lose weight, take a slower approach, and an easier approach. It can be one that incorporates stress reduction, instead of doing it via extreme drugs or dietary supplements. Among other things, extreme diets actually stress yourself out more, and interfere with long term weight.

To sum it all up, it's really just about taking the little steps in the right direction every day" *

The bottom line of what Dr McCall says.

Essentially, Dr McCall says the best type of yoga for weight loss must contain at least some gentle yoga or restorative yoga, or both. These types of yoga work especially well to reduce stress.

So, to clarify, any options for in-studio or online yoga classes for weight loss don't have to be vigorous fat burning exercise.

The options can include yoga full body flow, but also less active yoga, where you can include stress reduction options.

Below, you can learn more about what's the best full body yoga stretches to use.
Many online, in-studio, and on-demand yoga options.
Try the best type of yoga for weight loss
Flametree Yoga has over 30 live online and in-studio classes a week. Yoga classes include both non-beginner and beginner yoga. The yoga is high quality, hatha yoga, including a lot of visual demonstrations and verbal help with getting into poses.
Almost all classes are both online and in-studio.
The teachers are all experienced Australian teachers who are easy to follow, and offer interactive online teaching.
On top of all that, Flametree teaches in 5 levels. As a consequence, you can always find a level, from beginner to advanced, that will work best for you.
The rest of this page is about our 3 beginner options for getting started.
On the other hand, if you have already done yoga recently, than check out our non-beginner yoga deal. 
If our class times don't suit you, then please either see the Playback streaming yoga deals in Option 2 below. Alternatively, check out Flametree's streaming, on demand yoga options here.
For more information about additional benefits of yoga, check out the videos at the bottom of this page.
Online yoga students come to Flametree from all over the world. Consequently, on this page, we also sometimes mention our in-studio classes, as some students in the local region of Darwin, Australia, find it convenient to do a mix of online and in-studio classes.
Get a mix of standard and Special Focus Beginner classes
Many online beginner classes run each week. Some are just standard, easy beginner postures. Other classes have a Special Focus such as breath meditation, backcare, women's health, restorative yoga, slow yoga, fifty plus, and more. Each week, you can choose an unlimited mix of these classes.
Every so often, these beginner classes include a tiered and sequential beginner course over 4 weeks. However, you'll also find it easy to start in any week, no matter where the beginner course is at. Every class is adjusted by the teacher to be appropriate for whoever is in that particular class.
The teacher can see and hear you, and you can privately tell the teacher particular matters it may be good for the teacher to know.
Three yoga deals & payment options
See the numbers below for 3 easy options to get started with beginner yoga, including options with FREE trials and money back guarantees.
Once you choose a pass, then you book a class, using the class reservation process we also outline below.
4 Week Beginner Yoga Course
OPTION ONE to get started is the 6-week online beginner course. See the timetable below for the next course start date. It's a package deal of unlimited beginner classes for AUS$75. You get in-studio (Darwin NT) classes, or online yoga classes for weight loss, or both. If you buy the course in the last 2 weeks before it starts, you can start immediately, and any classes before the course start date are free. Get the beginner course by clicking the box below.
Weekly Beginner Level Subscription
OPTION TWO to start beginner yoga is to get a weekly beginner level subscription or ten class pass. The in-studio,  or online yoga classes for weight loss, or playback streaming video options, are also in the Table below. Each weekly subscription option includes 2 weeks of free classes. You can start as soon as you have bought a pass.
In-Studio (Offline), Online & Playback Packages By Weekly Subscription
Ultimate Beginner package with an unlimited mix of all in-studio, online or on-demand beginner classes, including a FREE 2 week trial: $19.95 a week.
Casual Beginner Yoga Pass
OPTION 3 to start beginner yoga is to buy a casual pass to come to one class. This can be used for online or in-studio classes.
Money back guarantee for first paid week of packages
There's a money back guarantee you can use during the first paid week of the 6-week beginner course package, or the weekly subscription packages.
How to reserve all classes, and location of In-Studio classes
Once you have bought a pass, the beginner classes can be reserved as you go.
To reserve almost all beginner classes, whether in-studio or online, go here.
At the beginner timetable on site, and at the reservation page above, you'll see the location of in-studio classes.
Using Zoom for online classes, and where to reserve them
All online yoga classes are via Zoom. You'll need to download this app on your phone, iPad or PC, and open a free account.
As you can see from the timetable, most online classes are in so-called Room 2 (a virtual location on via Zoom). It is marked on the timetable as ON.2. Again, to see a list of these online Room 2 classes, and reserve them, go here.
If it is an online class, the login via the Zoom app will be sent you as soon as you reserve the class. The easiest option is just to click on the Zoom link you will be sent by email.
Beginner class times in your time zone
See the beginner timetable, in our local Darwin, Australia time zone, as well as in your own local time zone.
There's also information in the timetable on the physical and online location of each class.
Try in-studio or online yoga for weight loss, or for the best full body yoga stretches, or for whatever else you're after.
Help with reservations, payments, information or any other customer service
Benefits of yoga, & the best full body yoga stretches, & more
What people are saying about Flametree Yoga Studio
Below, hear from Flametree students about the best type of yoga for weight loss.
They have used mixes of in-studio or online yoga classes for weight loss. Many have used versions yoga full body flow, and other Flametree class types.
Hear about the results they have gotten from the best full body yoga stretches.
"…Thank you for all you have done to keep yoga accessible, it has been so beneficial, and also lots of fun "
Tania, Facebook
"My first online class last night from my lounge in Brisbane, fantastic! Thanks Flametree"
Bridget, Facebook
"The Zoom sessions are going really well. I'm so grateful for having them"
Gina, Facebook
"… can't wait to start back at the studio and of cause those all so important after class catch ups over coffee"
Michelle, Facebook
"This is awesome! Thanks for sharing your practice around the globe."
Jason, Facebook
"Yoga is an important contributor to my bike riding habits and increasingly an important part of my other-life too."
Colin
"Great [backcare] class tonight Chris and such a gift to be able to start yoga again online after a couple of years of not being able to juggle classes with family routine! "
Janet, Facebook
"I'm so grateful. Belinda's class this morning was brilliant – my first headstand at home! thank you Chris and team. "
Sam, Facebook
"…Chris…. you are a truly inspirational women in my life."
Angie, Facebook
"Loving the classes. All of them. The quality of teaching is of course fabulous, but the range of options, the convenience and flexibility that allows is wonderful"
Penny, Facebook
"I like the friendly teachers and the feeling that you are not trying to compete with everybody else in the class"
John, Facebook
"The classes are brilliant and bring the joy (and discipline!) of yoga into your home. I'm so thankful for the opportunity to continue classes this way."
Deirdre, Facebook
[* Source of Dr McCAll quotes: This is a transcript of part of Dr McCall's You Tube discussion that you can Google if you wish. (See "Yoga and Weight Loss — The Science and the Myths"). Dr. Timothy McCall, a medical doctor, and formerly Yoga Journal's Medical Editor, is also the author of "Yoga As Medicine: The Yogic Prescription For Health And Healing".]