Yoga Beginner Course Online & In-Studio Timetable
All these beginner packages start with 2 weeks FREE
More about beginner level is further down this page 
Timetable in YOUR TIME ZONE is below these Central Australian times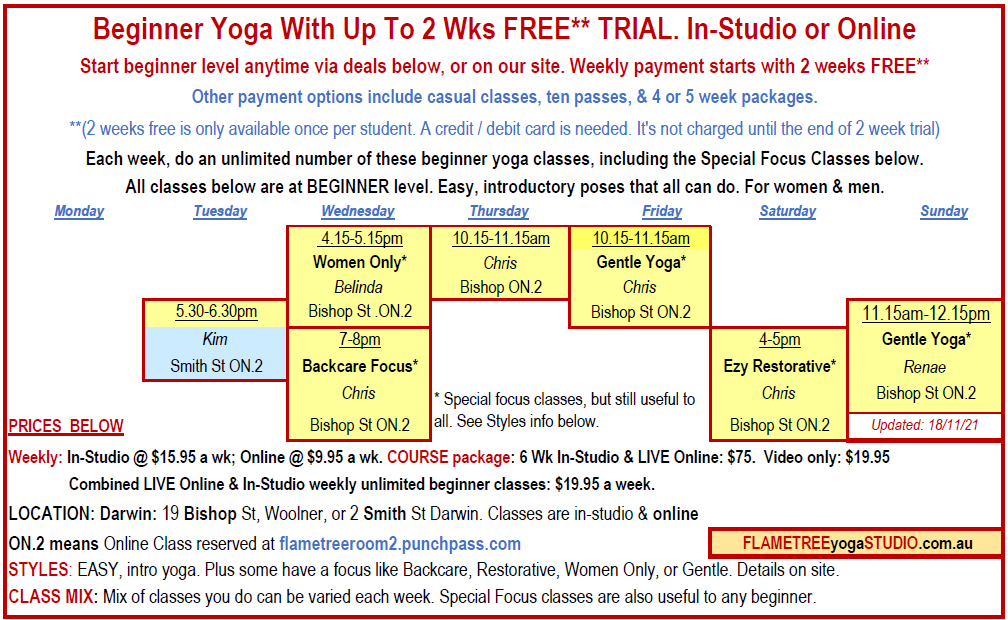 Timetable In Your Timezone
(Click through each day to see classes for that day)
How to reserve an online or in-studio class
You can make Class Reservations at these live links:
The class reservations above are made with our booking app called Punchpass. It's simple to use, and there at instructions at the above pages.
If you need more help with making a reservation, see the video here.
How to get a pass for our yoga classes for beginners
Convert to your local time (or see International timetable above)
If you use an iPhone, the World Clock feature on your Apple clock can be set to show Flametree's class times in Darwin, Australia.
Here's one way you can use the app below.
On the left hand side, insert Flametree's class time in Darwin Australia from the above timetable.
On the right hand side, insert the name of your city on the bottom right.
Your local time for the class will show in the top right hand box.
More about beginner yoga at Flametree
At any time, you can join yoga classes for beginners.
In the above beginner timetable, there are many class time options.
There's a range of package of yoga classes for beginners, including in-studio(offline), online and playback.
Flametree Beginners Classes are live and interactive classes with teacher demonstrations, commentary and feedback.
If you wish to join the beginner level, purchase a weekly subscription pass or a beginner course pass. Then, you will be able to reserve any one of the various yoga classes for beginners each week.
Week to week passes include a two-week free trial. If you buy a 4-week beginner course, the two weeks before the course starts is free.
The yoga classes for beginners give you good options
With a beginner level  pass, you can each week come to any combination of the above yoga classes for beginners.
You don't need to come to the same class each week.
In each week, beginner classes have a similar content and syllabus. There is some variation for your interest, based on the focus of the particular teacher.
You have the luxury of trying several different teachers, all as part of the same unlimited classes deal. Try different teachers and see who you like best.
Content of Special Focus beginner yoga classes
In the timetable, the types of beginner classes mean as below.
Standard Poses. These classes are all those beginner classes that are not marked with a special focus. In these classes, approximately 20-30 introductory and simple yoga poses are taught. They are also revised regularly. This allows you to get better at them steadily, and also allows people to join at any time. The standard poses include some extra focus on aerobic movement, including dynamic sun salutes and lunges.
Optional special focus beginner classes
Beginner  (Women Only) –  Postures for women whether menstruating, pre-menopausal, menopausal or post-menopausal. Plus matters for improved intimacy. (The Women Only mixed level class on Tuesday at 7pm deals with similar issues. The Mixed Level class also includes a wider range of postures, and ones that are not suitable for beginners.)
Easy Restorative – Focus on restorative poses for energy, renewal, reducing anxiety, de-stressing relaxing  It`s easier than the average beginner class. This is also a very good place to start for anyone who is worried about whether the yoga is easy enough for them, and/or some who are fifty years plus.
Back-care Yoga – This class contains more than average of beginner poses that address common back issues for people. However, any beginner will still find the postures useful to learn as part of the Beginner yoga syllabus.
Beginner (Gentle Yoga) – These classes are especially easy and slow, with a particular focus on back, hips, knees, shoulders and neck.  These classes are good for any age group, but may be especially attractive for some Seniors. It depends on how much exercise you have been doing in recent times. They're also another good option for those in Flametree's Backcare Class (above).
There's more about each type of class under the "Class Types" tab on our site.
Use these links to go direct to the deal that suits you:
If you've done yoga in the recent past, or are lapsed, get started with this very low cost introduction for non-beginner classes.