Private Yoga Class Near Me?
Try An Online Or In-Studio Personal Yoga Trainer.
Private yoga instructor pricing & arrangements in 2021 onwards
Looking for private yoga classes, or a personal yoga trainer near me, or private yoga instructor near me? Or even yoga private classes near me for a group? Essentially, a private yoga instructor near me is what you get via classes online, or in our Darwin studio, or both.
Private classes give you a high level of attention to particular situations, or conditions you are dealing with. You also make more rapid progress due to the one-to-one attention.
It's also especially cost effective if the price is split among a small group.
A private class allows the class to be tailored totally to your needs, as an individual or group.
Classes with private yoga instructor can also be combined with Flametree's online or in-studio needs. One option is to do them prior to starting to attend online or in-studio classes. Some people also use a personal yoga trainer for health holidays.
Finding and using a "personal yoga trainer near me" is also an excellent option for a workplace, as a way to build camaraderie, and improved work performance.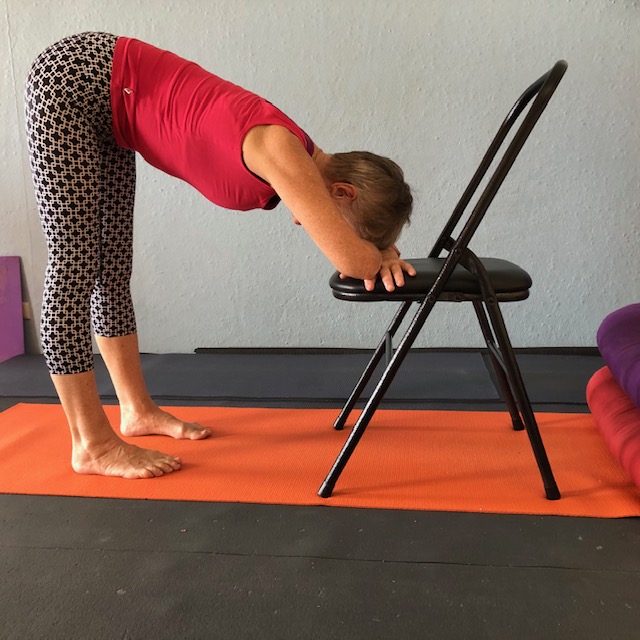 Easy poses, with props, often do the job well.
Teachers for yoga private classes near me
During the class, you get the exclusive attention of a highly experienced yoga teacher.
Subject to availability, the private class will usually be taught by either Belinda Hoult or Chris Lalor. Both of them are certified yoga teachers.
You can request a Special Focus in the private class. For example, the focus may be around gentle yoga, or backcare, trauma, anxiety, relaxing, improving sleep, working out, immune system, positivity, your particular situation, or whatever. Some of the numerous issues addressed by yoga are outlined on the Flametree blog page. 
Whether online or in-studio, the class is two-way and interactive, with the teacher able to clearly see your postures and situation. The teacher can then demonstrate and talk you through the exact poses that will work best for the benefits you want to get.
You can improvise various yoga props around your home or office. For example, you may want to buy or borrow some of the standard yoga props you can see picture of on our Facebook Page. There is more about yoga props here. Also, see more on props in the heading below.
Classes can be for individuals, or 2 or more people.
You still get a large amount of individual and customised attention, but the price per person is lower than a class for one person.
Clearly, a group of individuals can split the class cost among them.
If the class is online, the teacher will arrange a Zoom link for the class and send it to each participant. To do this, we do need the name and email of the various persons in the class.
Less cost than a physio, and easier to stick at
Many students first come to yoga because they've been sent to physiotherapy.
However, many find physio exercises boring, or hard to get around to do, or both.
A great advantage of yoga is that it keeps you mentally and physically engaged. The time goes fast, as you to exercises and postures that address the condition you have.
Students usually report excellent outcomes, and they enjoy doing it.
At the same time, it is often less cost than a physio.
If you are managing a condition, or recovering from an injury, give yoga a try.
Prices and props
The price for a private class of one or more students is $95 per hour, either online or in-studio, or both.
Flametree can invoice you, and / or you can pay direct to Flametree's account.
The class will vary between 45 minute and an hour.  If you wish, subject to the teacher, a longer class can be negotiated.
If there is a long period of travel involved, there may be an additional charge for the travel.
Minimum yoga props needed
The minimum yoga props needed is a non-slippery surface such as some types of mats. Ideally, a low cost mat is best.
Other props can be improvised from around a home or office, such as small a belt, small block, and chairs.
If the class is ongoing, or occurs at at least for a period, it is worth each individual investing in their own yoga props.
In some cases, Flametree may be able to provide low cost mats that you can buy on a one off basis. Please discuss with the proposed teacher.
We use safe online procedures for online classes
Flametree uses a very secure and safe process for online yoga. Students are first registered in Flametree's online booking system.
Second, just before each class starts, students check into an online waiting room. They are then checked individually into the online classroom by the teacher. In the process, the teacher will greet each one of them, and / or their parent or carer (if a Youth Yoga class).
It is not possible for anyone to attend or see the class who is not authorised to be there, and vetted by the teacher.
Summary, and contact point
You can have a Special Focus in a private class, such as backcare, anxiety,  restorative, active, immune system, injury, and much more.
All packs must be bought via one collective purchase in advance of class delivery. Sorry, no split bills! You will get a receipt from Flametree Yoga.
If you have questions, or wish to book a class, please contact Chris on +61 448 11 22 51, or via our Facebook Messenger. Or you can contact the Customer Service Team via contacts at the bottom of this page.