Private Yoga Class Near Me?
Try Our Online Or In-Studio Private Yoga Classes
Private yoga instructor pricing & arrangements
Looking for private yoga classes, or private yoga instructor near me? Or even yoga private classes near me for a group? Essentially, a private yoga instructor near me is what you get via classes online, or in our Flametree Darwin studio, or both. Online private yoga classes at home are perfect if you want options like private yoga classes Adelaide, or private yoga classes Melbourne, or private yoga classes Perth, or private yoga classes Sydney. So read on for a very personal story of the power of online or in-studio yoga coaching.
Private classes give you a high level of attention to particular situations, or conditions you are dealing with. You also make more rapid progress due to the one-to-one attention.
It's also especially cost effective if the price is split among a small group.
A private class allows the class to be tailored totally to your needs, as an individual or group.
Classes with private yoga instructor can also be combined with Flametree's online or in-studio needs. One option is to do them prior to starting to attend online or in-studio classes. Some people also use a personal yoga instructor for health holidays.
Depending on your location, finding and using "private yoga classes Sydney", or for wherever you are, is also an excellent option for a workplace, as a way to build camaraderie, and improved work performance.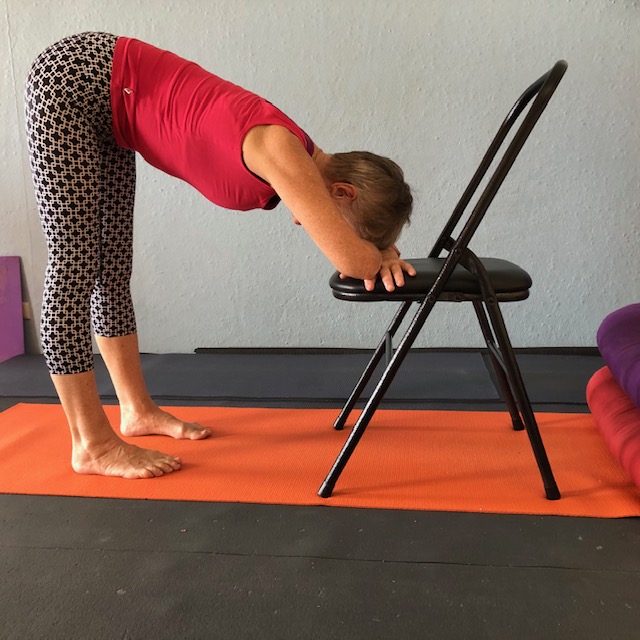 Easy poses, with props, often do the job well. Start or re-start your yoga practice with private yoga sessions. Private lessons with a Flametree private yoga teacher are a great way to meet your specific needs, especially if it's your first time at yoga.
Let a yoga coaching student tell you how well it works
In 2021, a new beginner student began some online private yoga classes with Flametree. After a number of online yoga coaching sessions, she then began doing regular classes.
For this student, yoga coaching, and using an online private yoga instructor, became a way to both address current issues successfully, and then commence the yoga classes that she thought would be out of reach to her.
At Christmas, out of the blue, she kindly sent this note to Flametree Yoga Studio.
"…just wanted to thank you all for the fantastic yoga classes this year. I'm so in love with yoga and look forward to each class immensely.
I am completely intrigued by the way it works. And I love all the subtleties and details that make a difference.
For example, you can start class not feeling that great, and come out the other end of class, feeling amazing.
Your online classes are just so good and consistent. Plus, having the library of past yoga video classes has been a wonderful resource that I like using.
I never thought I would ever be doing headstands!
It's amazing that I have learnt so much… being hundreds of kilometres away.
I hope you keep up the blogs as I love reading how yoga works. I also like hearing about the benefits of yoga, and looking at the picturesque poses in all those fab locations.
Your classes have made a big positive difference to me through your patient, humorous and concise teaching.
 Thanks, and see you next year."
[Name withheld, but quoted with the permission of this Flametree current student].
If you wish, you can also check out other reviews and testimonials are Flametree's quality of teaching, via in-studio or online classes.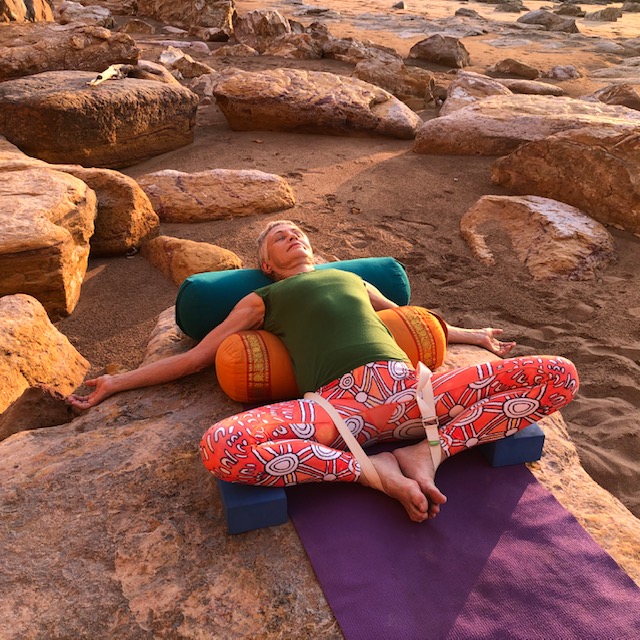 With private instruction at Flametree, you'll get more than you may have ever experienced from other types of yoga. Depending on your specific goals, you work at your own pace and quickly go to a deeper level. Private sessions can include yoga poses, breath work, breathing techniques, or whatever your individual needs require.
Try Personal Yoga Coaching With The Best Yoga Coach
If you want private yoga coaching near you, or at home, getting online with a top yoga coach is perfect. Use it for health conditions, or for confidence, or privacy, or better skills, or any reason
You'll address any conditions that are an issue for you, as well as get fit, flexible, strong and happy.
Or maybe you want to cut anxiety, sleep issues, and address particular health challenges. Yoga coaching, or using a private yoga trainer, online or in-studio, has a strong record in all these areas.
If you wish check out how yoga has been proven to help at least 117 conditions or situations.
No flexibility is needed to start, In addition you can start as soon as you like, on a schedule that works for you.
Teachers for yoga private classes near me
During the class, you get the exclusive attention of a highly experienced yoga teacher.
Subject to availability, the private class will usually be taught by either Belinda Hoult or Chris Lalor. Both of them are certified yoga teachers.
You can request a Special Focus in the private class. For example, the focus may be around gentle yoga, or backcare, trauma, anxiety, relaxing, improving sleep, working out, immune system, positivity, your particular situation, or whatever. Some of the numerous issues addressed by yoga are outlined on the Flametree blog page. 
Whether online or in-studio, the class is two-way and interactive, with the teacher able to clearly see your postures and situation. The teacher can then demonstrate and talk you through the exact poses that will work best for the benefits you want to get.
You can improvise various yoga props around your home or office. For example, you may want to buy or borrow some of the standard yoga props you can see picture of on our Facebook Page. There is more about yoga props here. Also, see more on props in the heading below.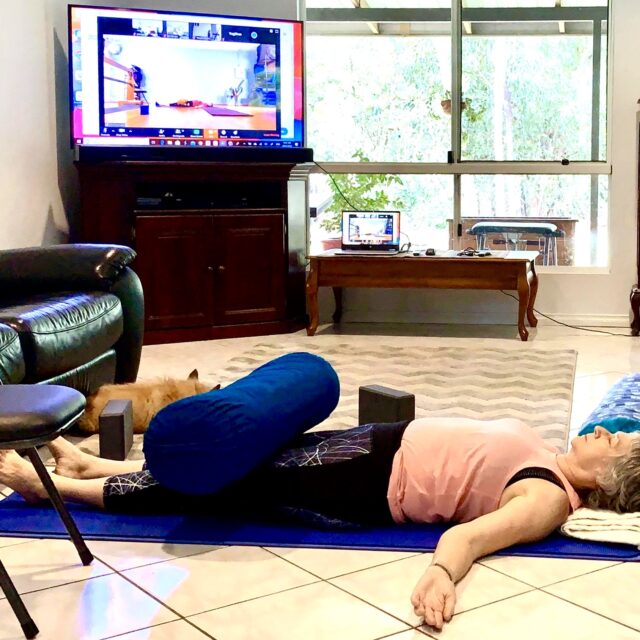 At the studio, all yoga equipment is provided, If at home, all need is a non=slip surface or yoga mat. In Flametree's private yoga lessons, one of our very experienced teachers will give you private yoga instruction around a wide range of issues. For example, it could range from nervous system issues, to proper alignment, or to special attention to a particular student's needs. Your one person class is the perfect way for new students to address a lack of yoga experience.
Classes can be for individuals, or 2 or more people.
You still get a large amount of individual and customised attention, but the price per person is lower than a class for one person.
Clearly, a group of individuals can split the class cost among them.
If the class is online, the teacher will arrange a Zoom link for the class.
You just need to find the participants and the location. The location could be as simple as your lounge room, or a conference room at work.
On this page, you can pay for, or learn more about group classes. 
Less cost than a physio, and easier to stick at
Many students first come to yoga because they've been sent to physiotherapy.
However, many find physio exercises boring, or hard to get around to do, or both.
A great advantage of yoga is that it keeps you mentally and physically engaged. The time goes fast, as you to exercises and postures that address the condition you have.
Students usually report excellent outcomes, and they enjoy doing it.
At the same time, it is often less cost than a physio.
If you are managing a condition, or recovering from an injury, give yoga a try.
Prices and props
The price for a private class of one student is $95 per hour, either online or in-studio, or both.
The price of a private class for a GROUP (online, in-studio, or at your location), is $125 per hour.
If we are to come to your location, please have a room that has sufficient size. Please also allow for sufficient social distance. Ideally, have people bring their own mat. But if the class is in Darwin, Australia, we may be able to bring some basic props to share for the class.
Depending on your organisation, Flametree can invoice you, and / or you can pay direct to Flametree's account.
However, we strongly prefer that, in advance of the class, you buy either the individual private yoga pass, or the group yoga pass.
The class will vary between 45 minute and an hour.  If you wish, subject to the teacher, a longer class can be negotiated.
If there is a long period of travel involved, there may be an additional charge for the travel.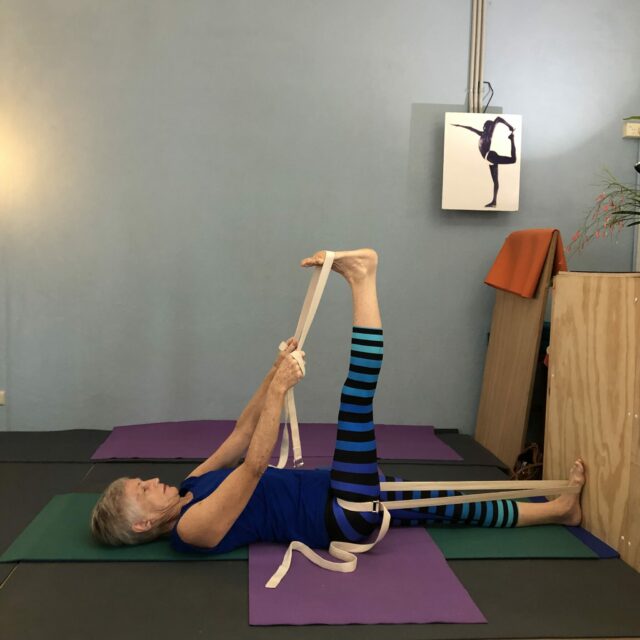 A pose showing how opposing muscles work together for bone health. Another type of private yoga clients are those who do a group yoga class, with friends, or at work. This can can also take your practice of yoga to the next level. In your first session, or before class time if you do classes with Flametree, you can discuss the different ways to best address your personal needs. Especially if you have a busy schedule, students of all levels can address specific issues. A private instructor, individually or in a group setting, is an excellent way to start your yoga journey.
Minimum yoga props needed
The minimum yoga props needed is a non-slippery surface such as some types of mats. Ideally, a low cost mat is best.
Other props can be improvised from around a home or office, such as small a belt, small block, and chairs.
If the class is ongoing, or occurs at at least for a period, it is worth each individual, or the organisation, investing in their own yoga props.
In some cases, Flametree may be able to provide low cost mats that you can buy on a one off basis. Please discuss with the proposed teacher.
We use safe online procedures for online classes
Flametree uses a very secure and safe process for online yoga. Students are first registered in Flametree's online booking system.
Second, just before each class starts, students check into an online waiting room. They are then checked individually into the online classroom by the teacher. In the process, the teacher will greet each one of them, and / or their parent or carer (if a Youth Yoga class).
It is not possible for anyone to attend or see the class who is not authorised to be there, and vetted by the teacher.
Summary, and contact point for your "private yoga classes near me"
You can have a Special Focus in a private class, such as backcare, anxiety,  restorative, active, immune system, trauma, specific injury, and much more.
All passes can be bought online, or if agreed in advance, you can pay cash or EFTPOS at our main studio. You will get a receipt from Flametree Yoga.
If you have questions, or wish to book a class, please contact +61 468 362 641, +61 448 11 22 51, or via our Facebook Messenger. Or you can contact the Customer Service Team, including via contacts at the bottom of this page.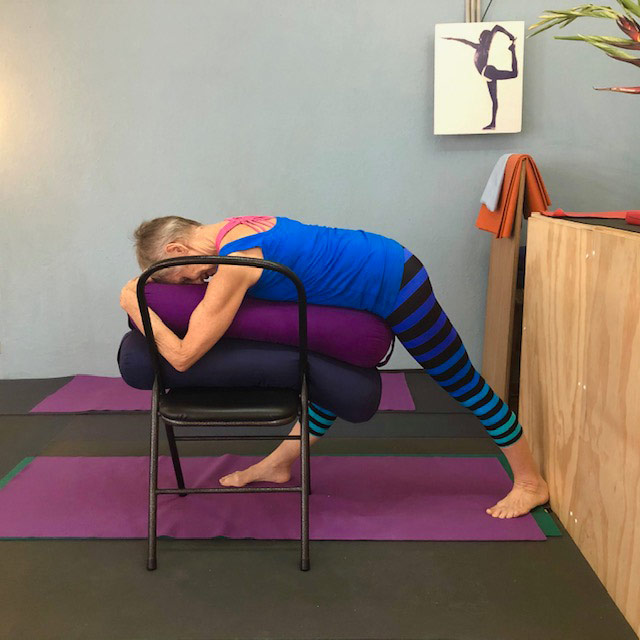 Online private yoga classes at home are perfect if you want options like private yoga classes Adelaide, or private yoga classes Melbourne, or private yoga classes Perth, or private yoga classes Sydney, or wherever. Depending on your location, try it in-studio or online.