Buy a pass & then reserve a class (or choose a yoga video)
This pass is bought and paid weekly via a debit or credit card.
Once you have bought a pass, you use our class reservation app, called Punchpass, to reserve your classes, as well as get your links to join the online class.
When you buy, Flametree is notified and it will rapidly enable Punchpass to allow you to reserve classes.
As soon as you book each class, the ZOOM link to join the online class will be sent to you. There'll be a reminder just before the class
Yoga props and class level
Please also consider what yoga props you want. They will give you even more value from your yoga. At a minimum, have a mat or non-slip surface. You can also improvise other props, such as with a kitchen chair, or folded blankets. See more about props including how to improvise them.
For all packages, please choose a class that is suitable for your levels of skills. That will make it easy on you, and also is considerate of others in the class.
This pass is suitable for complete beginners, including those who want to re-start yoga after not having done it for a long time.
The style of yoga taught by Flametree Yoga is called Iyengar Yoga. You'll learn easy, introductory poses that all can do.
If you've only done vinyasa, or yin yoga, and have not tried Iyengar yoga, then its best to check out this level of basic yoga before you consider Flametree's higher levels of yoga, such as Transition to Intermediate level.
If you're still undecided about it, then check out the huge benefits of yoga.
How to access your playback videos on FT site
Once this package with beginner yoga video access, here's how to use and access it.
You'll get an email to confirm your purchase.
The email will say you can view more details about your membership from YOUR ACCOUNT on the Flametree site.
Follow the link to "Your Account"
In your account, you'll see the list of beginner yoga videos you have subscribed for.
You can sort them based on various options you'll notice.
Accessing your videos as you need them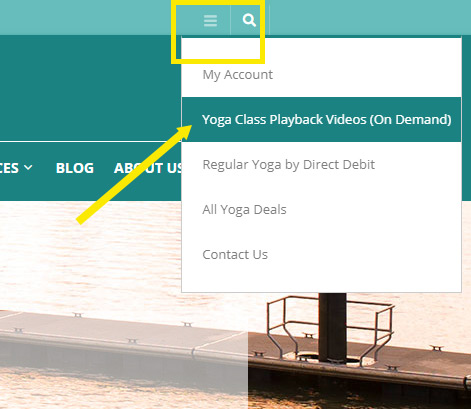 After the first occasion, when you want to access your videos, go to the Dropdown menu in the top right of the Flametree site.
In the Dropdown menu, select "Yoga Class Playback Videos (On Demand)"
We look forward to seeing you at Flametree Yoga Studio