How Annie recovered with yoga for complex PTSD
Annie had lived her life where she had learnt to shut her brain down into survival mode, and to fight, freeze or flee when sensing danger. Here's how yoga for complex PTSD helped. Plus more about yoga for trauma in general. Have you wondered about questions like what type of yoga for PTSD? Read on, or just try Flametree's free yoga poses for PTSD. I also also outline why Flametree has the best yoga for PTSD.
Yoga helped Annie reach a point where she said: "I slowly learned to just have feelings, without being hijacked by them. Life is now more manageable. I am more in touch with my day and more present in the moment"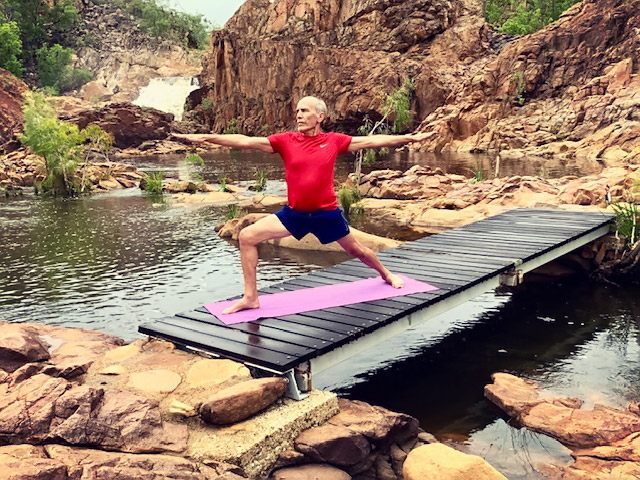 Trauma changes how the brain manages perceptions, such as what it chooses to think or to shut out.
Trauma is everywhere. Stress, trauma, and even PTSD are more common than you think. Yoga provides a mind body connection that is especially helpful in dealing with it.
Majority of Australians will suffer trauma
Studies show that 57–75% of Australians will experience a potentially traumatic event at some point in their lives.
That's at least every second one of us!
Even worse, 12% of Australians experience post-traumatic stress disorder (PTSD) in their life, with women being at twice the risk of men.
Obviously, not everybody who has stress or trauma ends up with PTSD, but there is still a lot of it around.
Study shows trauma leaves an imprint
I recently read "The Body Keeps The Score" by Dr Bessel van der Kolk.
I'm Christine Lalor, an accredited Senior Iyengar Yoga Teacher, with 25 years teaching the very high quality Iyengar style of yoga.
But back to the research on PTSD. Dr Bessel has studied the imprint left on the mind, brain and body as result of suffering an event or series of traumatic events.
Dr Bessel has worked with Annie, and tells some of her story. He is a practising psychiatrist, and is a serious yoga practitioner.
Dr Bessel uses yoga in many of his treatments, including yoga for complex PTSD.
At Flametree, we also have students using yoga to manage or recover from trauma, as well as to deal with anxiety or depression.
The beauty of a yoga practice is that you learn how to approach sensation calmly and not run away when it all gets too much.
Everything that has ever happened to us is stored as memories in our body.
Yoga helps discover our feelings again
Slowly as a result of yoga postures and breath meditation we start to unlock the memories. In doing so we discover feelings of anger, sadness, fear, happiness.
Yoga helps give you the courage to just keep practising, and work it through.
For 30 years Dr Bessel van der Kolk has studied the imprint left on the mind, brain and body of those who have suffered an event or series of traumatic events.
Dr Bessel tells how yoga helped Annie slowly learn to inhabit her own body. He concludes:
"One of the clearest lessons of contemporary neuroscience is that our sense of ourselves is anchored in a vital connection with our bodies.

We do not truly know ourselves unless we can feel and interpret our physical sensations; we need to register and act on these sensations to navigate safely through life.

While numbing (or sometimes sensation seeking) may make life more tolerable, the price you pay is that you lose awareness of what is going on inside your body, and with that, the sense of being fully, sensually alive."
Veterans & yoga for complex PTSD
Here in Darwin, Australia, I live among a large Defence community. Among others, I thought about them when I read Dr Bessel's book
An article in the Conversation, in making the point that the Veteran community needs more support, said this:
"… in the previous 12 months, 17.7% of transitioned ADF personnel had experienced post-traumatic stress disorder (PTSD) compared to 8.7% still serving in the ADF full-time, and 5.2% in the Australian community.

Other common mental health conditions in transitioned ADF personnel include depression (11.2%), and anxiety disorders [which are]… all estimated to be higher than rates in the general population.

Rates of suicidality (thinking about, planning or attempting suicide) were … ten times greater than the Australian community."
Clearly, the situation is shocking.
But I'm pleased that we have some Veterans and frontline emergency people (such as police and ambulance workers) among our yoga students. I know they get a lot from the yoga they do. Dr Bessel's book helped me understand more about why that is the case.
If you know someone who may get help from yoga, in any way, I'd be grateful if you'd encourage them to give yoga a try.
Alternatively, I'm happy to chat by phone about questions like what type of yoga for PTSD, the best yoga for PTSD, and yoga poses for PTSD. Reach out to us via these Flametree Yoga contacts.
Best yoga for PTSD, or yoga for complex PTSD.
If you search each of trauma and PTSD on Flametree's Facebook Page, or on the Flametree blog, you also find several more posts, including some about poses that help.
At any time, Beginners can start at any time via our week-to-week deal, including two weeks free.
For both beginners and non-beginners, classes are ONLINE, in-the-studio, or both.
For example, beginner newcomers can also access a FREE first class, or a half price ten class package.
NON-BEGINNERS, who are new to Flametree, or lapsed students, get 14 days of unlimited classes for just $29. That's less than $2 a class for daily non-beginner yoga,
Another non-beginner option is 30 days of unlimited non-beginner classes for just $14.95.
If you want to use some FREE yoga to satisfy yourself about about questions like what type of yoga for PTSD, the best yoga for PTSD, and yoga poses for PTSD, then see try the numerous options to get started.
If you wish, learn more about why Flametree is a good choice to help with yoga for complex PTSD.
Alternatively, check out Flametree's most popular packages, including subscription and ten pass deals.
Or check out Private class options, for individuals or groups, with Flametree Yoga's Senior Certified Yoga Teacher, Chris Lalor. Private classes, like almost almost all of Flametree's classes, can be online, in-studio or on-demand.