Want Top "Yoga Near Me"?
Try Yoga For Seniors, Over 50s, Or Anyone Else.
With In-Studio & Online, You've Always Got A Class Close To You.
Yoga for 0ver 50s, or anyone. Get the best yoga near you.
Flametree offers several classes especially suitable for people over fifty. It includes gentle yoga for seniors, or anyone. They're also at Beginner or Non-Beginner level. The classes are excellent for those, of any age, who are starting or re-starting classes. Alternatively, just try Flametree's in-studio or online yoga classes for seniors (aka senior citizens), and others. Or, if you want top "yoga near me", or " yoga beginners near me", then also try a video, or LIVE online class at home. There is nothing nearer than in your living room (including with on-the-spot interactive support)!
Flametree's reviews, below, show Flametree online classes are highly effective.
First, here's the overview for non-beginners. This specialist Non-Beginner Only class for Seniors is called "Fifty Plus Focus". The class teaches easy, non-beginner poses that are entirely suitable for those with the typical situations of the Fifty Plus age group.
Persons who are not yet 50 are welcome to join this Fifty Plus class.
As a non-beginner class, the Fifty Plus Focus class has a range of students who have been doing classes for years, many of whom have an impressive range of skills.
Below, see more about Flametree's yoga for beginners, or seniors, or those wanting even gentler versions.  In particular, if you want the best value yoga beginners deals, then check out Flametree's many options.
Flametree's range of options is a key reason why it's the best yoga studio that you'll find. In addition, our students are each a firm believer that Iyengar yoga offers better yoga instruction than styles like hot yoga, vinyasa yoga, yoga nidra, kundalini yoga, or yin yoga.
If you wish, the weekly deals we offer are also more flexible than any monthly membership. Try our in-studio or virtual classes. You'll get a unique experience in the practice of yoga.
Yoga for seniors & other yoga beginners
Second, if you are a beginner, the best option to get started is to attend some of the many Beginner Level classes mentioned below. For example, we outline the many types of yoga classes we have for any beginners. In addition, they will also suit those beginners over 50, and seniors (depending how you see yourself).
In particular, for both beginners and non-beginners, we recommend our so-called Open Level classes. These include Gentle Classes, Back Neck & Shoulder Classes, and  Restorative Yoga.
Once beginners have done about 6 weeks at the beginner level, they can then also attend this Fifty Plus Focus class. They can also continue to come to the above Open Level classes, as can anyone else, at any time.
In all Flametree's classes, poses are also further customised for your personal situations.
The teacher will always adjust any class for who is actually in the class on the day. In addition, individual adaptations of poses are given as required.
All classes are both online and in the three Flametree locations in Darwin Australia.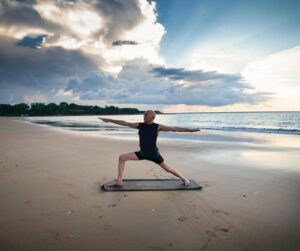 Warrior 2 pose builds strength, flexibility, & focus. Flametree's beginner's workshops and classes will get you started with a yoga practice. Even advanced students keep doing some of the basic poses you'll learn. In addition, if needed, consider a class option such as prenatal yoga.
If you wish, see student Reviews on why they find Flametree among the best studios. As well as the physical benefits, these classes are also a way to have your own wellness center, or personal growth plan.
As well as all that, private classes are just one of the many class packages to consider. But if you want something private, first consider the gentle yoga for seniors. It may work well for you, and is more economical.
Huge benefits for over 50s, for seniors, & anyone
There is now a growing body of evidence that show the many benefits of regular classes. For instance, they reduce the need for prescription drugs, ease pain, reduce stress, boost the immune system, calm the nervous system, help relieve chronic tension, assist the heart, help balance blood sugar levels, and keep the mind sharp. (See also Suza Francina "The New Yoga for Healthy Ageing").
In addition, if you plan to maximise your so-called "health span", or longevity, or both, than there is a lot of evidence on how classes can help.
Many believe that once they reach a certain age, these classes are beyond them. That's a key reason why Flametree offers you the range of class options already mentioned. At almost any age, you can do your first time at Flametree classes.
If you already agree, then check out the HALF PRICE 10 class packs at the orange links on this page.
Yoga classes are a gift
In the same vein, these classes have a great deal to offer the mature or senior person.
As the famous instructor Geeta Iyengar noted:
"Classes are a gift for older people. One who studies it in the later years gains not only health and happiness, but also freshness of mind… since it gives one a bright outlook on life. One can look forward to a more healthful future rather than looking back into the past. It is a rebirth which teaches one to face the rest of one's life happily, peacefully and courageously".
For students of all levels, these classes will make a huge contribution to your mental health, and physical health.
In a large number of Flametree yoga classes, props are used. For instance, chairs, blocks, and bolsters are used to help you get the most benefits from each posture. They also make the poses easier and more enjoyable.
However, the poses are still highly beneficial, with as much challenge as you choose to put into them.
A class will have both active and restorative poses in it. As a result, they will leave feeling like you have stretched, got less anxious, and more relaxed.
Check out the links below. They're excellent options for you to move to what could be a new studio for you.
Classes taught at many do-able levels
Flametree Special Focus classes work well for those with limited mobility.
The key thing is to have a yoga daily routine, using online, in-studio, and / or video classes. In particular, if you want "yoga beginners near me", or similar, then try the at home options, including with LIVE interactive teacher support.
The benefits of yoga demonstrate it works well for whatever fitness level you have. The best way to prove it is to check out the topics where studies show the yoga's low-impact exercise makes a huge difference.
Studies show regular yoga practice can greatly help heart disease, lower back pain, issues around range of motion, problems with connective tissues, joint pain, high blood pressure, chronic pain, various physical limitations including around shoulder blades, heart rate variability, and many other chronic conditions.
Flametree runs classes at three locations in Darwin, including Lyons Community Center (Casuarina). Our online or video classes are also a great option.
You'll learn yoga postures you can do. Most importantly, each will be a great pose for whatever health issues you may have. The health benefits you'll get from the Flametree fitness center will greatly improve your quality of life.
In particular, the Iyengar yoga you'll learn is one of the best types of yoga for regular exercise. Among other things, it's because it's taught in at least 5 levels, plus Gentle Yoga, Backcare, and more.
In addition, Easy Restorative Yoga classes, including chair yoga classes, are excellent for reducing stress levels. The benefits of chair yoga are built into many Flametree classes.
Learn the right pose for your situation
You'll start with simple poses like Mountain Pose and modified Tree pose, then move onto to other very simple standing poses (using yoga blocks and the back of the chair).
Simple forward bends will follow, as well as an easy spinal twist. Flametree's type of yoga is physical activity that anyone can do, including seniors.
Your muscle mass will steadily improve as you get the benefits of regular practice, and more physical fitness. Better sleep is also likely to happen quickly.
Over time, you'll also notice a better mind-body connection, joint health, stronger abdominal muscles and core strength, reduction of any mobility issues,
Best of all, with this exercise program, the risk of injury is minimal. Among other things, that's because the teacher will give additional support when needed.
Older men, or anyone, will rapidly feel the benefits of gentle yoga poses, including the long periods of time in do-able floor poses.
If you're looking for online yoga classes for senior citizens, or yoga for seniors, then try Flametree's various Special Focus classes. Gentle Yoga, Restorative Yoga, and Back Neck & Shoulder Yoga are especially good classes to start. But if you've done some yoga then the Over 50's class may also suit.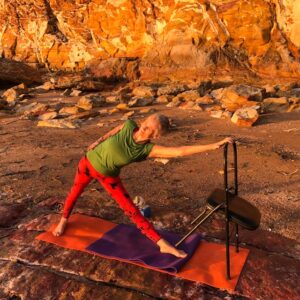 Do easy, effective yoga poses with in-studio, or online yoga classes for senior citizens. Our class types cover all preferences, including those who want strength training. But the wide variety of options also includes gentle yoga for seniors.
In every class, the teacher also adapts poses so you get the level of challenge that works best for you. 
If you want "yoga beginners near me", or similar, then try the at home options. You & the teacher can see & hear each other well. Many find it just as good as being in our studios. 
Yoga for seniors secure procedures for online classes
Almost all Flametree classes both online classes and in-studio classes. Only the teacher can be seen by students.
You and the teacher can see and hear each other, so the teacher can give you on the spot guidance. If they wish, the student can also turn off their video, so not even the teacher can see you. (But, if you keep your camera on, you will get more effective instruction).
Classes are done on Zoom. If you wish, Flametree's Customer Service team can help you with the very easy set up to initially get started.
Flametree uses a very secure and safe process for the online parts of each class. Students are first registered in Flametree's online classes reservation system. (It's called Punchpass).
Second, just before each class starts, students check into an online waiting room. They are then checked individually into the online yoga classes by the teacher, as he or she greets each one of them.
It is not possible for anyone to attend or see the class who is not authorised to be there, and vetted by the teacher.
Fast way to get started
To get started with online, just buy a class. Your receipt will have a link where you can reserve the class. Once you reserve the class, the link to join the class is sent to you.
If you're attending in the studio, you can just turn up. Just pay the teacher before the class with cash of by EFTPOS.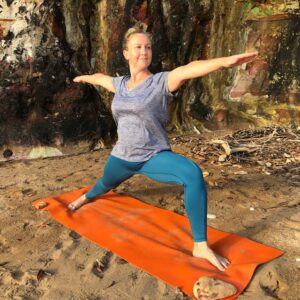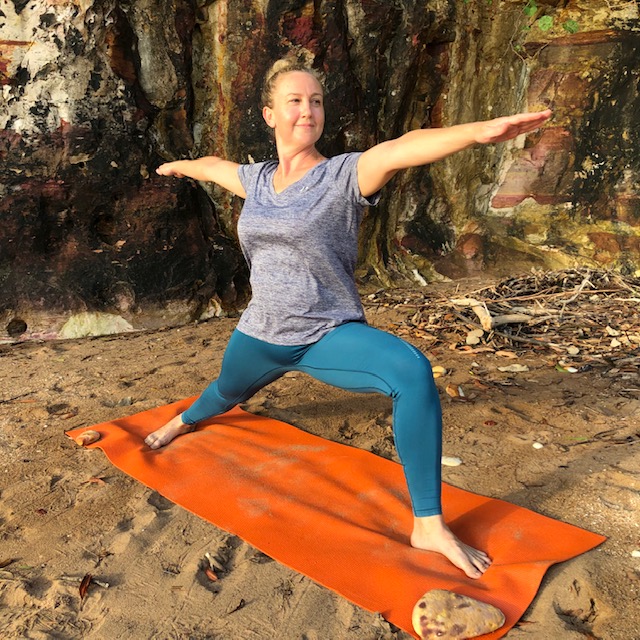 Kim, a yoga instructor, demonstrates Warrior 2 pose. Kim is an experienced yoga teacher, who is also popular as a great instructor. All Flametree teachers are registered yoga teachers.
You will learn poses from sun salutations to supine (lying poses), and much in between. Using ropes, you can also learn Flametree's version of aerial yoga.
Flametree has spacious studio spaces across Darwin, and online. They all offer you a safe space, and an extensive list of classes. 
Yoga for over 50 beginners, including gentle yoga for seniors
There are several Beginner Level yoga classes that prepare you for a non-beginner over 50s class. Consider your skill levels, and choose accordingly. Then join us in Flametree's beautiful space, or in the online yoga classes. Beginner Level classes that are especially suitable yoga for seniors, or for those over 50, include:
All these so-called Special Focus classes for Beginners are described further at the above links. In addition, the class times are in the Beginner Timetable. For many at Flametree, they quickly become their favorite classes. They become another reason for their great love of yoga.
Try Flametree's in-studio or online yoga classes for seniors, at beginner or non-beginner level. In addition, if you're looking for online yoga classes for senior citizens, then give Flametree's options a try.
If you're a beginner, use the free two weeks of unlimited classes at beginner level to check out if Flametree is among the best studios for you. Over the two weeks, it includes total of 12 days of unlimited classes.
Choose from among the wide variety of classes, and get started. Whether you want online yoga classes for senior citizens, or whatever, check out Flametree's most popular deals. If you wish, there are also class videos or on demand classes.
What students say about Flametree, Yoga For Seniors, & more
If you're still not sure about getting started, then read reviews of what customers say about their classes at Flametree.
In addition, you'll see the wide range of benefits they say they have received from both online or in-the-studio classes at Flametree.
As well as that, see Dr McCall's compilation of the scientific studies of the benefits that students get. He lists 117 conditions that clinical trials show have been helped by yoga.
In addition, here are further articles showing the positive results of classes for more mature persons.
Get started right now via the beginner classes, using the HALF price 10 pack (with 2 FREE classes if you buy within 7 days of getting the discount coupon). Check it out for yourself.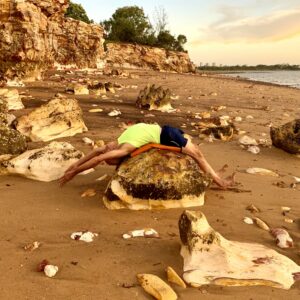 Students start at many different levels, & steadily progress. Flametree's beginner classes give you a safe space with other beginners.
If you want "yoga beginners near me", or similar, then try the at home options. It's a popular alternative with students, as you can see from their reviews.  
Summary of key aspects of what you'll get at Flametree
If you want some version of "yoga beginners near me", or classes for seniors, then some of the key benefits of doing classes at Flametree are these.
new students can start quickly via the 2 session beginner's workshops
our specialty classes, like Gentle yoga for seniors, or anyone, are the perfect class for those who are stiffer
you'll quickly find more peace of mind
the many styles of hatha yoga work for people of all walks of life
Gentle classes, as well as Easy Restorative Classes, are an excellent type of slow flow yoga class
the breath meditation classes will give you a more sensory yoga experience
a large number of daily classes in many styles of yoga, with yoga videos if you miss anything
a welcoming space for physical asana (including 3 locations in Darwin), as well as online
our group classes are a great way to achieve your fitness goals
chair yoga integrated into many classes, from your first class
a Senior Teacher qualified to do yoga therapy, for any condition, including even stiff muscles
convenient class times you can build into your daily life
it's the best value online yoga classes for senior citizens, or for others. Check out some deals to prove it.
Plus even a few more good things to have
a yoga community that will give you a new supportive community
yoga personal training, via private classes, if you need it
advanced classes that will give you our version of power yoga or power flow
if it suits you, a large number of online yoga classes for senior citizens, including gentle yoga for seniors
a welcoming environment where your total body will get the attention it deserves
there's no need for a heated room in Darwin, but you can get as hot as you like! Otherwise, try our aircons
monitored air quality that is always in the healthy range, with plenty of fresh air ventilation
a yoga mat and all other props supplied.
high quality teacher training for any age.
One of the best yoga studios
With the unlimited access passes at Flametree, this 50 plus class is just one of many different classes you can use for your yoga journey.
With the online access, you can join for Union Square in New York City, or the East Village in NYC, all the way to outback Australia.
​Flametree's yoga fitness classes are a great place for all body types to find yoga sessions for their schedule.
The range of classes, including our meditative breathing classes, are the best places to improve your health and fitness on every day of the week.
Across Darwin, Flametree's 3 different locations maximise local access too.
From Flametree's style of yoga, here are just a few more benefits you may also be looking for.
mental clarity, especially if you try our pranayama breathing exercises
a wide variety of classes across the week
yoga videos so you can always find a perfect time to do yoga for you
many unlimited yoga packages, and very low cost
open class levels that work for both beginners and non-beginners (such as for Back Neck & Shoulder Yoga)
free parking at all of our Darwin NT studios
a welcoming atmosphere
a approach that will maximise your inner peace, as you do mindful movement
small groups with good flow of air, and social distancing
natural light.
​So get a pass, and join us today.
See the Beginner & Non-Beginner Class Deals, & Breath Meditation Deals, at the buttons below, or other links on this page. 
Remember, with in-studio & online classes, you've always got classes nearby. In fact, they're in your home!
So if you want "yoga beginners near me", or yoga for seniors online, or similar options, try Flametree's video classes, or LIVE online classes.