Iyengar Yoga Flow Class For Online & Studio: Outline.
Description Of The Best 'Yoga Flow Near Me' Option.
Want vinyasa flow near me, or power flow yoga near me, or similar? Then try Flametree yoga flow. It's an active Iyengar yoga flow for Intermediate level, or those transitioning to it. Newcomers and lapsed students get half price in the studio, and even cheaper online. So, if you want vinyasa flow yoga near me, or similar, Flametree has an excellent flow alternative, and great prices.
This Flametree yoga flow class gives you the flowing combination of the typical Iyengar yoga standing poses. In the process of this active class, you'll learn how to use your breathing in a sequence of flowing standing poses that improve your stamina, fitness, and flexibility.
You may have already done flow yoga or vinyasa flow and are now looking for flow yoga near me, or vinyasa flow near me. If so, our Flametree yoga flow class is very similar to the type of flow you know already.
Iyengar yoga flow
What's different about Iyengar yoga flow? There's more attention to doing poses correctly, so you get all of their benefits.
Throughout the Flametree yoga flow sequence, your teacher will also demonstrate the flow yoga poses, and give you the normal verbal directions on what is required.
So, if you're an Iyengar student, you'll recognise all the regular Iyengar yoga flow poses. The only difference is that you'll be shown how to link them together in more of a flow yoga sequence.
In such classes, I (Christine) use a mix of standing poses, lunges, forward bends, and inversions. It's a mix of poses that will especially your lift heart rate, as well as promote fitness and flexibility. I know this because I've measured their impact with my Fitbit wearable device.
Then, in other normal Iyengar yoga classes, you'll have time to keep working on perfecting your poses, especially in terms of alignment. You'll also have time to ensure you engage and quieten your mind by holding poses longer.
So all of this means that you're getting a great alternative to vinyasa flow near me, or any similar flow yoga you may be looking for. Newcomers and lapsed start at half price, and even cheaper.
Iyengar Yoga flow lunge
Intermediate and Transition Level class
Iyengar yoga flow is an intermediate class, that's also suitable for those transitioning to Intermediate. So it will still suit those who've been coming to this 5.30pm Wednesday class (online or in-studio).
But it also a regular active class that other may find attractive too.
I therefore encourage any non-beginner to come along to the class. As you know, I always adjust the level, and provide individual alternatives, to ensure that a class is suitable for whoever is in the class.
Comparisons with vinyasa & power yoga
Below, I give more detail of Iyengar yoga flow.
In addition, I outline the differences and similarities with other popular yoga flows, such as vinyasa flow, and power yoga.
Most popular passes
Accredited Senior Teacher Chris Lalor demonstrating some flow yoga. If you want options for for vinyasa flow near me, then try her flow class.
​Form of yoga used by Mr Iyengar
Iyengar yoga uses correct alignment of the body. It helps you physically and mentally.
In addition, use of props, such as yoga blocks, can also assist alignment and learning.
Your Iyengar teachers will demonstrate proper alignment and other key aspects of the Iyengar method.
Mr BKS Iyengar developed this style of yoga, yoga practice, and yoga postures.
​Chris Lalor, from Flametree, trained with his family at the Ramamani Iyengar Memorial Yoga Institute.
In addition, some also see a flowing Iyengar class as a form of hatha yoga.
Flow yoga is certainly also used in some form in many other yoga styles.
However, the Iyengar yoga system of flow benefits from Iyengar yoga's attention to detail in the practice of asanas.
As you'd expect, vinyasa flow, and all other flow yoga options, are a cardiovascular experience for your entire body. It's also excellent for your nervous system.
As well, forward bends, and some supine poses are also used for stretching. It's included in the sequence towards the end of the class.
So, Flametree's yoga flow type of yoga is a great alternative to vinyasa yoga.
Iyengar Yoga flow abs work
Benefits of Flametree's Iyengar yoga flow class
Over time, yoga students will get other benefits such as:
better overall health
healthier heart rate
better alignment in shoulder blades and other areas
lower blood pressure (but discuss with your teacher first)
better connective tissues
​balanced stretching of inner thighs (often left out of other exercise)
​better balance of your rest and digest system, and your fight or flight response
This class is taught by one of Flametree's certified Iyengar Yoga teachers, Christine Lalor.
If you have any chronic pain, it's a good idea to discuss that with her first, or get medical advice, or both.
With regular Iyengar practice, you can move through many different levels of flow.
Reservations, & links for online classes
As mentioned, this class can be done online or at Flametree's Darwin NT studio in Woolner.
When you buy a beginner pass, you'll be emailed a receipt. It has links to reserve classes as you go.
For online classes, once you reserve a class, you'll be emailed a link to join it.
Top deals for non-beginner yoga flow
​A power yoga option too
Flametree's yoga flow class option will give you similar benefits to power flow fitness classes. These benefits include:
breathing exercises to help your lung capacity
strength training
stress relief
perfect balance yoga
a yoga workout program
​overall health improvement similar to a wellness studio
a fully engaging yoga experience
weight loss (if that's one of your goals)
access to an amazing community of new friends
a welcoming environment.
​Especially in Darwin, you don't need a heated room. (In fact, some studies show hot yoga may do more harm than good.)
Instead, just enjoy our flow alternative to vinyasa classes, and our flow yoga studio option.
So, buy a pass & reserve a class (via the links on the receipt).
More about our power yoga classes
​Power vinyasa, or similar, uses faster sequences that steadily develop more range of motion.
​In this regard, Flametree's Iyengar yoga flow will also give you a great workout.
​Chris's 5.30 pm Wednesday class has all the elements of power yoga practice, such as you may have otherwise seen in vinyasa yoga classes.
​in this regard, some of the additional benefits it will deliver for you include:
breath work via higher oxygen flow
strength similar to what you may otherwise get from a static posture sequence
​lighter fitness experience
moving meditation as you get familiar with the sequence
​more focus on the present moment
​more attention to healthy habits
greater ability with the fluid movement of accessible yoga postures
​toning such as you otherwise may see from arm balances.
This is one of our company's signature yoga class options.
So join a great class, where you'll get all the powerflow yoga benefits, and more. By the way, all props are provided, even yoga mats.
If you're looking for power flow yoga near me, or similar flow, then use the high value deals on this page to get started this week.
For more information, feel free to use our phone number or email address below, or our CHAT button, or just make an online reservation.
25% off for the first 3 months of Transition level yoga
Maybe best of all, if you've done beginner level classes at Flametree, you get 25% OFF your first 3 months of non-beginner classes. These can be done in any Transition or other non-beginner yoga class, including this class.
One of the best yoga studios
Among it's wide range of classes, Flametree also has some separate slow flow options.
​In addition, there is restorative yoga on the weekend. This is a great yin yoga alternative.
A yoga practitioner is best to build some restorative postures into your practice on at least a few days of your week.
So, Flametree's variety of yoga classes is another reason why it's the only yoga studio you need to use.
​Relatively rapidly, new students will find that muscle tone and body awareness improves. Many other health benefits will also appear.
Flametree's main studio is at Woolner, just 3 km from the Darwin CBD. It also has a small studio at each of Palmerston and Casuarina.
Come along and try out some of the best yoga teachers you'll find either in Darwin, or online.
Timetables, locations, & class types
Follow the links to the Beginner timetable & Non-Beginner timetable.
In-studio classes are at Flametree's 3 Darwin locations in Woolner, Casuarina and Palmerston. (The Google maps at the links shows details, including street addresses).
Alternatively, there is more about what's done in each class, including the Special Focus classes, via the links at the Class Types Page. See also the next section.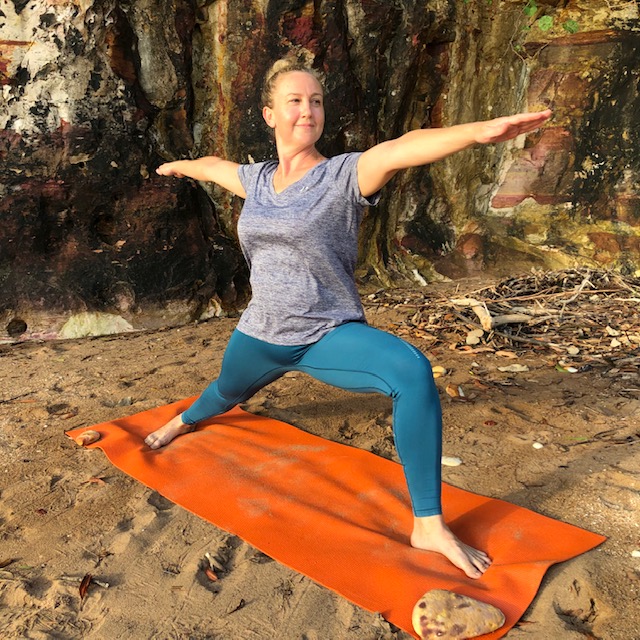 Kim, a Flametree teacher, demonstrates Warrior 2 yoga pose. If you're looking vinyasa flow near me, or power flow yoga near me, or similar, then try the flow option for non-beginners at Flametree.
A perfect place for a variety of classes
From your first class of flow yoga, you'll notice the benefits of this level of physical activity.
The wide range of sun salutations, are a great way to assist your deep connective tissue, and much more.
In addition, a flow yoga journey provides a strong foundation for many other aspects of the practice of yoga.
Your experienced yoga teacher will guide you on ways to also improve core strength, and other core work.
Plus, in other classes, you'll get get the benefits of long holds of postures, and slower pace options.
All in all, you'll get access to the ancient wisdom of yoga, plus plenty of dynamic movement.
Class 10 packs, & extra bits and pieces
If you're searching for power flow yoga near me, or any other yoga flow, then check out Flametree yoga flow at 5.30pm Wednesdays, or a slower flow class at 8.45am Saturdays. Both classes are at Flametree's Woolner studio, and online.
Other flow classes, with a mix of intermediate and beginner flow poses, are at 10am on Saturdays at Casuarina, and 6pm in Palmerston NT.
For newcomers, there's also a FREE first class, providing you first make a reservation.
For the top value pay-by-the-week deals, a credit card or debit card can be used.
You can also pay cash at the classes.
For online classes, the zoom links are emailed to you as soon as you reserve a class.
Private lessons reservations are available. Reach out to Customer Service.
What students say about Flametree Yoga and it's benefits
If you're still not sure about yoga, check out genuine reviews of what customers say about their yoga classes at Flametree.
In addition, see the wide range of benefits they say they have received from both online or in-the-studio yoga at Flametree.
Or get a HALF OFF a beginner yoga 10 pack (& 2 FREE classes).
If you want vinyasa flow yoga near me, or power flow yoga near me, or similar, check out Flametree's flow yoga alternatives with these top deals.