Flametree Yoga Timetable (NON-BEGINNER) for In-Studio (offline) & online Zoom Yoga classes 2023.
Below, Flametree Yoga Timetable For Non-Beginners, Including Zoom Yoga Schedule.
Non-Beginner Timetable. Or See ALL Beginner Classes Via Orange Link Above.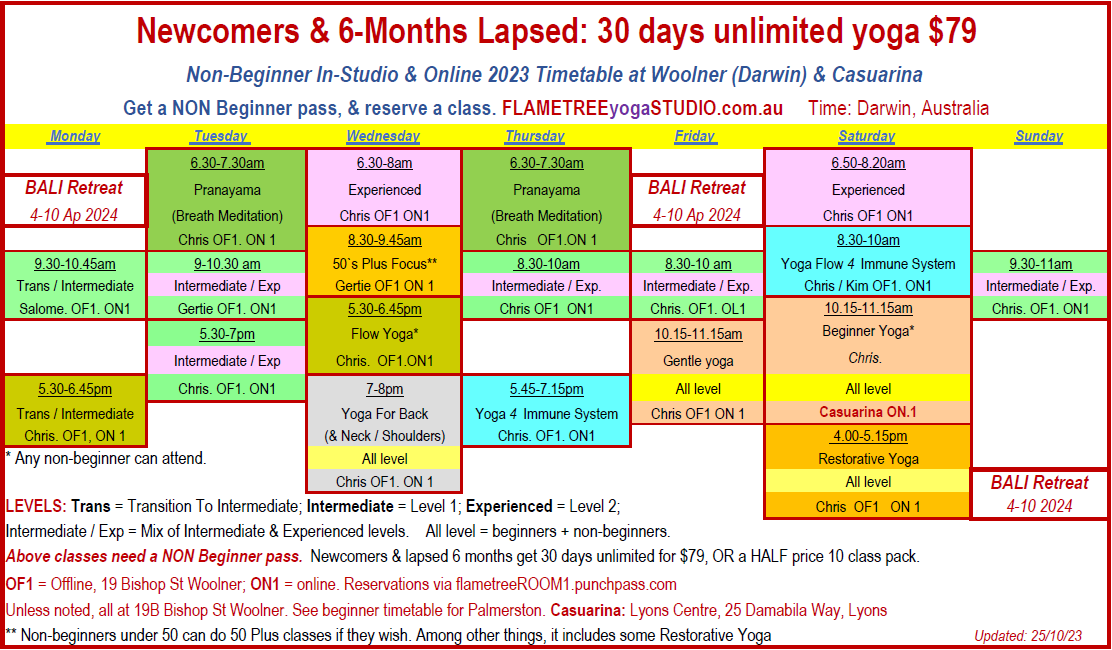 See the large, convenient Flametree Yoga timetable above, including 5 levels of yoga skills (beginner to advanced). In addition, see the many options like back, neck, shoulders focus yoga, gentle yoga, 50+ yoga, immune system yoga, & restorative yoga. Moreover, classes are in-studio at 3 Darwin locations (see below), or use Zoom yoga for online. So via this page you can either get a pass, or reserve a class, or both. (We're also known as just Flame Tree, Flametrees, or Flame Trees).
There's also more about each type of class under the "Class Types" tab on our site. Above classes need a NON-Beginner pass.
Timetable In Your Timezone
(Click through each day to see Flametree Yoga Timetable for that day, including for Zoom yoga)
SCROLL down to see timetable in your own local times
Please scroll down to see the above Flametree Yoga timetable in your own time zone, including the Zoom yoga schedule. The time zone is based on the time used on your PC, tablet, or phone.
Location of in-studio yoga classes in Darwin
In-studio classes are at Flametree's three Darwin locations in Woolner, Casuarina and Palmerston.
(The Google maps at the respective links shows you more details).
How to reserve an online (Zoom Yoga) or in-studio class
You can make Class Reservations at these live links:
You can turn up at the studio without a booking or a yoga pass. If so, you will need to buy a pass at the studio/s, with EFTPOS or cash.
(If you just turn up, you do risk that the class will be too full).
Once you reserve a class, the link for the online class, via a Zoom link, is emailed to you.
At the studio, for payment and COVID19 reasons, please give the teacher your name, mobile number, & preferably your email.
How to get any pass (including for Zoom Yoga)
Flametree offers many yoga pass options & deals. For example, they include casual classes, ten passes, beginner courses, & weekly passes.
Choose a yoga pass from all our prices, deals and packages.
If you have questions, or want to purchase a pass over the phone, please see the Customer Service Contacts at the bottom of this page, or reach out via a Facebook message, or  Contact Us.
Apart from the yellow All Level classes here, the full Beginner Yoga contains some beginner classes that are not listed in the above non-beginner timetable.
To join a class, get a pass, and then reserve a class.
Easy, fast class reservations at Flame Tree (aka Flame Trees)
Check out Flametree Yoga Timetable, then get a yoga pass (if you don't have one yet).
Then, if you have a pass, or want to just buy one at our studios, just reserve a class spot, at the links below.
Non-beginner class reservations
Convert our class time to your local time
The class times in your local time are at the International Timetable above.
Plus, if you use an iPhone, the World Clock feature on your Apple clock can be set to show Flametree's class times in Darwin, Australia.
In addition, another way is to use the app below.
On the left hand side, insert Flametree's class time in Darwin Australia from the above timetable.
On the right hand side, insert the name of your city on the bottom right.
Your local time for the class will show in the top right hand box.
https://www.thetimezoneconverter.com/
Tips for attending online the Zoom yoga classes on the Flametree yoga timetable
You can reserve classes up 7 days in advance. (But please also use the link on the Pay / Book page for cancelling any that you cannot attend).
So, here are a few more tips about attending these online classes:
If you are a newcomer to Flametree (or if you have never booked a class), check out the booking instructions on the booking app (Punchpass) at the above links. Or see the video here.
To use Zoom, download the Zoom Client Meeting app and open a free account
Using Zoom on your PC is best, but otherwise use it on your phone. You can also link your phone, iPad or PC to your TV, so you get a big picture of your teacher doing yoga pose demonstrations.
Use the link to join the online Zoom Yoga class. We will send you the link by email before the class (once you book).
Fine tuning online Zoom yoga classes
Ideally, set up your PC or phone so your teacher can see you as you do your yoga. (You'll get the most our live interactive yoga if the teacher can see how you are doing with the commentary and demonstrations you'll get via Zoom).
Have your yoga props, or improvised props, handy. See more about props.
After you login to Zoom, you may sometimes be in a waiting room for the class. The teacher will admit you.
Once you open the Zoom meeting if you can hear, but can't see the class, check your video is not muted. (See the video icon in the bottom left of the screen).
Once you enter the online class and can see and hear the teacher, please cease any background noise (including from animals!), and quietly lie in a relaxing yoga posture. Your teacher will mute everyone once the class starts.
If you have any trouble logging into Zoom, message Flametree via our Facebook Page. (If Chris is teaching the class, or even if there are any other problems coming up for you with getting into other classes, you can also text her on 0448 11 22 51).
Very occasionally, there may be some momentary issues with transmission, Please just wait until transmission is restored. In some cases, you may have to log in again.