Here's how yoga poses for happiness and relaxation work. You can learn to do them yourself. Check out the science. Then give it a go. I've even referred you to my list of yoga poses for vagus nerve stimulation.
In my own case, as a result of doing yoga, I like myself more, and I like other people more!
I now know this happens because of our vagus nerve.
Among other things, this nerve develops more compassion in each of us.
The vagus nerve is a huge nerve that connects your gut to your mind.
As you work with yoga postures, this stimulates your vagus nerve.
Much more about your vagus nerve is in the video below. It consists of the slides I used at a presentation.
When you view the slides, be ready to push the pause button on any page where you want more time to absorb the diagrams or information on each slide.
Compassion drives happiness
There's now plenty of good science around happiness, compassion, and even yoga.
For example, see a recent book by Dacher Keltner, a world renowned psychologist who's been listed as one of the 50 visionaries changing the world.
His work, and his reviews of the work of others, show that compassion "is good for your children, your health, and is … vital to your marriage [or relationship]."
He sums up with the words of the Dalai Lama, who said: "If you want to be happy, practise compassion; if you want others to be happy, practise compassion."
In my own experience of yoga and its affect on my vagus nerve, I agree.
For example, as part of that journey of how I got into yoga, I've come to see that my mother was too critical of others. That rubbed off on me.
I found that all the poses that work via the vagus nerve makes me less judgmental of others, less critical of myself, and more tolerant.
In turn, this again is another reason why I know myself to be happier, due to yoga.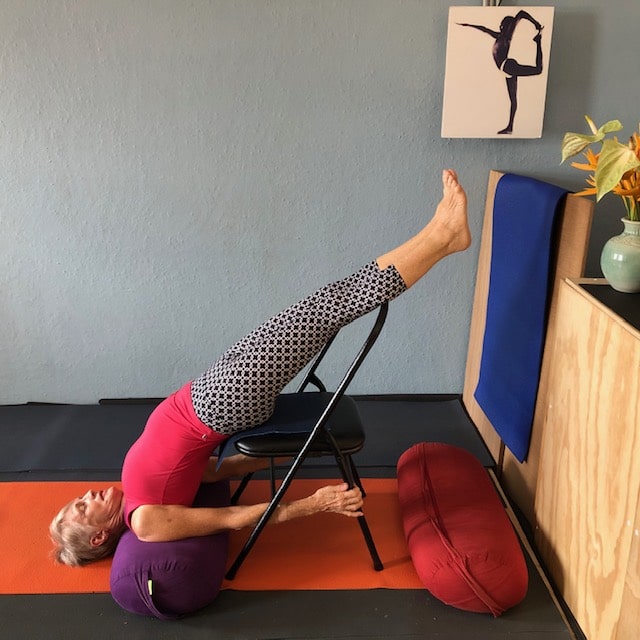 Another of the many yoga poses for vagus nerve stimulation. Try some today.
You'll know it when you feel it
If you've not tried yoga, give it a shot. If you're doing some yoga, try doing it daily… via home practise, online classes, or in-studio.
The more yoga you do, the more benefits you'll get… at physical, mental, and emotional levels.
You'll also be wiser, and more compassionate.
Dacher Keltner's work shows compassion to be one of the greatest determinants of the survival of the human race, plus much more.
If you're especially looking for yoga for relaxation, or rejuvenation, then see more about our easy restorative yoga.
If you're doing yoga, and have not yet experienced how compassion drives happiness, then it's time to do more yoga.
You'll know the truth of what I'm saying when it becomes self-evident to you, via yoga.
In other words, you'll know it when you feel it. And feeling it is what yoga is about. It's different from thinking about it, or knowing it rationally.
You'll get a certainty that flows from experiencing it. That's when you'll definitely know its true.
In summary, yoga gives you more compassion, via the vagus nerve. Compassion then gives you better health, happiness, & much more.
If you're ready to get started, here are all Flametree's packages, deals, and prices.
Do more yoga poses for happiness and relaxation
Get happy or relaxed, plus strong and fit. Or whatever else you're after from yoga.
The next 4 week beginner yoga course, with up to 2 weeks free, is one good way to start.
The beginner poses are easy, introductory poses.
There are even special, optional beginner classes like Gentle Yoga, Backcare Yoga, and Easy Restorative Yoga.
You can see all these options in the beginner timetable.
Try Beginner Yoga via a week-to-week pass, online or in-studio, or both, with a 2 week free trial and money back guarantee. With this pass, you can start anytime.
The beginner double pass even gets you 25% off for both starters! It's an excellent way to get started with yoga for happiness and relaxation.
Non-beginner yoga students, who are newcomers or lapsed at Flametree, get 14 days of unlimited non-beginner classes for $29 (online or in-studio, or both).
FREE options for your vagus nerve path to compassion & happiness
In another post, I've also given you some pictures of over 20 vagus nerve activating poses. The poses illustrate some of the more advanced options. There's also many less advanced options than those at this link.
As you may know, most yoga poses have introductory, intermediate and advanced versions. For your purposes, any version of the pose will achieve your objective.
Whatever else you do, try out more of these yoga poses, simple or advanced, for vagus nerve stimulation.
Another option is to check out the FREE pictorial yoga sequences, or video classes, on our free yoga page.
Whether or not you do classes online or in-studio, save the yoga sequence links for doing additional home practise.
If these deals are not exactly what suits you, check out all Flametree Yoga packages.