Bring A Friend? Refer A Friend? Huge Savings.
Use the coupons below to buy a ten class beginners yoga pass at HALF PRICE.
Use it for any in-the-studio & online beginner yoga Ten Pass.
Half price ten pass for you and / or a friend
If you buy ten beginner classes for yourself, and have a friend buy one too, then you each get the Ten Class Pass at half price. Just use the coupon codes below. If you already hold a Flametree pass, then you can still use this half price deal. In that case, see the next heading on this page.  You can use this deal for online or in-studio hatha yoga classes. In this regard, when you attend online, you always of course get yoga classes near me beginners. There's nothing nearer than your living room! So try Flametree's top deals for yoga beginner classes near me.
Your friend has to be either new to Flametree, or a Flametree student who has not done a class at Flametree for at least 6 months.
When you buy your own half price ten pass, please contact us and tell us the name of your friend who's also buying their own ten pass.
You can of course just buy two… both at half price… and give one to your friend (and maybe collect the money from them later).
In addition, if you have several friends who buy one, you do not have to buy one yourself, for each new person you invite to Flametree. Just give Flametree the names of your various friends.
Flametree students with a pass can still use this half price deal
If you're already a Flametree student, on one of our yoga passes of any type, you don't have to buy a ten pass yourself. Just refer a friend.
In that case, just let you friend, or friends, know about the half price deal. Tell them the discount codes to use. They are below, right under the picture.
Please email your friend's name to [email protected].
Get the coupon codes below this picture.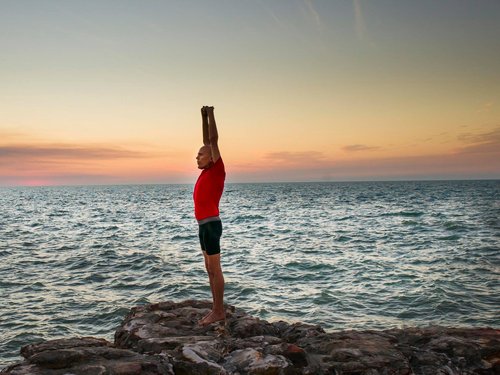 Your in-studio or virtual classes can include a wide variety of classes. Every yoga instructor is highly trained to deliver first class calming and fitness classes. That's why Flametree is the best yoga studio space for a yoga practice that will achieve your fitness goals.
It's a perfect place for new students, and a totally safe space for your in-studio or online classes.
HALF price hatha yoga for beginners COUPON CODE
For you to each get your half price ten pass, go to the normal ten pass links below, and use the coupon codes below.
(When you, or your friend, fill in the details on the purchase page, you'll see the box where you type in the coupon code. The price will adjust once you put in the code).
Link for online & in-studio ten pass.
(Normally, $9.90 per class. Half price is only $4.95 EACH). 
Use the coupon code:  HALFPRICE10PASS
Link for ONLINE ONLY in-studio ten pass.
(Normally, $7.90 per class. Half price is only $3.95 EACH). 
Use the coupon code:  ONLINE10PASS
This offer is only available until the beginner classes are entirely full.
Classes are online or in-studio (in the Darwin, Australia region).
Remember, with online, you always get a yoga beginners class near me. In fact, you get it right at your own home or workplace. Try it.
If you want more on the health benefits of yoga, then check out the at least 117 conditions it has been proven to assist.
OR, use the coupons codes & links above to buy a ten class beginners yoga pass at HALF PRICE.
Flametree Yoga Studio Darwin NT class times
Each beginner class is in-studio in Darwin, Australia, or LIVE and online, at the local time of Darwin, Australia (+9.30GMT).
At the beginner timetable, you can also see the times in your local time zone. (Look under the timetable grid).
The classes are easy hatha yoga poses.
In addition, there are special focus options, including Gentle Yoga, Yoga for Back (& Neck & Shoulders), Women Only Yoga, & Easy Restorative Yoga.
Use the coupons codes & links above to buy a ten class beginners yoga pass at HALF PRICE.
Beginner Yoga in Palmerston, Casuarina, & Woolner. Plus online yoga.
A Flame Tree Yoga Studio Darwin Beginner level yoga class can be started at any time. 
There are many beginner classes running continuously each week.
Use this half price ten class pass to join any mix of those beginner classes that you choose.
With several passes, there is also a 14 days of unlimited yoga for FREE.  You need a credit or debit card, but unless you continue after the trial, you pay zero.
Follow the links to learn more about the other most popular of Flametree's beginner yoga deals.
Beginners can also just pay week to week, or there is also a beginner course, in-studio or online.
If you're in Darwin, Flametree also has a local yoga studio in Woolner, Casuarina and Palmerston. (The Google maps at the links shows you more details, including street addresses.).For every class, you can also get a LIVE or online yoga video.
If you want, there are more reviews and stories by Flametree students. (That's apart from the links to the stories of students that are featured on this page).
Most importantly, via any online yoga class, you always get yoga classes near me beginners. Or anything similar you want. Try it.
Some of the many yoga benefits you'll get
This half price deal is a great way to try Flametree's high quality styles of yoga.
In addition, our different styles give you a wide range of benefits, including weight loss, personal growth, breath work and breathing exercises, top physical postures, a large class schedule, wonderful teachers, and private yoga classes (if you want).
As well as the benefits we've already mentioned, you'll get strength training, chair yoga, improved fitness levels, the best choice of classes, a corporate wellness program, free breath meditation classes, and special focus group yoga classes.
If you wish, see more on yoga's proven benefits. 
An advanced student can also move quickly to a range of higher level classes.
Yoga Beginners Introduction
At Flametree, you'll get a yoga teacher of the highest quality. For example, if you've never done yoga, come along and try out teaching in the Beginner Yoga Introduction.
The Introduction is summarised in the image below. Among other things, you'll find that Flametree's Iyengar style is different to, and better than, vinyasa yoga.
Some yoga beginners go to the Introduction, and then use this ten pass deal. Others just get the ten pass deal and start our regular beginner classes right away.
OR, use the coupons codes & links above to buy a ten class beginners yoga pass at HALF PRICE.
Do-able poses taught in easy steps
At Flametree, the practice of yoga is a physical practice that builds your fitness level. But our style of yoga, including breathing techniques, will also build a mind body connection, and even spiritual energy.
The teaching style, in the tradition of Iyengar yoga, breaks a specific pose into easy, learnable steps. Done this way, anyone can master basic yoga poses, and eventually move on to become advanced yogis.
The main thing is just to show up to our yoga room, or online, and get started.
You'll be taught different poses at the perfect time for wherever you are at.
To make rapid progress with your individual needs, doing many classes each week is a good idea. In that case, an even cheaper alternative to ten class deals are the pay-by-the-week deals. These even include free yoga classes to for two weeks.
You can see these deals at the All Prices Page.
Includes Gentle Yoga, Women Only Yoga, Backcare Yoga, & more
Many Special Focus Classes can be accessed with this deal.
If you want a slower pace, then try Gentle Yoga, or Easy Restorative Yoga. There are yoga styles for working on your entire body.
Class types or styles also include dynamic practice, arm balances, and other experienced student options.
The beauty of yoga is that you can start as an absolute beginner and progress at your own pace.
Flametree's special offers to new yogis are summarised in our most popular deals.
But whatever level you're at, you'll get all the benefits of proper alignment. All classes are small groups where the teachers will give plenty of feedback.
Beginner students will find a safe environment and a wellness studio approach. Try it with our top deals.
Try a friendly beginner yoga class today.
Yoga gives you great workouts, or whatever else you want. Keep an open mind, and check out what it can do for you. Keep at it, and you'll make rapid progress towards being an advanced yogi.
There's no need for a hot room. In fact, it may not even be good for you. Just do our LIVE online, in-studio, or on demand classes at room temperature (or with air conditioning if you want).
Flametree students in Darwin know that Flametree has the best studios.
Choose classes that are at a good time for you, Then build them into your daily life. You'll get new mental clarity, physical strength, inner strength, and better overall health.
Use the coupons codes & links above to buy a ten class beginners yoga pass at HALF PRICE.
Facebook Page for Flametree Yoga
Use the coupons codes & links above to buy a ten class beginners yoga pass at HALF PRICE.
Or try some of the other deals outlined above.