For Newcomers to Flametree, & Returning Students:
Unlimited NON-BEGINNER yoga for 14 days for $29
(BEGINNER deals, with 2 weeks FREE, are here)
Get daily yoga for less than $2 a class.
This deal lets non-beginner newcomers  to Flametree, and Flametree students who have not done a class for 6 months,  get unlimited entry to many classes a week in any of Flametree's non-beginner classes, in the studio or online, or a mix of both. Online is the new yoga near me!
This  non-beginner pass is for any Flametree yoga class except dedicated Beginner classes. Get more details below, or buy the 14-day non-beginner pass, for just $29, via the button below.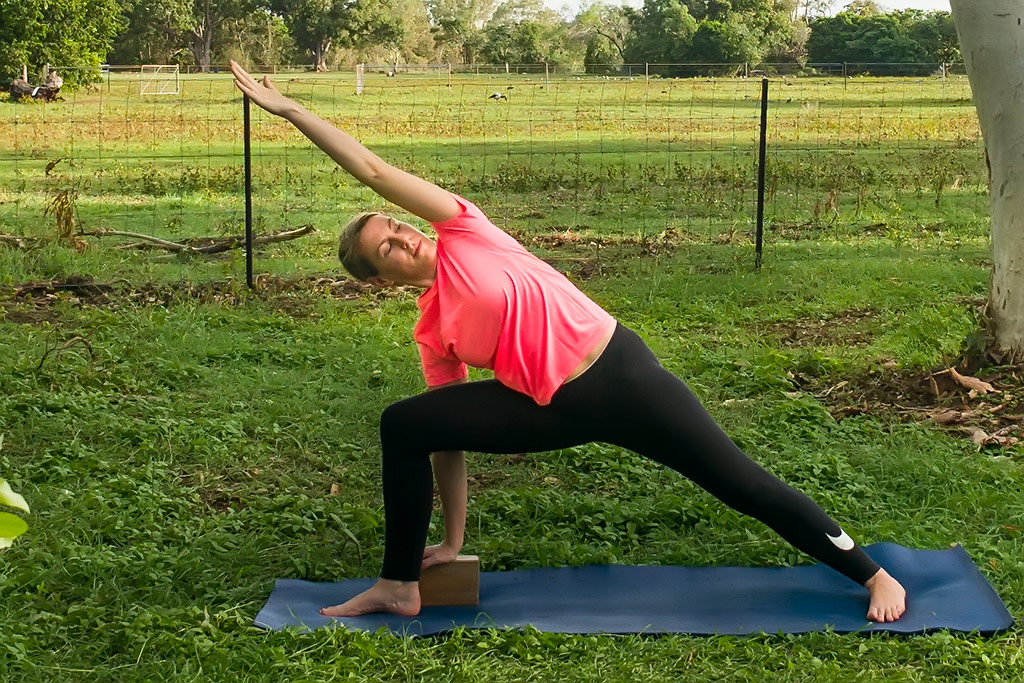 If you just want to buy a pass and then reserve a class, go down this page for how to reserve a class.
This unlimited $29 pass for 14 days is a once only opportunity to try out or reconnect with Flametree's style of yoga, its high-quality teaching, and the many benefits you'll get from Flametree's yoga.
Come along if you are totally new to Flametree, and have done sufficient yoga so you can at least do yoga at Flametree's lowest level non-beginner class (called Transition to Intermediate, or "Trans" level).
The large non-beginner timetable is near the end of this page. If these class times don't work in your time zone, or with your other commitments, please consider the playback streaming video option here.
There's more about the benefits of yoga in the video at the bottom of this page.
Choose the best level of you
Flametree teaches yoga at five levels… beginner, Transition to Intermediate ("Trans"), Intermediate, Experienced and Advanced.
Almost all of these classes are available both online and in-studio. With this $29 pass, you can do the online or in-studio classes, or any mix of both.
You may know what level is appropriate for you, but if you want to check your skills, use this pass to first try Transition to Intermediate level (or otherwise check out our 2-week FREE trial for absolute beginners).
Drop in & pay at the class, or buy now in case class is full
Non-beginners can also drop-in to the appropriate level of Flametree's classes (and buy a pass on the spot).
You can pay online at the link below, or you can pay cash at our two studios… or by card at our main studio at 19b Bishop St.
The teacher may request you move to another level if yoga skills are not currently sufficient… so please choose the class level carefully, so you don't hold back other students by ending up in a class that is above your level.
Dropping-In to a class is subject to space. Pay online & book for priority, via using class reservation information further down this page.
Link for each online class is sent to you. Online is the new yoga near me!
Online students just buy a pass, and reserve a class see below on how to get the link to your Zoom class.
The non-beginner timetable is at the bottom of this page, or here and the button below is to buy this $29 Non-Beginner Pass now.
Get more details of this Non-Beginner deal of $29 for 14 days of unlimited yoga, or buy it now.
Yoga that you get around to doing!
Depending on your level of yoga skills, the teacher will demonstrate the pose, and then talk you through doing it yourself.
Having a teacher to show you what to do, tell you to do it, and how long to hold each pose, makes it much easier to get around to doing the poses that will do so much for you, and dramatically easier than trying to do it yourself.
If you want, in both online and in-studio classes, the teacher gives interactive, individual help on the spot.
Online students say the online is just like being in studio. If you have not tried it yet, online yoga is a new level of convenience and service.
Yoga props, and yoga anywhere!
For in-studio classes, Flametree supplies all props, including mats.
For online yoga, before you start a class, it helps to get a few basic yoga props, like a non-slippery mat or rug, plus some household items like a chair, blocks or bricks, and a belt or short piece of rope.
There is more about yoga props, here.
If possible, set up a part of your home where everything you need for yoga is set up, or quick to set up. It will help you make it a regular and effective part of your life.
When you travel, take a mat, foam brick, & a yoga belt. Hotel rooms are good for yoga too!
How to reserve classes, location of classes, & customer service
Once you have bought a pass, the non-beginner classes can be reserved as you go. You can reserve classes for up to one week in advance (and longer in holiday periods).
Below, you'll see how to reserve classes. If you have any difficulty, or just have a question, please contact our use the Customer Service contacts at the bottom of this page.
To reserve almost all non-beginner classes, whether in-studio or online, see the timetable at the bottom of this page, or buy a pass and then go to class timetable and reservations here.
In-Studio non-beginner classes are all at 19 Bishop St., Woolner, in Darwin, Australia.
Using Zoom for online classes, and where to reserve them
All online classes are via Zoom. You'll need to download this Zoom app on your phone, iPad or PC, and open a free account.
As you can see from the timetable below, most non-beginner online classes are in so-called online Room 1, which is marked on the timetable below as ON.1.
Again, to see a list of these online Room 1 classes, and reserve them, go to class timetable and reservations here.
If it is an online class, the login via the Zoom app will be sent you as soon as you reserve the class. The easiest option is just to click on the Zoom link you will be sent by email.
Online room 2 classes (ON.2)
In the timetable below, or in the list above, there are a few online classes are in online Room 2. These are marked on the timetable as ON.2. To see a list of these online Room 2 classes, or reserve them, go to Room TWO class timetable and reservations here.
Non-beginner timetable including special focus options
The timetable below is in the local time of Darwin, Australia. Underneath it is a converter.
There are 5 levels of classes, plus special focus classes such as Women Only, Breath Meditation, Backcare, Restorative, Slow, Fifty Plus, and Pranayama.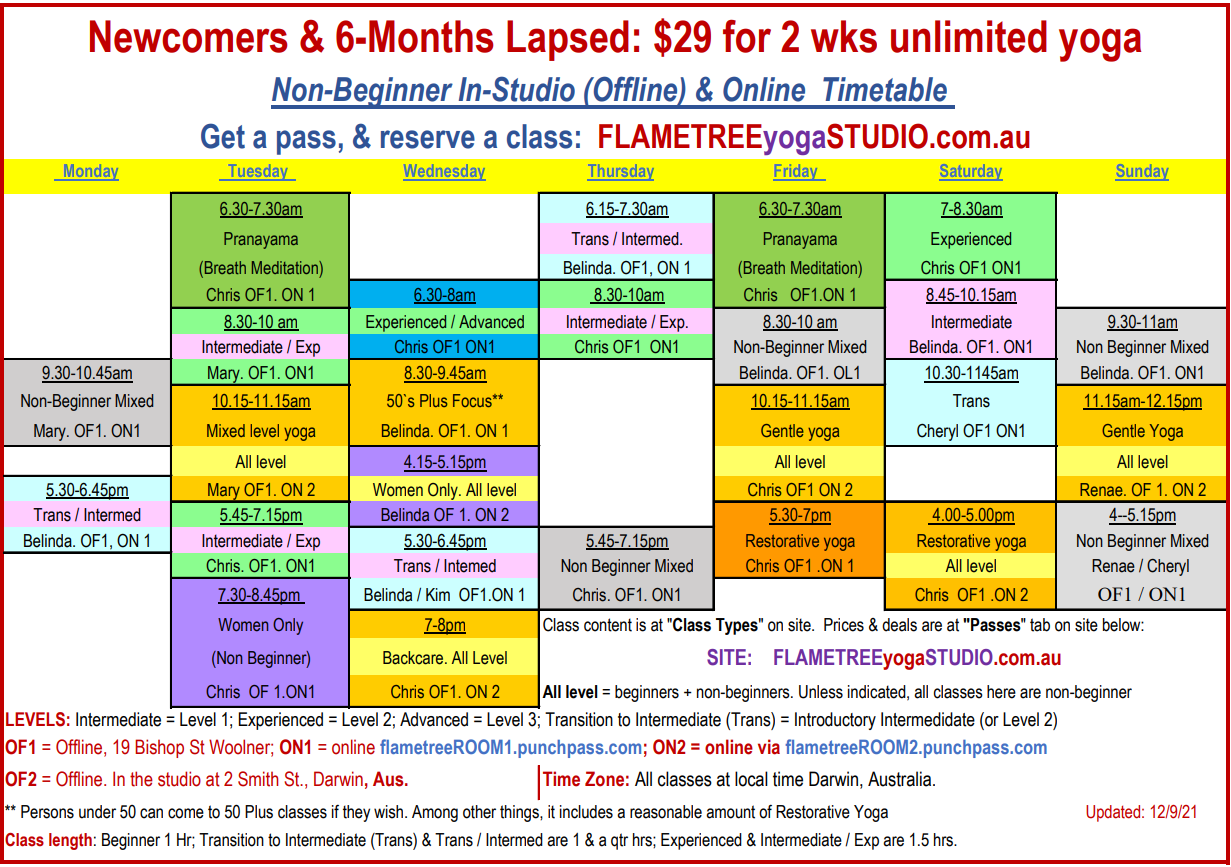 Unless marked otherwise, all classes are simultaneously in the studio and online.
Convert our class time to your local time
If you use an iPhone, the World Clock feature on your Apple clock can be set to show Flametree's class times in Darwin, Australia.
Or you can use this app: https://www.thetimezoneconverter.com/
Help with reservations, payments, information or any other customer service
[email protected]
Message via Facebook
0448 444 834 or 0448 112251 (Phone or text)
Get more details of this Non-Beginner deal of $29 for 14 days of unlimited yoga, or buy it now:
What people are saying about Flametree Yoga Studio
"…Thank you for all you have done to keep yoga accessible, it has been so beneficial, and also lots of fun "
Tania, Facebook
"My first online class last night from my lounge in Brisbane, fantastic! Thanks Flametree"
Bridget, Facebook
"The Zoom sessions are going really well. I'm so grateful for having them"
Gina, Facebook
"… can't wait to start back at the studio and of cause those all so important after class catch ups over coffee"
Michelle, Facebook
"This is awesome! Thanks for sharing your practice around the globe."
Jason, Facebook
"Yoga is an important contributor to my bike riding habits and increasingly an important part of my other-life too."
Colin
"Great [backcare] class tonight Chris and such a gift to be able to start yoga again online after a couple of years of not being able to juggle classes with family routine! "
Janet, Facebook
"I'm so grateful. Belinda's class this morning was brilliant – my first headstand at home! thank you Chris and team. "
Sam, Facebook
"…Chris…. you are a truly inspirational women in my life."
Angie, Facebook
"Loving the classes. All of them. The quality of teaching is of course fabulous, but the range of options, the convenience and flexibility that allows is wonderful"
Penny, Facebook
"I like the friendly teachers and the feeling that you are not trying to compete with everybody else in the class"
John, Facebook
"The classes are brilliant and bring the joy (and discipline!) of yoga into your home. I'm so thankful for the opportunity to continue classes this way."
Deirdre, Facebook
Still unsure, or have questions about Flametree?
If you're uncertain about what may work best for you, the extra information on this page will help you make your choice.
Plus, here's much more on the benefits of yoga & the many conditions it helps. 
Or contact the customer service team listed at the bottom of this page.
Short video on some major benefits of yoga