How can Yoga help?
Now more than ever, the benefits of yoga are needed to support us both physically and emotionally during corona virus times.
Our online classes are run via Zoom and include expert guidance from our experienced instructors.
Yoga can help you to:
Improve mental clarity and reduce stress
Maintain strength and flexibility
Reduce inflammation and pain
 Sleep better
Get trimmer, gain fitness and have fun
Realign your goals and get back into a health routine
Connect online with a community of people from near and far.
Get a pass & reserve a class!
How to get a yoga pass
We have a range of online class packages to suit all needs, from a free class every two weeks, through to unlimited classes.
As soon as you select the package you want, you can then reserve an online class via our booking app.
See the table below for the range of ONLINE yoga packages.
If you want offline yoga, or mixes of offline and online yoga, then please go here for non-beginner deals.
For BEGINNER  online, offline and on-demand playback classes, go here.
Online Class Weekly Packages
How to reserve a class
Once you have purchased your yoga pass package, you can then reserve your class via our class reservation app. There is a timetable on the app,  as well as below. For most of the class times, choose an online or offline version of the class. The offline classes are in Darwin, Australia.
For online classes, you will receive an email confirmation, including a link to join online classes. You can also save the link to online calendars. A reminder is sent prior to the class start time.
It's as easy as that!
Class Timetable
If you're on a mobile, expand this timetable picture with your finger. Because it's a picture, you can also save the image to the camera roll on your phone. You can also see the timetable once you go to the page for reserving classes.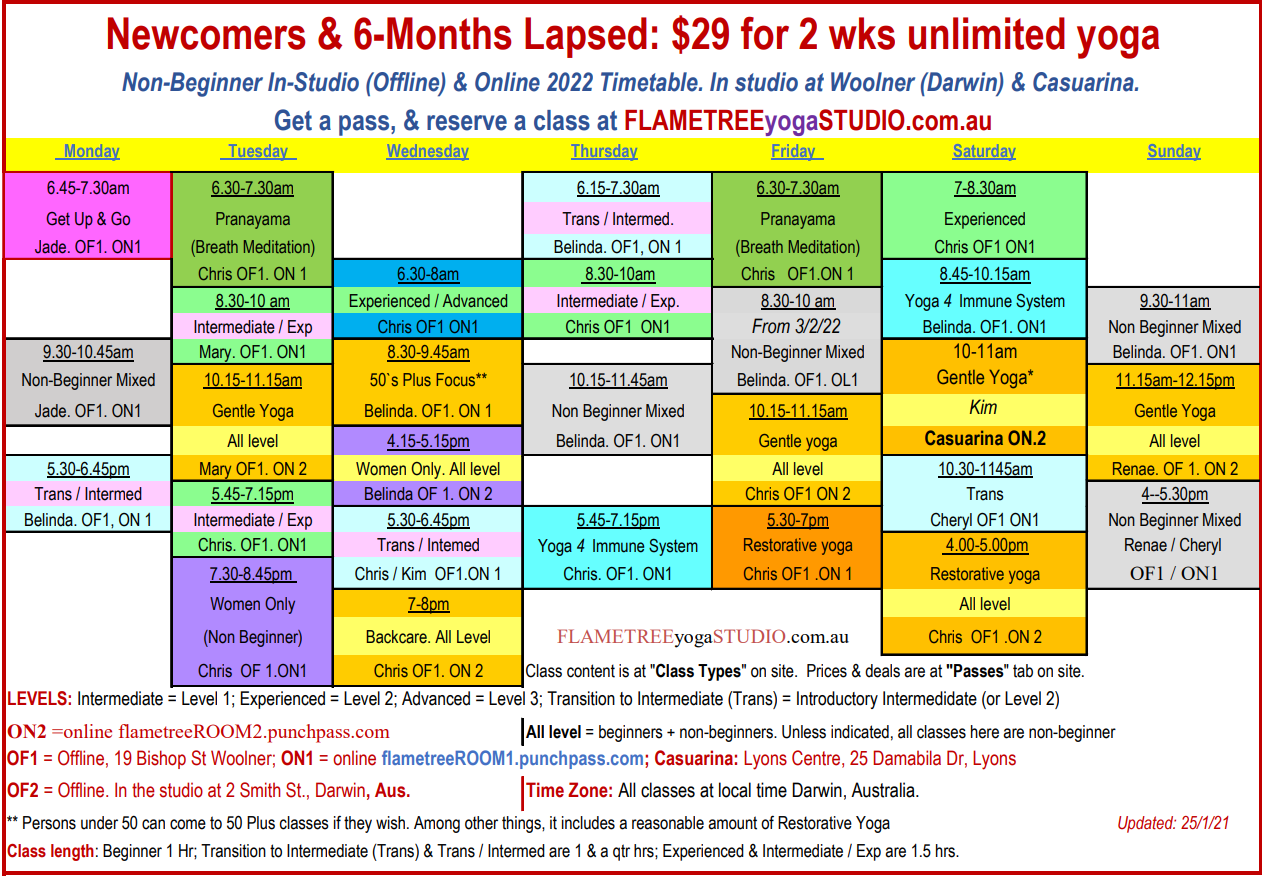 Choose a class at your skill level
For all packages, please choose a class that is suitable for your levels of skills. That will make it easy on you, and also is considerate of others in the class.
We teach at two main levels… beginner and non-beginner.
Within the non-beginner level, there are 4 levels… moving from easier to more challenging:
Transition to Intermediate (Trans)
Intermediate (often called Level 1)
Experienced (Level 2)
Advanced (Level 3)
If you are unsure which level is best for you, please start at the Beginner or Transition to Intermediate level, or combined Trans / Intermediate level, or Restorative, or Mixed Non-Beginner.
When you choose the right level of classes for you, you'll find yoga easy. But you'll still all the benefits that yoga offers.
Go here for BEGINNER  online and offline passes: https://flametreeyogastudio.com.au/beginner-yoga/
Click the button below for NON-BEGINNER free or paid online passes.
What people are saying about Flametree Yoga Studio
⭐⭐⭐⭐⭐
"First timer and it was fabulous"
Thanks Chris and Richard
⭐⭐⭐⭐⭐
"Thank you! My friend linked me into an online home Iyengar which I have just started and am enjoying. Thank you both"
Ellen
⭐⭐⭐⭐⭐
"Thank you Richard and good to see you Chris. The sound was really good….This is so helpful during this challenging time, thank you"
Tania
⭐⭐⭐⭐⭐
"Thanks Chris – that was a fabulous session this morning (and last night) – you and your team are doing a great job. The instructions were very clear and it seemed very personal and connected with fellow yogis on line"
Miriam
⭐⭐⭐⭐⭐
"Well done Flametree for making such quick and flexible alternative arrangements..it's amazing"
Mandy
⭐⭐⭐⭐⭐
"Thanks for another great class Belinda…. So relaxed… 😅 See you next class"
Mel
⭐⭐⭐⭐⭐
"Thank you very much Chris, Richard and Belinda for your dedication in bringing these classes to our homes"
Susan B
⭐⭐⭐⭐⭐
"You are doing the most amazing job Chris. So grateful to have access to your wisdom and classes "
Jane
⭐⭐⭐⭐⭐
"That zoom session was fantastic! 👏🏼👏🏼👏🏼 Thank you 🙏🏼 When can we do it again"
Gina