Yoga Points – Earn discounts on your yoga classes
Earn Loyalty Points and save money on classes and courses
Flametree offers a loyalty scheme. It's based on points, and every point is worth a dollar.
First, when you buy a ten pass you can earn 25 points towards the yoga purchases mentioned below.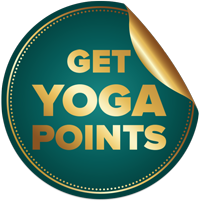 Look out for the yoga points icon when you are buying your pass.
Currently you automatically earn Yoga Points when you buy a 10 class pass. You will earn 25 Yoga Points every time you buy a 10 Class Pass – each Yoga Point you earn is worth $1 toward your next purchase.
For example, when you buy a 10 Class Pass, you'll earn 25 Yoga Points. When you want to buy another, you can use your 25 points to get a $25 discount, or keep hold of your points until you can get an entire pass for free. It's up to you how you use them!
How do I redeem my points?
Your points are valid for 24 months. You can check your account balance at any time from your Account page. When you add items to your cart, you will get the option to redeem your points before you checkout.
Right now, you can use your Yoga points to buy, or apply a discount to: