Viloma pranayama Iyengar style, is just one form of breath meditation. It can be learnt either online or in a studio. If you're looking for "meditation classes near me". then try the convenience of online meditation that you can do from anywhere. Flametree Yoga also teaches it in its studio, in Darwin Australia. You get high quality classes, with a certified Senior Teacher who has meditated daily for 25 years. Yoú'll also get a grounding in Iyengar yoga pranayama, one of the highest quality meditation styles in the world.
All pranayama practices aim to control and quieten the fluctuations in the mind.
This is achieved through the practice of breath regulation.
Prana means life energy. Yama means control.
In pranayama, the breath (which is seen as life energy) is brought from the abdomen (in the solar plexus area), up the spinal column, to fill the lungs.
The whole process transforms and creates energy. In turn, this alters the mind and serves to connect the individual with the universal human community.
Viloma means "against the natural order of things." In other words, it is a process of controlling your breath to get a meditative outcome.
In Viloma pranayama the inhalation or exhalation is not continuous. It is interrupted and involves a series of pauses.
It has been compared to climbing up or down a ladder, or a staircase, and pausing in between. So, it's sometimes called staircase breath.
Overview of Viloma pranayama Iyengar style
Benefits of Viloma Pranayama
The benefits of each of the three Viloma breath meditation practices outlined below, are that they:
strengthen your lungs.
focus your attention and still your mind.
bring a feeling of exhilaration and calmness.
energise and cool your body.
relieve anxiety, and relax your nervous system.
At the end of this post, there's more about the particular benefits of each of the three meditation practices.
First, the post will show you the differences among them, as well as go through the steps to do each practice.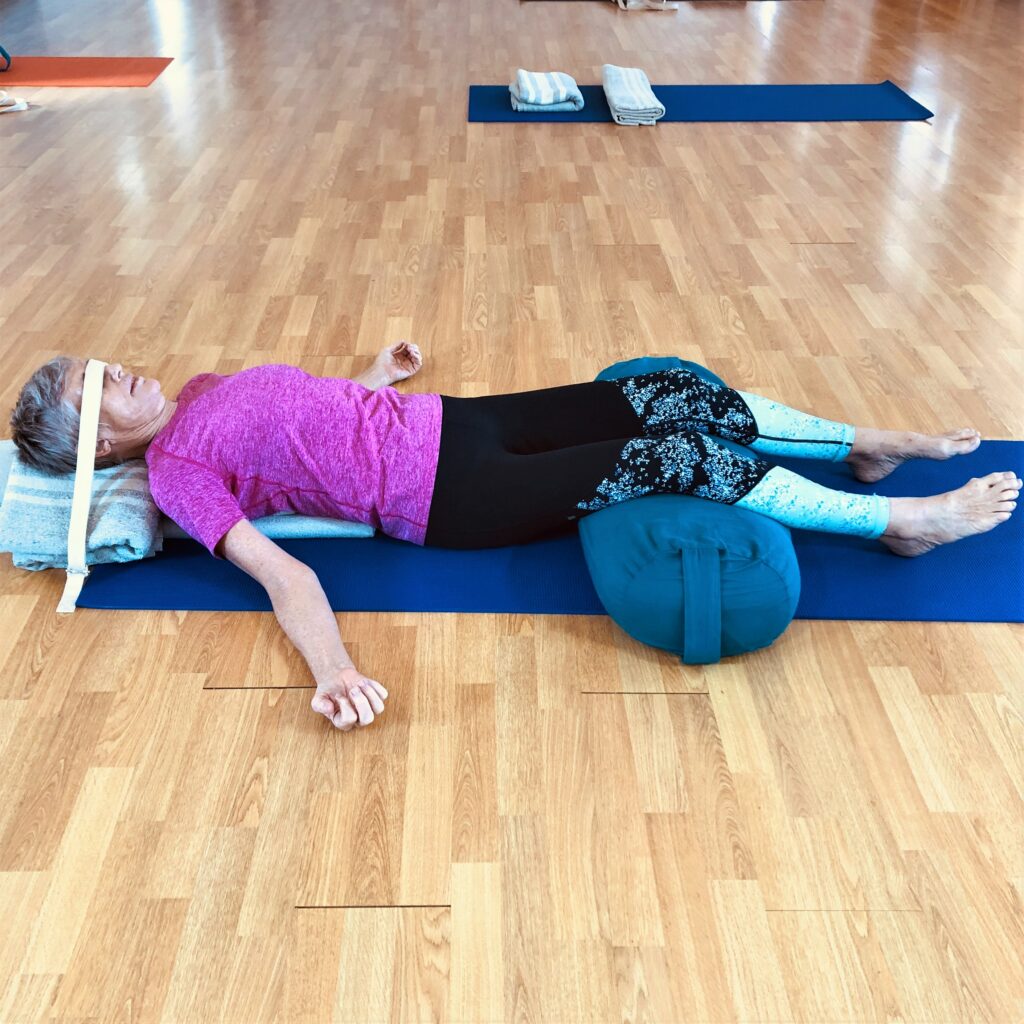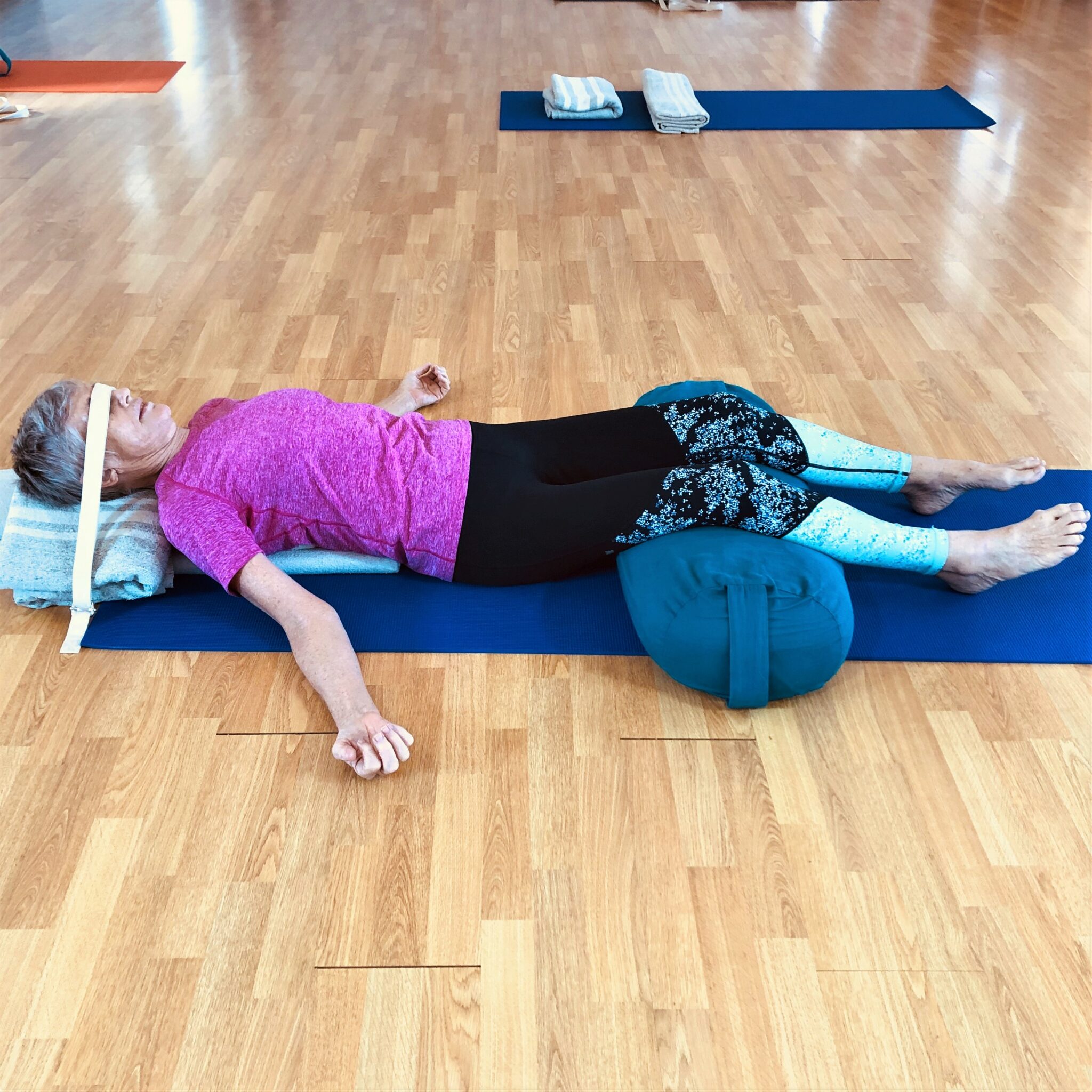 Try our Mini Course, including ten one hour classes with a Senior Teacher of meditation.
It's a convenient version of the "meditation classes near me" that you may have searched for.
The 3 types of viloma pranayama Iyengar style
In the sections below, there is a short introduction to each type of viloma pranayama Iyengar style.
Then you'll learn the precise steps to do each of the three viloma meditations.
The key difference between the 3 vilomas is the pattern of inhalation, exhalation and pauses.
Viloma 1
This practice is interrupted inhalations, with pauses in between each inhalation. It is followed by one long controlled, uninterrupted exhalation.
Steps for Viloma 1 when lying down
Lie down in supported savasana. Use the blanket set-up shown in the picture below, to raise your chest.
Exhale and empty your lungs.
Inhale for 2 seconds, hold the breath for 2 seconds. Then inhale again for 2 seconds, and hold for 2 seconds.
Then continue to fill the lungs completely.
Pause and hold breath for 3-5 seconds.
Exhale slowly and deeply in one uninterrupted exhalation.
Take a few normal inhalations and exhalations.
Then continue to practise Viloma cycles as above.
Practice 4 to 6 cycles. Overtime, build the number of cycles up.
The chest should stay lifted after each inhalation and pauses.
When finished, inhale and rest in savasana (relaxation pose).
Slight variation of Viloma 1
Retention of the breath should not cause pressure or cause tension in the brain. The abdomen should not be puffed during retention.
If you find it difficult and tension does develop, or if you become distressed, then try this variation to the steps above.
Inhale for 2 seconds, exhale and empty a little from the lungs, and pause.
Then inhale for 2 seconds, exhale a little, and pause etc.
In this way you reduce the pressure in the lungs during the pauses.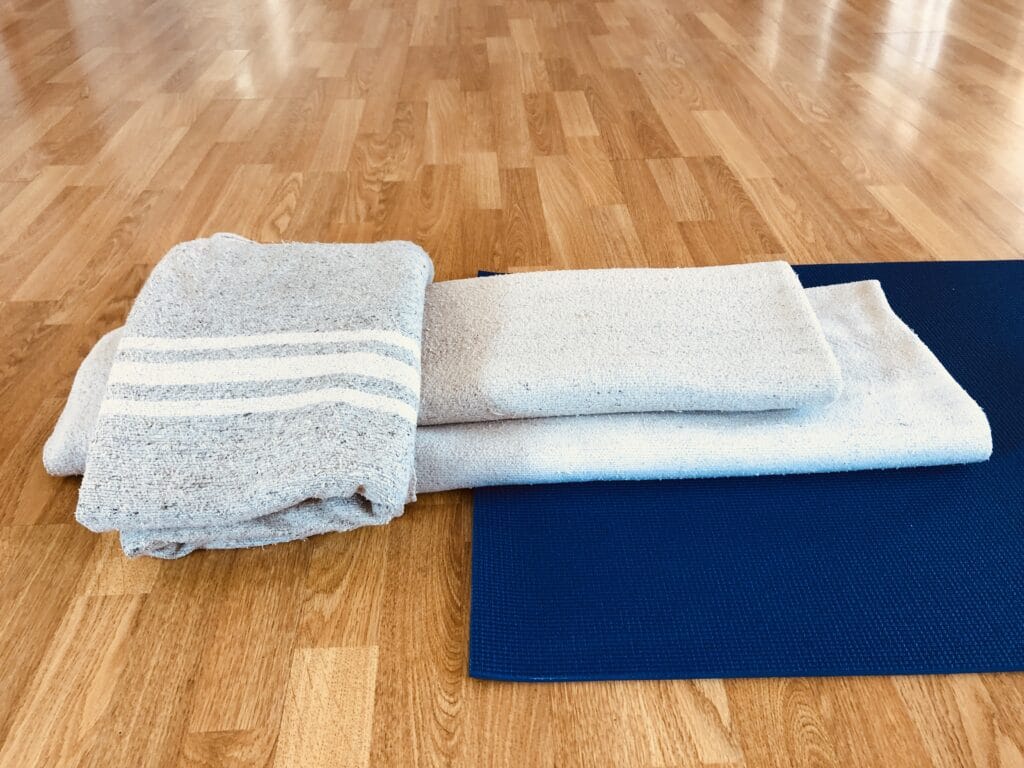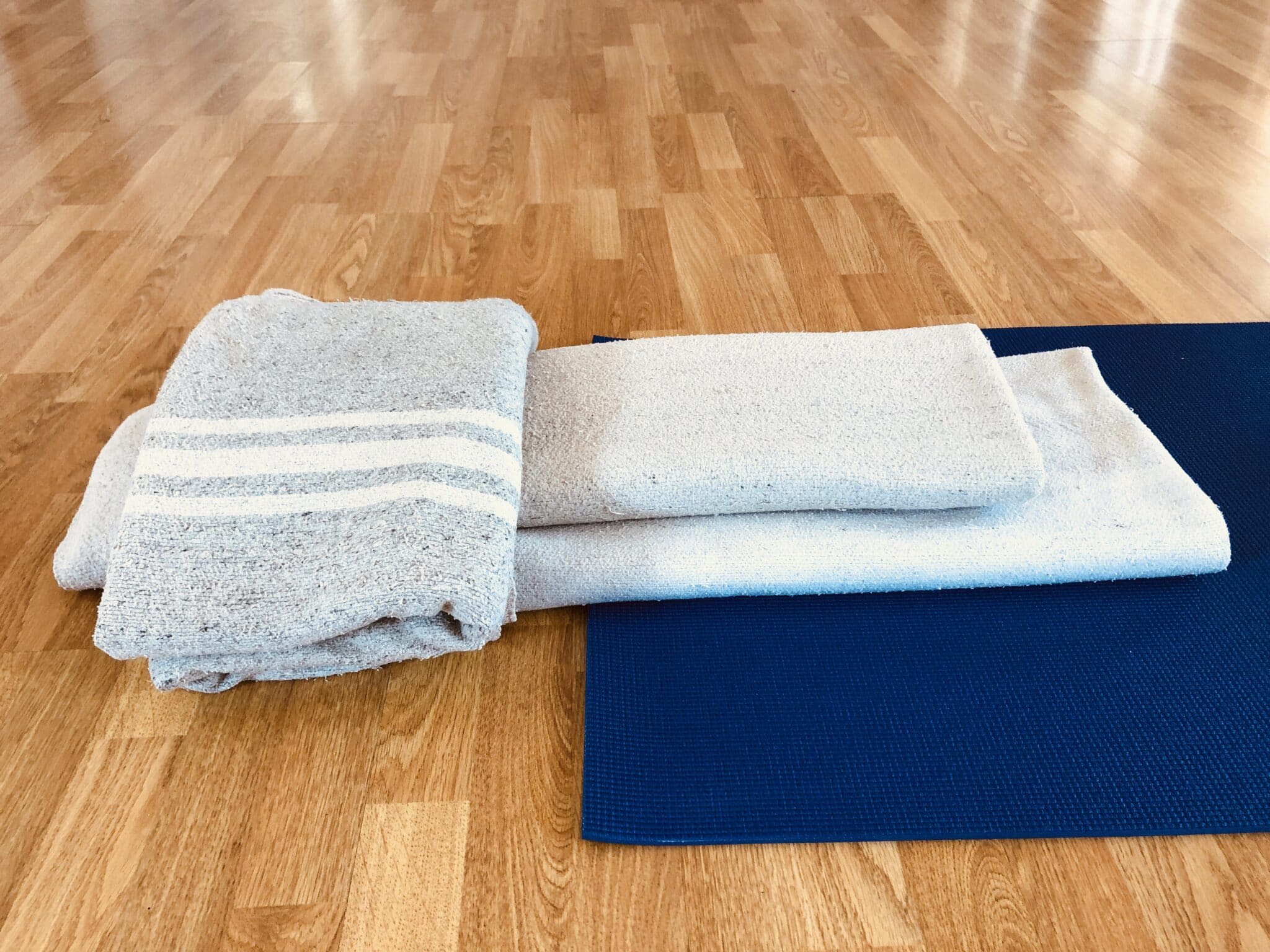 Pranayama blanket setup for lying down pranayama
Viloma 2
Involves taking a long uninterrupted inhalation, followed by a series of interrupted exhalations, with pauses in between.
Technique for Lying Viloma 2
Lie down in supported savasana (with the 3 blankets as in the picture above.)
Exhale empty your lungs.
Inhale, slowly and steadily, to fill your lungs.
Exhale for 2 seconds, pause for 2 seconds, exhale for 2 seconds, pause for 2 seconds and so on.
Continue until the lungs are empty.
Rest and take a few rounds of normal inhalations and normal exhalations.
Then continue as above with long uninterrupted Inhalations, followed by a series of interrupted exhalations.
Practice 4-6 cycles. Overtime, build the number of cycles up.
When finished, inhale and rest in savasana (relaxation pose).
The chest needs to remain firm during each retention.
The third and complete type of viloma pranayama Iyengar style
In summary, Viloma 3 is a combination of both Viloma 1 and 2.
First, it involves taking interrupted Inhalations with pauses to fill the lungs.
You then pause with the lungs full, followed with interrupted exhalations and pauses, so as to empty the lungs.
Technique for Lying Viloma 3
Lie down in supported savasana.
Exhale and empty your lungs.
Start interrupted inhalations, using the techniques for Viloma 1 above.
Then follow Viloma 2 process of interrupted exhalations.
After one cycle, rest with normal breaths.
Continue for a few rounds so long as no strain is felt.
Overtime, build up the cycles…
Rest in savasana to finish.
Due to the interrupted inhalations, exhalation and pauses, a round of viloma breathing takes longer to complete than a ujjayi round of breath. (Ujjayi pranayama is long continuous inhalation, followed by long continuous exhalation).
In any of these three practices, if you feel that the breath is forced or lacking, then you should break off the practice and return to normal breathing.
Overview of Viloma pranayama Iyengar style
First learn Viloma Pranayama lying down
Each of the three practices should first be learnt when you are lying down. This makes is easier, as you are not needing the flexibility or strength to sit up straight.
Use your normal yoga practice to help strengthen the spine. Then progress to sitting upright for pranayama.
It is very important to proceed slowly and stop the practice before feeling any strain.
When you are ready to sit, you can use a chair or sit cross legs on height.
When sitting, apply the chin lock (jalandhara bandha).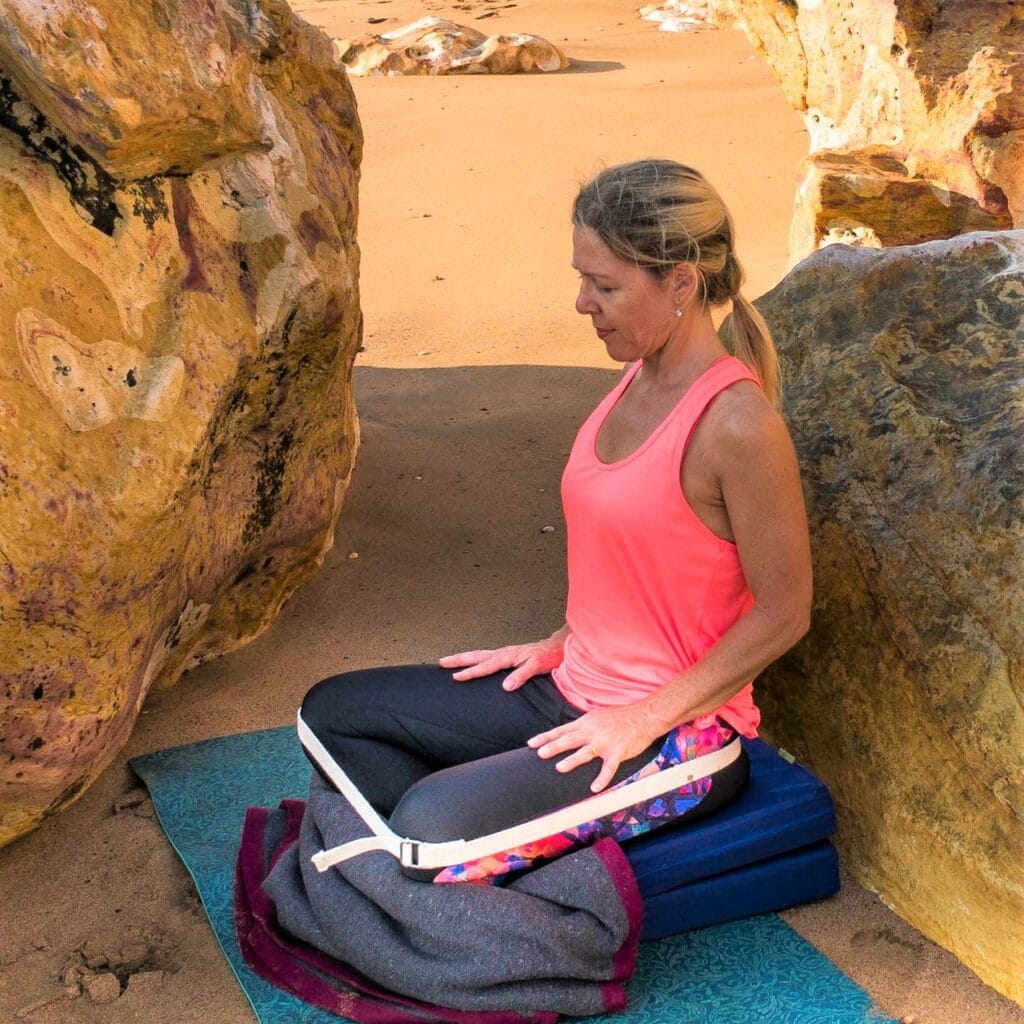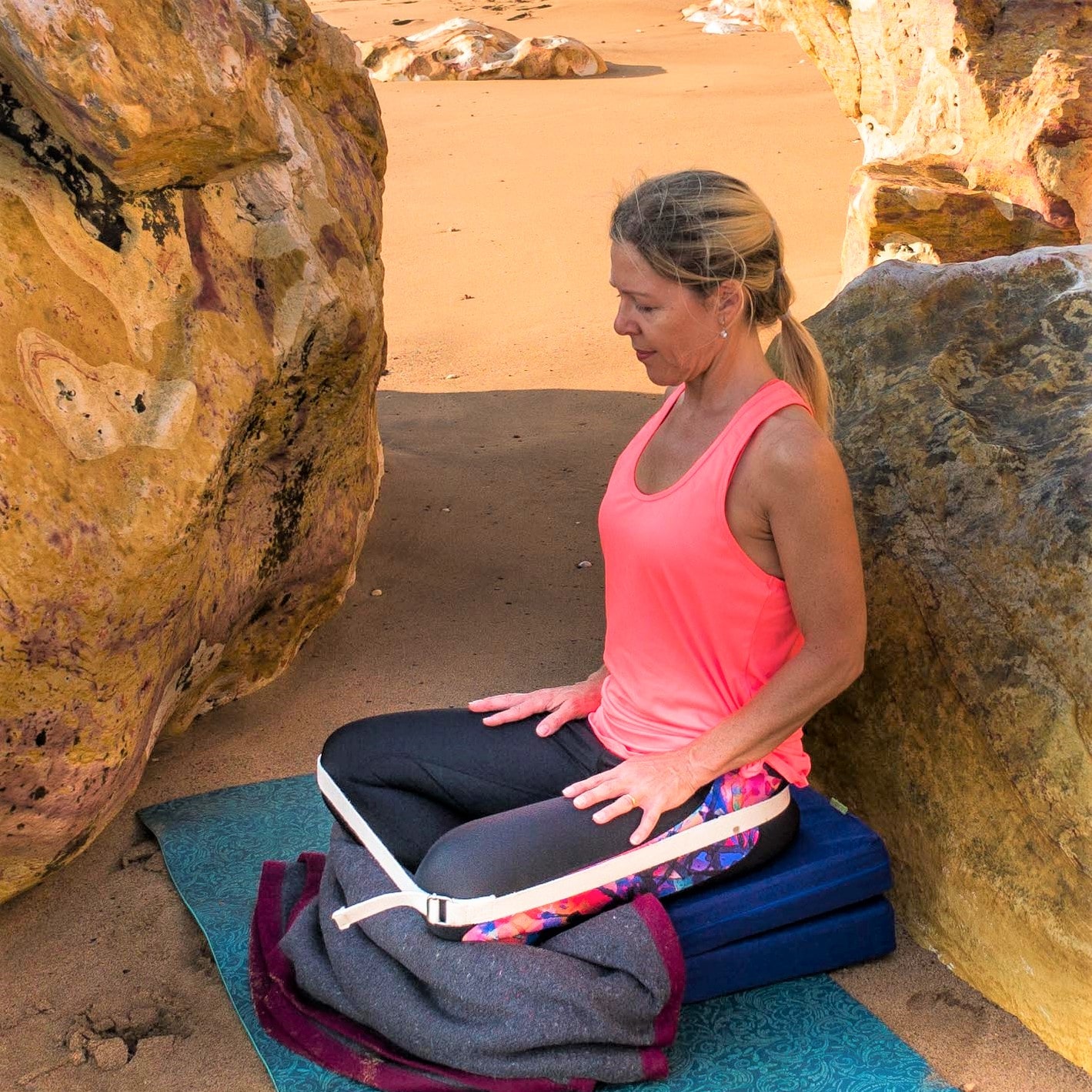 An easy way to sit for viloma pranayama iyengar style
Viloma 1 benefits
It is usually the first of the viloma practices taught to beginners. It is suitable to do even if feeling fatigued or if suffering from low blood pressure.
Overtime this practice helps build up endurance.
During interrupted inhalation, the breath is "sipped" in slowly until the lungs are filled.
During each pause after the inhalation, the diaphragm is lightly immobilised.
After filling the lungs, the grip of the diaphragm is slowly released with a long smooth exhalation.
It also soothes the nervous system.
This practice teaches the subtle art of exhalation.  Learning to lengthen the exhalation helps to switch of the flight or flight part of the nervous system. In the process, it switches on the rest and digest part of the autonomic nervous system, via the vagus nerve.
Viloma 1 also focuses the mind on the breath. In turn, this settles the fluctuations in the mind, and brings the mind into the present moment.
 Viloma 2 benefits
This practice is usually introduced after people have been practising Viloma 1 for a while, and are comfortable to progress further.
It is also suitable for beginners, and can be done if suffering from fatigue, high blood pressure, or a heart complaint.
Overtime, the practice helps build up endurance.
The lungs are strengthened by taking the long uninterrupted inhalation, and then pausing.
The interrupted exhalations with the pausing in between, via a light grip of the diaphragm, further strengthens the lungs.
Viloma 2 builds a feeling of ease and lightness to the body.
According to Mr BKS Iyengar, in Light on Pranayama, the practice quietens the mind.
This practice is excellent for relaxation and sleep.  It also helps reduce anxiety, and releases tension.
 Viloma 3  Is a combination of Viloma 1 and Viloma 2. This means you get the benefits of both.
The practice develops endurance, brings a feeling of exhilaration, and at the same time a feeling of calmness.
Beginner deals to get to start Iyengar yoga pranayama
You can start these beginner level classes immediately, or at our Beginner Introductions.
As soon as you've done at least 12 weeks of beginner yoga, you can then try our Mini course including 10 free classes of iyengar yoga pranayama, including this viloma practice.
Beginner yoga will strengthen your body, calm your mind, and prepare you for the best breath meditation.
Flametree offer all of it classes both online, and at three locations in Darwin.
The beginner poses are easy, introductory poses. There are even special, optional beginner classes like Gentle Yoga, Backcare Yoga, and Easy Restorative Yoga.
You can see all options and classes at the beginner timetable, including an international time zone converter, where classes are in your local time.
Try your "meditation classes near me" mini course
Non-beginner yoga students, who are newcomers or lapsed at Flametree, get 30 days of unlimited non-beginner classes for $79 (online or in-studio, or both). These classes include pranayama, and the viloma meditation described in this post.
In addition, if you do Flametree's breath meditation mini course, you can also get 10 FREE classes of iyengar yoga pranayama. They will help you start all aspects of your breath meditation journey.
The non-beginner timetable has a large range of convenient times. You can also see the class times in your local time.
There are four different levels of non-beginner classes, including intermediate,  experienced and advanced Iyengar levels, and breath meditation options.
If these deals are not exactly what suits you, check out all Flametree Yoga packages.
In other posts about pranayama, you an also see more on pranayama, including the health benefits of Ujjayi Pranayama, plus other benefits of iyengar yoga pranayama.
For example, here's more about another style of Iyengar yoga pranayama, called Bhramari, or Bumble Bee Breath Meditation.
Another powerful breath meditation you will learn in Flametree's classes is alternate nostril breath meditation. 
Check it all further, or get started, at via the orange link below.