My brother used to say to me: "Stuart, take time to smell the flowers". I didn't know what he was talking about! (I also had no idea that I'd eventually work it out by attending what turned out to be the best online yoga classes for beginners).
Meanwhile, I was busy with my life and career. First it was getting an education. Then it was getting on with my legal career. Then it was getting a PhD. Then back to a political adviser job in the Hawke Government. Marriage and kids came along just as fast.
Meanwhile, my brother kept occasionally mentioning about remembering to smell the flowers. I still had no idea of what he meant.
Along the way, I went to some of the standard human development training that you do in most careers. That's where I first head the term "being present", or "getting present". I got some intellectual understanding of what it meant, but I didn't think it applied to me. I also had no idea of how I might get more of it, given that everyone seemed to think it was a good thing to have.
I charged onward with life. After a couple of divorces, I reached a low point of activity. I took the opportunity to start doing almost daily yoga classes.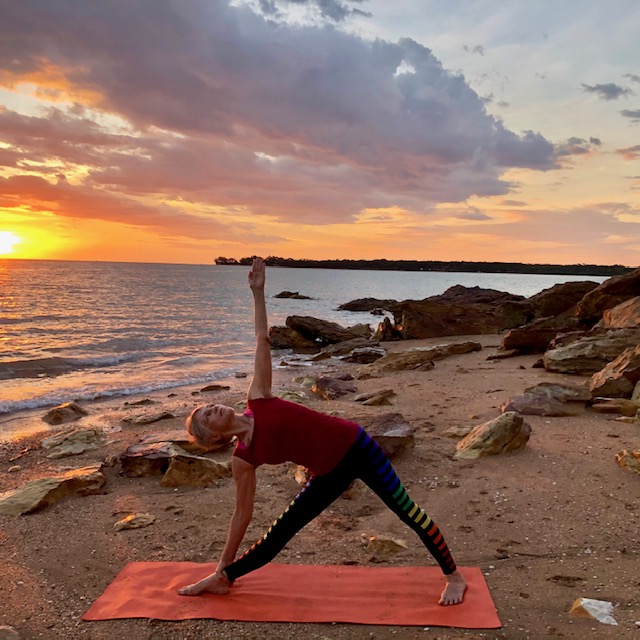 Triangle Pose Keeps On Giving You Extra Flexibility
I'd done yoga in my twenties, but had since stiffened up, and got some middle age spread. That all quickly started to disappear. I liked the new strength and flexibility.
One day I was driving home from yoga and suddenly realised that the trees and bush looked more beautiful than I ever remembered them to be.
This perception of greater beauty in the world around me continued, and grew.
Learning to live in the present
All of a sudden, I realised that I was probably living in the present more. I was more present to the world around me. I got an inkling of what my brother had been talking about with taking time to smell the flowers.
I also noticed that I could keep my cool much better. I was less likely to fly off the handle and make a big mess of some personal relationships, or create situations I had to clean up later.
I'm sure I've still got plenty of ways to travel on this journey. But like so many things, I didn't know what I didn't know. I didn't feel what I couldn't feel.
I was also of course living in an era when there was no such thing as dedicated beginner level yoga in the studio, let alone online yoga classes for beginners.
When I was ready, the yoga teacher appeared
Nevertheless, the yoga I was able to do got me more in touch with my body.
Getting in touch with my body then got me more in touch with my mind. In turn, that improved my health, and my performance at work and elsewhere.
Maybe it's also another version of that old adage: "The teacher appears when the student is ready".
Yoga actually got me ready to hear, see and feel the message, and then became my ongoing teacher.
Another surprising benefit of being more present was being able to focus on what people around me needed. I found I was much better at listening to, and watching the team around me, to see what worked for them.
Over the years I've talked to lots of people about yoga. The most common perception of yoga is that you have be flexible to do it. I'm here to tell you that this is a myth.
Yoga will in due course make you more flexible, but you don't have to be flexible to start it. You also don't have to be strong or fit when you start. It will take you on that journey, when and as you are ready for it.
If you're especially stiff, "pre-beginner" classes are a good option
At Flametree, there is what I call "pre-beginner" yoga, such as Chair Yoga, Gentle Yoga, Slow Yoga, Back Care Yoga, and Easy Restorative Yoga.
These classes can be done by anyone, no matter how stiff or unfit you may be.
Women Only Yoga, which includes a lot of easy, restorative yoga, is similar.
If you're still unsure, start with Gentle Chair Yoga at 11.15am on Sundays. That's a time of the week that can be fitted into most schedules.
Then do some mix of those pre-beginner classes I've mentioned.
If you find that those classes are easy enough, move onto some of the regular beginner classes during the week, like Tuesday or Thursday at 5.30pm.
Set up a room for online yoga classes for beginners
If you are doing some or all classes online, the best option is to set up a yoga room of your home.
In the room, or a regular part of a room, have some household items like chairs that you can use for yoga props.
Even better, buy some yoga props like a mat and a bolster.
Wherever you are the most important thing is to have a non-slippery surface, and a place where you won't be disturbed for an hour.
There's more about yoga props here.
Timetable of in-studio or online yoga classes for beginners
All classes, except Introduction to Breath Meditation, are both online and in-studio. The beginner course package, or the week-to-week deal, gives you access to either or both formats.
See the beginner timetable, in our local Darwin Australia time zone, as well as in your own local time zone.
If you buy the beginner course in the 2 weeks prior to it starting, you can immediately join the many beginner level classes which run each week. This means you can get up to 2 weeks free included in your beginner course.
All in all, you're getting up to 6 weeks of beginner yoga for just $75. For example, if you do an average of 3 classes a week, that's just $4.16 per class.
You can also join the beginner level classes at any time. The week-to-week deal also lets you get 2 weeks free as part of the weekly subscription.
Best deals for in-studio or online yoga classes for beginners
Check out or buy the in-studio or online yoga classes for beginners deal at these links.
Get a pass, then reserve a class
Get a beginner yoga pass at one of the links above.
Then just reserve the particular classes you want to attend.
You can reserve the classes online, here.