Every Tuesday morning, as Mum taught us school, we waited for the weekly mail truck. We were all of course dependent on snail mail. Anything like online yoga was science fiction.
With any luck, on the mail truck, our Grandpa in Brisbane might send us a parcel of popcorn, and some new toys.
Mum had already banned her Dad from sending us sweets.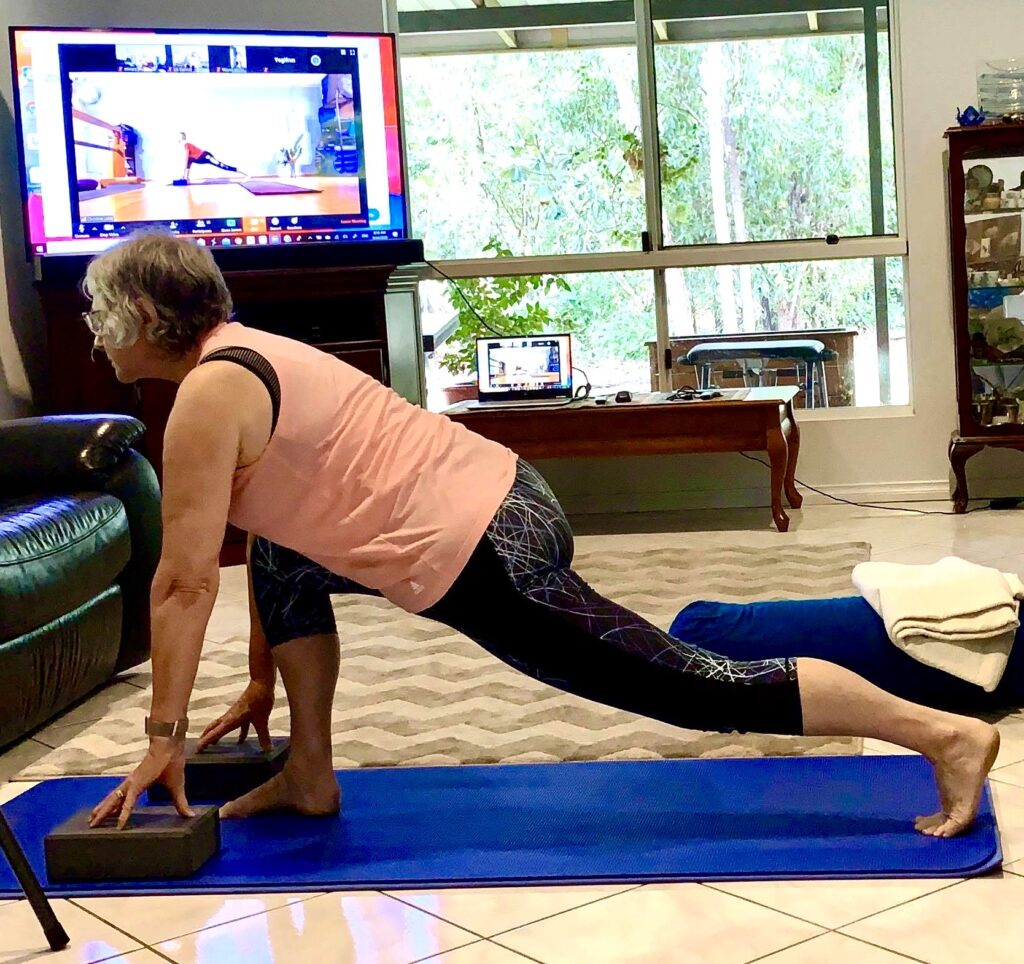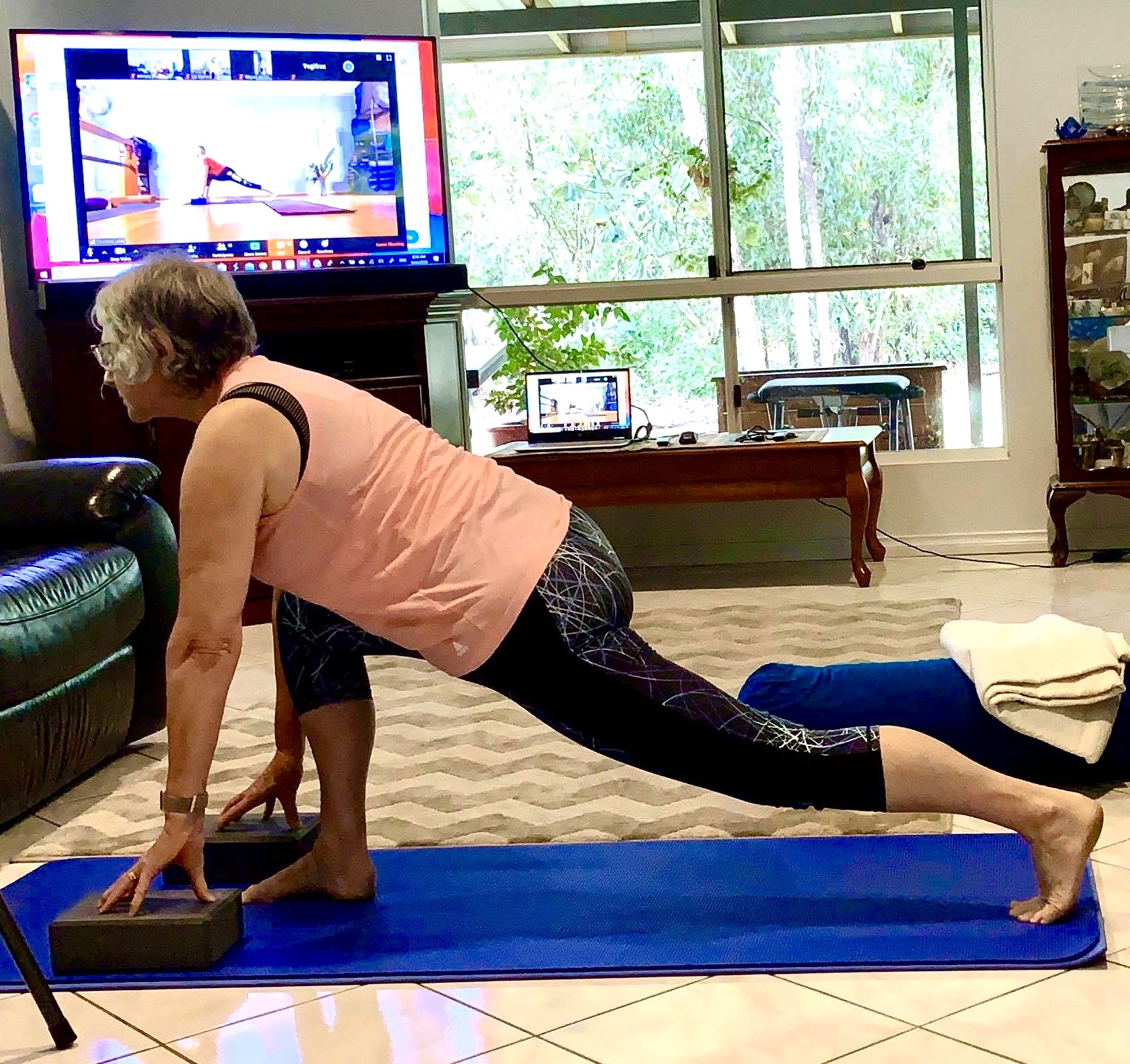 We lived on a cattle station near a tiny town called Torrens Creek. It was a slow, six-hour drive (in those days) from Townsville, in North Queensland, Australia.
Very remote country people like us may well have found online yoga classes helpful, but they had not been invented yet!
The only transport was on dirt roads, via an old and unreliable four-wheel drive Land Rover. It took almost an hour just to get to Torrens Creek, where steam trains still chuffed along between Townsville and Mt Isa.
The mail truck was our main connection to the outside world. It brought large boxes of tinned food, drums of flour, bags of potatoes, and our weekly school lessons from the correspondence school in Brisbane.
Free Yoga Online started with School-Of-The-Air!
Years later, as the Internet re-invented mail order, I realised that I have been brought up in the original mail order world.
In those days, there was of course nothing like the huge range of online goods, or the rapid delivery, that there is today.
Little did I dream that it would all later lead me into online yoga.
As well as our schooling by correspondence, my brother and I did an hour of School-Of-The Air each day. It was schooling by two-way radio. It supplemented the lessons that we wrote in our exercise books, and sent by mail truck and train, to our teacher in Brisbane.
School-Of-The-Air was the closest thing we had to either the online yoga that I do today, or the podcasts that I now listen to daily.
Although I didn't realise it at the time, when I did my first class, as a beginner, and with free yoga online, it was not a big jump from school by two-way radio.
Audio instruction was the link to online yoga
School-Of-The-Air was where I first learnt that audio instruction, and connection to a de facto "online" community, was a huge asset.
After I finished University, I moved to both Sydney and New York. I marvelled at the instant availability of almost anything I wanted.
I didn't have to wait for anything.
These days, I still live and work in remote areas of Australia. But 4G or 3G phone, and sometimes satellite broadband, are still usually available. It means I can access the best online yoga lessons daily.
Sometimes, when the Internet is really slow, I simply download a yoga video, and run it on my PC or phone.
The yoga video pictures certainly help, but much of the time, when I'm in a yoga pose, it's the audio that I'm relying on to get me there.
Iyengar online yoga classes, adjusted for North Australia
In North Australia, there is still very limited Iyengar yoga available, either in a studio, or online.
Iyengar yoga is, in my view, the best of the numerous types of yoga now available.
Iyengar is the only type of yoga that I bother to do. Most people find that once they have done Iyengar yoga, nothing else comes close. It means that I, like all those other Iyengar students, look for Iyengar studios where we can get good quality Iyengar either online, or in a studio, or both.
I've written about the benefits of Iyengar yoga elsewhere. Essentially, it does a better job of getting you into the correct yoga positions, and thereby gets you the greatest health and fitness benefits.
The advantage of doing yoga that is "produced" in North Australia is that you can sometimes attend their studio, even when you mainly "consume" it online.
Even if you never visit the studio, it's still useful to have a studio that is adjusting the yoga pose sequences based on the weather in North Australia at any particular time of year.
Those who do yoga know that your body gets stiffer, or more flexible, around particular types of weather conditions. You also sometimes have less energy due to weather. The right yoga class content can take all this into account as LIVE online or in-studio classes are done in the daily schedule of classes.
Visiting your yoga studio is a good bonus
At Flametree Yoga, Darwin, where I do yoga, students who mostly do online yoga at Flametree, sometimes visit Darwin for one or two weeks for intensive yoga holidays. They come from as far away as Perth, or Hervey Bay in Queensland.
At other times, when Flametree does yoga retreats, others come from places like Cairns or Townsville, to be with the retreat students for up to a week.
Other students, who are yoga teacher trainees, do a similar mix of online yoga for most of the time, interspersed with short visits to see their Senior Yoga Teacher, Chris Lalor, at Flametree.
In my case, I mostly do yoga at one of the two Flametree studios in Darwin. But I often work in remote areas or Arnhem Land, sometimes for extended periods. These areas are even more remote than the cattle stations, in Queensland and the Northern Territory, where I was brought up.
With online yoga, it's easy to still get the very best yoga available. I can also stay in touch with all my yoga community friends at the studio.
Look for online yoga classes with a large timetable, & many levels
If you're new to yoga, the greatest advantage of doing yoga with a large and well-established studio, is the wide range of classes available. It's especially important to have a range of beginner classes, and Special Focus classes (like Backcare, Women's Health, Gentle Yoga, and more).
In my yoga journey, I've done plenty of classes at non-Iyengar yoga studios. But I hate being pushed into "one size fits all" classes that are their norm. They also usually don't provide classes appropriate to my level… whether greater or lesser than their level.
As I steadily got to know more about yoga, I was also not impressed at the poor quality of yoga postures that were done and tolerated in so many non-Iyengar studios. As I've already said, if you are not in a yoga posture correctly, then you can't get its benefits, or its full benefits.
Equally, if you don't have a full menu of class types available to you, including restorative yoga, or yoga specially for women's health challenges, then you can't get the range of benefits that yoga offers.
Since the first COVID lockdown in Australia, Flametree and all its students, like me, have been amazed and delighted at how effective online yoga is. In so many ways, it's just like being in a real yoga class. And of course, it's so much more convenient to still be at home, or have it available as you travel.
The other thing that I love about using a big studio is having a large timetable of classes available at the times that suit me… morning, afternoon, and / or evening.
Online yoga classes help overcome my laziness!
From experience, I know that I am more likely to do yoga, and regular yoga, if I can actually attend classes, whether they are online or in-studio classes.
I like having a teacher tell me what pose to do, in what order, and remind me on how to do each pose. I like not having to think up the sequence of poses myself!
It's even more delightful to be with a good teacher who will talk me through each small step of the pose, as we all do the pose together. When this happens, I can usually go further in the pose, as well as understand some additional nuance of how to best do the yoga pose.
Although I hate to admit this, when I go to class, I will usually do more of the poses that I find more of a challenge. For example, even though yoga standing poses are very beneficial, I skip them too often.
In contrast, when I am in an online yoga class, or one in a yoga studio, its does not need my (missing) self-discipline, so as to be able to put plenty of effort into the standing poses. The same applies to any other challenges that the yoga teacher will take my though.
In each pose, with a teacher gently coaching us all, I'll also go that little bit further than I otherwise would.
It's of course preferable that any of the yoga classes available are at my level. But even if they are below my level, I still get plenty from actually going to class. In any series of yoga postures, if I take each posture to the full extension that is possible for me, then I still slowly improve my yoga, and get plenty of yoga benefits in the process.
Free online beginner yoga, & deals for other deals
Newcomers who can do yoga, or lapsed students, get 14 days unlimited beginner classes for just $29.
The beginner course offers free yoga online or in-studio, or both.
The week-to-week subscriptions are the way to get the full 2 weeks free, in addition to the first 4 weeks of the beginner course.
There's no obligation. Check it out and see what you think.