Reduce stress, weight, disease risk and back pain at Yoga. Get fit, flexible, & toned.
Beginner Yoga Course with Money Back Guarantee.
 All classes are now LIVE, online and interactive.
The next 5 week online beginner Course starts at any beginner class over the two weeks from Tuesday 5th May 2020. The sessions are open to men and women from all age groups and levels of ability, with a money back guarantee if you're not completely satisfied!

MATES Rates! Buy from 2 to 9 beginner passes together & get 22.5% off each. Buy 10 plus & get ONE THIRD OFF. Ask family, workplaces, & teams.
The price for 2-10 is $69. The price for 10 or more is $59 (The discounted price will be incorporated in the total price at the checkout when you insert the total number of passes you wish to purchase.)
Other than you, students must be new to the studio. They attend at any time that suits them. The $89 individual pass includes a FREE first week trail of the 5-week course, (only when the $89 package is purchased). The $69 and $59 passes do not include a free first week trial.
Our Yoga School's Guarantee: If not satisfied, your money back*.
Term starts Tuesday 5th May and you can join up until the end of week 2.
Get 5 weeks of any mix of 1 to many classes a week.
Do Yoga and get these benefits:
Reducing major disease risk like cancer, heart disease, diabetes, Alzheimer`s
Fitness
Flexibility
Muscle tone
Weight control or reduction
Better sleep
Personal development, like compassion, patience & tolerance
Stress reduction & management
Improving or managing up to 117 medical conditions
Maximizing performance at netball, football & other sports (& reducing injury)
Making new friends
Moving along any spiritual path
Reducing anxiety or depression
Help with pain, menstruation, menopause & pregnancy
INSERT VIEW OUR BEGINNER YOGA DEALS BOX
Stress reduction & management
Improving or managing up to 117 medical conditions
Maximizing performance at netball, football & other sports(& reducing injury)
Making new friends
Moving along any spiritual path
Reducing anxiety or depression
Help with pain, menstruation, menopause & pregnancy
The glands that make yoga different
Yoga postures target glands in a way that makes it totally different from any other form of exercise. You'll learn how particular poses access our glands so as to release hormones for various desirable effects, such as energy, calming, desire, and more.
Yoga poses, or "shapes", have been tested and developed over thousands of years. Modern science has now confirmed how well they work, and more and more benefits are being confirmed every year.
Persons with particular conditions will be given variations of poses, in the usual way, so that the class can reach as many as possible, and also help with your individual situation.
The format will include verbal information about poses, and practise of each pose, step by step.
Standard beginner poses, or Special Focus classes, or both
There are classes of standard, easy hatha yoga poses adapted especially for beginners of all ages.
The course also includes a range of special focus classes such as Women Only, Anxiety, Backcare, Easy Restorative, and Fifty Plus. These are described underneath the beginner timetable that you can see further down this page.
All poses are simple and introductory that all can do, using props to help you if needed. Teachers will discretely adapt poses, on the spot, to assist you if needed.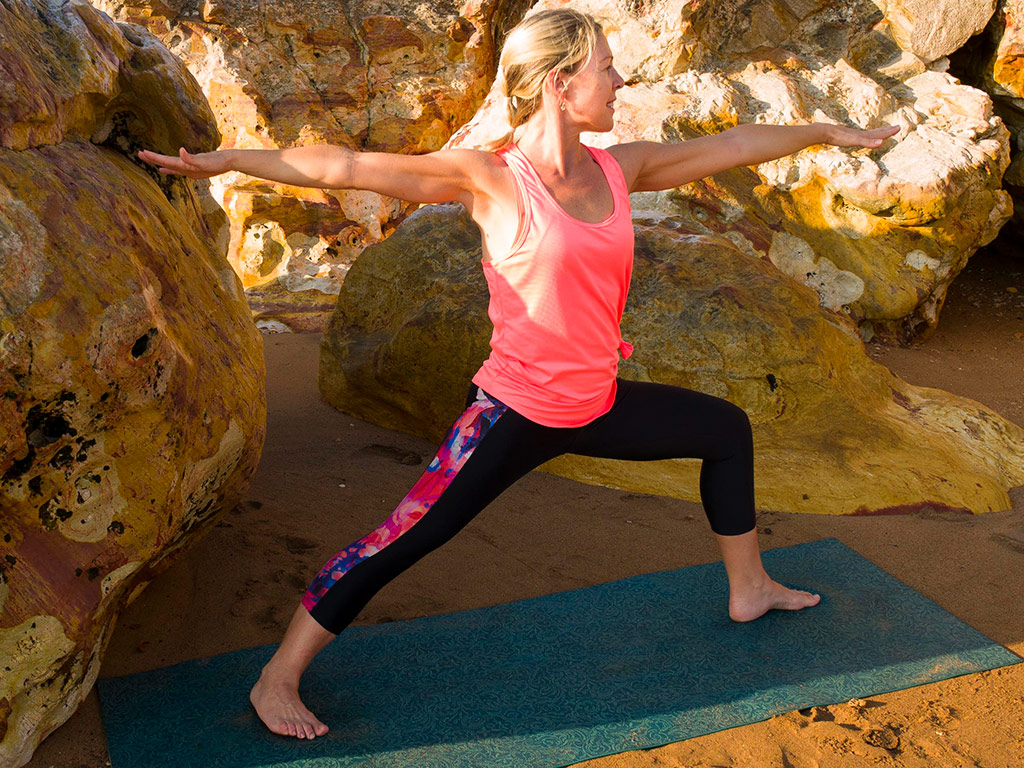 You can also repeat the course as many times as you like.
Studies show that building a new habit takes an average of three months of regular classes. That means that if you use this easy way to do regular yoga, you'll highly likely to create a life changing habit.
More reasons to give  Flametree Iyengar Yoga a try
At our studio in Darwin, we believe Iyengar Yoga is the best yoga style.(It's named after Mr BKS Iyengar, who became one of the best-known yoga teachers of the late 20th century.)
The advantages of Iyengar yoga are:
Due to clear instruction and teachers taking the time to assist, you learn to do the poses correctly rather than rushing through them. You will only get the benefits of each of the tried and tested poses if you are able to get into some appropriate version of the pose. This allows the pose to trigger natural releases from your glands… and that is a key part of why the poses work.
Flametree's Iyengar yoga teaches in five levels of classes. The beginner yoga level is simple, introductory poses or preparatory poses. Flametree does not follow the all-to-common "one size fits all" approach to training.
Having a better understanding of poses gives you the independence and confidence to practice at home
Iyengar uses props at all levels. Props assist you  getting into poses, regardless of your flexibility
Postures are taught in steps, making sure the foundation of the posture is correct. This makes poses easier to do and learn.
Iyengar teachers are trained over three years, for a minimum 400 hours. Teachers of other styles of yoga have less detailed training, and therefore less knowledge to draw on.
Over time, Iyengar teaches inverted postures like shoulder stand, as many yoga benefits come from inversions

Iyengar Yoga classes give you "show and tell" instructions on how to get into each pose.

The verbal description is easy step by step stages. The teacher will closely watch how the people in the class are doing with each pose, and will ongoingly offer further verbal assistance.

There is a negligible chance of injury with Iyengar, especially with beginner classes, because of the knowledge and training of the teachers, plus the use of props
Iyengar yoga is a powerful tool to reduce stress and in turn help total physical and spiritual well-being
The Iyengar method is inclusive and has a systematic process to help all students do yoga no matter their conditions.
When are the classes?
Our beginners yoga course will run 5 weeks from Tuesday 5th May. You can join the course at any class, or on any day, for up to 2 weeks after it starts.
We will be running many classes during this period offering a flexible opportunity to enjoy a wide range of beginner yoga classes each week.
The Special Focus classes are also pointed out on the timetable below.
Class
Monday
Tuesday
Wednesday
Thursday
Friday
Saturday
Sunday
Convert our class time to your local time
If you use an iPhone, the World Clock feature on your Apple clock can be set to show Flametree's class times in Darwin, Australia.
Here's one way you can use the app below.
On the left hand side, insert Flametree's class time in Darwin Australia from the above timetable.
On the right hand side, insert the name of your city on the bottom right.
Your local time for the class will show in the top right hand box.
https://www.thetimezoneconverter.com/.
Class Length & Locations
Class length: Beginners ONE hr.
Online classes are taught as a live, interactive class. The teacher and the students can all see and hear each other. This gives maximum opportunity for the teacher to assist students in a way that allows students to get the most benefits, and make the most rapid progress. Postures can also be adjusted to suit who is in each particular class.
When offline classes are available, Flametree teaches in Room One at 19 Bishop St, Woolner, and at our City room in Darwin CBD, at the times and locations shown in the timetable.
CITY classes are at Harbour Room, 2 Smith St, Darwin (beside Anglican Cathedral, near walk-way to Waterfront).
What is done in the above types of beginner classes
With a beginner course pass, you can each week come to any combination of the above beginner course classes.
In each week, beginner course classes have a similar content and syllabus, with some variation for your interest, and based on the focus of the particular teacher.
Over the course, you will learn approximately 30 beginner yoga poses.
The Beginner Standard Pose classes are all those beginner classes that are not marked with a
special focus. In these classes, approximately 20-30 introductory and simple yoga poses are taught over
the several weeks of the course. They are also revised regularly. This allows you to get better at them steadily, and also allows people to join the course over the first couple of weeks of the course. In the standard poses classes, there is some extra focus on aerobic movement, including dynamic sun salutes and lunges.
The Special Focus  classes (other than just Beginner Course classes), listed in the above timetable, have these meanings:.
Beginners  (Women Only) – Information & postures for women whether menstruating, pre-menopausal, menopausal or post-menopausal. Plus matters for improved intimacy.
Beginners  (Easy Restorative) – Focus on restorative poses for energy, renewal, de-stressing & relaxing… & easier than the average beginner class.
Beginners (Anxiety Focus) Aims to show how to deal with stress and quieten the mind to help relax and build mental intentionality to help with weight issues among other issues.
Beginner (Backcare Focus). This class uses less poses than average, with a focus on poses that have been proven to help with back issues. Others will still find the poses useful, so feel free to attend the class whether or not the back is something that you particularly want to address.
Beginner (Fifty Plus). This class addresses particular issues which are of greater challenge to older people, and does it in a way that works better for them. On average, more props are used, including some of the particular facilities and equipment in our Woolner rooms. Again, persons under 50 can also attend if they wish.
FREE 7 Day Trial Of Beginner Course -Try before you buy
$89 for 5 wks UNLIMITED CLASSES (with free first week trial of the first week of the course, when this particular $89 package is bought). Instalments available.
$69 each for 2 (or agreed staff discount deal).
$49 for 5 class pass.
$11 for casual classes if you start in first 2 weeks of the course.
The free one week trial is one of the packages you can view at the buttons on this page.
To access the free beginner course trial, you insert your details, and you can do free classes for 7 days, but can discontinue before there's any debit to your credit card.
The free 7 days of yoga is the first week of the five week course ( with the $89 package only). If you don't continue, the whole week is free. If you continue, then you complete the remaining four weeks of the course. Please note the course is 5 weeks in total – if you choose to continue.
Instalments are also available as a separate package, and there's a MONEY BACK GUARANTEE on all packages (if you discontinue within the first two weeks of the course).
Get a beginner class a day, for up to 7 days a week, for much less than a coffee a day.
Do a class a week for 5 wks…. or many more each week if you want.
Group discounts make it even cheaper. (We call it Mates' Rates).
25% OFF for 2-10 beginner course passes. That's means the beginner course for 5 weeks is just $69 each.
One third off for 10 or more… or $59 each.
To get any of the volume discount deals, insert the number of courses you're buying at the same time, and the price will adjust automatically.
Ask your friends, teenagers, workmates or others to join you. Doing yoga with friends helps keep you regular.
Organisations that internally circulate information about Flametree's yoga courses can also have their staff or members buy at the $69 rate. (See details on our site, or message us by Facebook or Phone).
You can choose any mix of class locations, times, and teachers. Check them out and see what works best for you.
You can start in any class over the two weeks after the course starts… unless it sells out first, which it often does.
Please buy now to ensure you get in, and get the class times that are most convenient for you.
Flametree Beginner Course Deals
Darwin yoga school address, parking, & public transport
Darwin yoga school address, parking, & public transport
Address 19b Woolner, NT 0820, OR 2 Smith Street, Darwin, NT 0800 ( when offline classes are running)  
Room ONE(R1) of Flametree Yoga is located in the same building as Travellers/ Autobarn – just look for the white building with the orange awning. To reach the studio, walk down the driveway bordered by tropical pot plants, towards the peaceful haven that is Flametree.
Parking for Flametree Yoga Studio classes
There is plenty of parking available on Bishop Street, with forward in angle parking along the street in front of the studio. On the opposite side, free 1 hour parking is available from 8am-5pm weekdays, with no time limits outside of these hours.
The City room also has plenty of street parking at the front, and additional parking at the back (via access from the Esplanade).
Driving to Flametree Yoga
Our Darwin Studio is just 4 kilometers – or less than 10 minutes' drive – from the Darwin city centre, Larrakeyah and Stuart Park, making it convenient for those commuting to or from work.
The studio is located on the opposite side of the Stuart Highway to Fannie Bay and Parap.
Bagot Road is the most direct route for those travelling from Casuarina, Lee Point, Coconut Grove and Nightcliff. At the city end of Bagot Road, just cross the Stuart Highway, and take the next right into Bishop Street.
Residents in the Palmerston area should head towards the city centre on either Tiger Brennan Drive or the Stuart Highway, and turn into Woolner Road to access Bishop Street.
Buses to yoga before or after work, or from major centres throughout Darwin. 
The closest bus stop is located on the Stuart Highway, near the intersection of Woolner Road (not far from Ross Smith Avenue, and opposite the Government Printing Office). Flametree is just is just a few hundred metres down Bishop Street.
Number 5 Bus – From Karama, the Number 5 bus leaves from McMillans Road heading into the city centre.
Number 10 Bus – Passengers can board at the Casuarina interchange, or as the bus travels via Coconut Grove, Nightcliff and Bagot.
Number 8 bus – Residents from Palmerston, Berrimah and Winnellie can catch the bus heading into town.
Bikes or walking paths to yoga
Residents of Woolner and Bayview will find the studio is well within walking or riding distance.
There is mostly flat terrain in the area, with a shared pedestrian/bike path connecting suburbs along the Stuart Highway, from the city to Palmerston.
Bishop Street is located on the same side of the Stuart Highway as the bike path; simply turn into Benison Road or Woolner Road and then  into Bishop Street, and continue until you see the Flametree Yoga signs.
Cut disease risk, stress, weight, depression, & pain.
Persons of any age can do this type of yoga.
Questions? Message on Facebook, or call 0448 11 22 51
If you have questions, or for any reason you cannot buy your Beginner's Pass online, you can call Chris on Mobile 0448 112 251 You can call 7 days a week, 7am – 9pm; if Chris is unavailable, leave a message or text her, and she will call you back promptly.
Flametree also responds quickly to messages sent via it's Facebook Page.
This is some of the best value and highest quality yoga in Darwin.
Please act now. Buy a Beginner Pass, & put it in your diary.
Please put in View Our  Beginner Yoga Deals
What people are saying about yoga or Flametree Yoga Studio
"The practice of yoga over the last 15 years have convinced me that most of our fundamental attitudes to life have their physical counterparts in the body….Tenacity is gained by stretching in various yoga positions for minutes at a time, while calmness comes with quiet, consistent breathing and the expansion of the lungs."
Yehudi Menuhin
…We are so lucky to have this school here in Darwin.
Harry (Flametree Facebook Page)
That zoom session was fantastic! Thank you When can we do it again?
Gina, Facebook
This is awesome! Thanks for sharing your practice around the globe.
Jason, USA, Facebook
I am currently doing the beginners course and I actually feel like it is having a really positive affect on my health and flexibility. I can only do weekends and I truly look forward to it….I really notice when something makes a positive difference. Big thumbs up!
Kayte, Facebook
What a blessing. We finally have back our teachers back. (Comment from lockdown in Italy).
Enrico, Facebook
"I have been practising IYENGAR for over four years. As a mature person, and a latecomer to yoga, I have found the practice invaluable to me on all physical, mental and philosophical levels. It is suited to all ages and its success is due to the mindful guidance and the integrity of the institution's trained teachers."
Pamela Jackson
Better than 10 physio sessions. Highly recommended.
Nathalie (Flametree Facebook Page)
Wow Chris, I didn't realise you could see us so clearly. Thanks for a great restorative class today.
Julia, Facebook
The classes are brilliant and bring the joy (and discipline!) of yoga into your home. I'm so thankful for the opportunity to continue classes this way.
Deirdre, Facebook
Thanks so much. Excited to join you all from Alice Springs. Xx
Julia, Facebook.
As a veteran I would like to say I absolutely loved my first beginner class. I look forward to many more 🙂
Lisa, Facebook.
"Within the quietness that results from a focused mind is revealed the inner quality of human consciousness that is normally hidden.
[It]… has many characteristics. They include peace, joy, compassion, discrimination, energy, ease and detachment. When they begin to flower in the mind of a practitioner, they result in a life that becomes more harmonious, joyful and generous."
Godfrey Devereux
Love this place. The best yoga studio in the NT
Rachel (Flametree Facebook Page)
I'm so grateful. Belinda's class this morning was brilliant – my first headstand at home! thank you Chris and team.
Sam, Facebook
Thanks for tonight's session Chris. ISO YOGA practice is one of our best strategies to combat all the uncertainty in our lives at the moment. It is great to share some time with others even if only by technology.
Greg, Facebook
That was a fabulous session this morning (and last night) – you and your team are doing a great job in these tough times. The instructions were very clear and it seemed very personal and connected with fellow yogis on line.
Miriam, Facebook
*Payment by instalments is only available online via this page.
It cannot be reserved at the studio in cash or any other way.
Non Beginner passes may not be used by those in the Beginner Course.
The Money Back Guarantee is  only for 2 weeks after course commencement.
Classes sell out. Please buy a pass now to get the class times that suit you best.