Yoga Palmerston NT Deals For In-Studio Or Online Yoga Classes
Packages to do yoga at home in Palmerston, & at Flametree's Woolner & CBD studios
Looking for Palmerston yoga NT deals? Here are the top options for yoga classes Palmerston NT. Plus 2 weeks free beginner trial for yoga Palmerston NT beginners. The deals also get you the widest range of options for yoga classes Palmerston.
Students can do a mix of formats:
In-Studio,
LIVE Online, with on the spot guidance, and / or
On-Demand playback classes by yoga video.
There are very low-cost packages that make it easy for yoga students to do classes:
The video says more about how to combine these formats. The video also runs through how to get started, and shows some of the introductory poses you'll learn. You'll get specially created beginner classes that all can do.
Benefits of Flametree Yoga & it's top deals
Some advantages of Flametree's yoga deals are:
Access to the largest beginner or non-beginner yoga timetables in the Northern Territory, including many beginner classes.
A much wider range of special focus classes such as women's health, back care, meditation, gentle yoga, chair yoga, & yoga for seniors (Slow or 50+), easy restorative (for weight management & more)
Free 2 weeks including a money back guarantee.
Easy to reach in Woolner… in between the Tiger Brennan and Stuart Highway (turn off at Benison St exit from Tiger Brennan)
Darwin CBD yoga studio too (at corner of Smith St & Esplanade)
An Ultimate Beginner package with an unlimited mix of in-studio, online or on-demand beginner classes, with a free 2 week trial.
FIFO & other deals for those working remotely around northern Australia. (Ask Customer Service for details).
Very high-quality teaching that will ensure you get the benefits yoga offers
Try the local yoga studio with the reputation for being the best. Try its top deals for getting started or re-started with yoga. Then make up your own mind.
What Palmerston Yoga students can get from yoga
Studies show some of the major benefits of yoga, are:
Getting fit, flexible and toned
Reducing anxiety and stress
Helping issues like backs, blood pressure, arthritis, asthma, heart, & menopause
Mental well-being
Feeling happier
Improving relationships
Getting more "me" time
Feeling less lonely
Unplugging from tech.
You don't need to be flexible to start yoga! Our easy, introductory classes are suitable for all ages and fitness levels.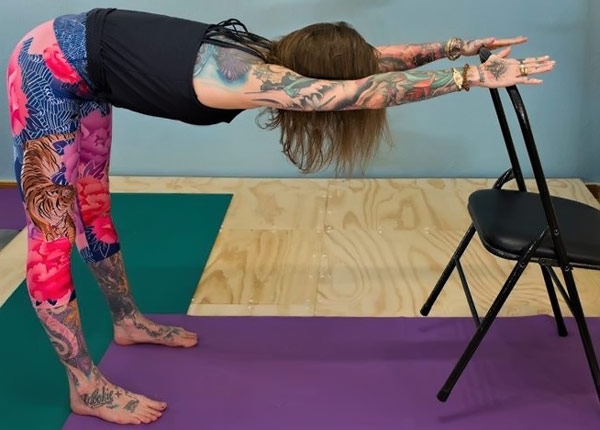 Get a mix of standard and Special Focus Beginner classes
Many beginner classes run each week. Some are just standard, easy beginner postures. Other classes have a Special Focus. Each week, you can choose an unlimited mix of these classes.
Every so often, these beginner classes include a tiered and sequential beginner course over 6 weeks.
However, you'll also find it easy to start in any week, no matter where the beginner course is at.
Every class is adjusted by the teacher to be appropriate for whoever is in that particular class.
6 Week Beginner Yoga Course for Yoga Palmerston students
OPTION ONE to get started is the 6-week beginner course (including 2 FREE weeks). Courses start regularly. It's a package deal of unlimited beginner classes for $75. The classes can be done in the studio, or online, or both. Get the beginner course by clicking the box below.
Weekly Beginner Level Subscription
OPTION TWO to start beginner yoga is to get a weekly beginner level subscription or ten class pass. The in-studio, online, or playback streaming video options are also in the Table below. Each weekly subscription option includes 2 weeks of free classes. You can start as soon as you have bought a pass. Here is the most popular beginner option including 2 weeks free.
In-Studio (Offline), Online & Playback Packages By Weekly Subscription
Casual Beginner Yoga Pass
OPTION 3 to start beginner yoga is to buy a casual pass to come to one class.
Money back guarantee for first paid week of packages
There's a money back guarantee you can use during the first paid week of the 6-week beginner course package, or the weekly subscription packages. The one week guarantee starts AFTER the 2 free weeks.
How to reserve classes, and location of Darwin Yoga Studio classes
Once you have bought a pass, the beginner classes can be reserved as you go. You can reserve classes for up to one week in advance.
To reserve almost all beginner classes, whether in-studio or online, go here.
The timetable below shows that most In-Studio beginner classes are at 19 Bishop St., Woolner, in Darwin, Australia.
In the timetable below, the In-Studio classes marked with a blue bar are at 2 Smith St., Darwin City.
Using Zoom for online yoga classes, and where to reserve them
All online classes are via Zoom. You'll need to download this app on your phone, iPad or PC, and open a free account.
As you can see from the timetable below, most online classes are in so-called Room 2, which is marked on the timetable as ON.2. Again, to see a list of these online Room 2 classes, and reserve them, go here.
If it is an online class, the login via the Zoom app will be sent you as soon as you reserve the class. The easiest option is just to click on the Zoom link you will be sent by email.
If you need any help with the easy online set up, our Customer Service Team can talk you through it. There contacts are at the bottom of the page.
Beginner class times in your time zone
See the beginner timetable, in our local Darwin, Australia time zone, as well as in your own local time zone.
There's also information in the timetable on the physical and online location of each class.
Help with reservations, payments, information or any other customer service
Summary of the benefits of yoga for Yoga Palmerston NT
What people are saying about Flametree Yoga Studio
"…Thank you for all you have done to keep yoga accessible, it has been so beneficial, and also lots of fun "
Tania, Facebook
"My first online class last night from my lounge in Brisbane, fantastic! Thanks Flametree"
Bridget, Facebook
"The Zoom sessions are going really well. I'm so grateful for having them"
Gina, Facebook
"… can't wait to start back at the studio and of cause those all so important after class catch ups over coffee"
Michelle, Facebook
"This is awesome! Thanks for sharing your practice around the globe."
Jason, Facebook
"Yoga is an important contributor to my bike riding habits and increasingly an important part of my other-life too."
Colin
"Great [backcare] class tonight Chris and such a gift to be able to start yoga again online after a couple of years of not being able to juggle classes with family routine! "
Janet, Facebook
"I'm so grateful. Belinda's class this morning was brilliant – my first headstand at home! thank you Chris and team. "
Sam, Facebook
"…Chris…. you are a truly inspirational women in my life."
Angie, Facebook
"Loving the classes. All of them. The quality of teaching is of course fabulous, but the range of options, the convenience and flexibility that allows is wonderful"
Penny, Facebook
"I like the friendly teachers and the feeling that you are not trying to compete with everybody else in the class"
John, Facebook
"The classes are brilliant and bring the joy (and discipline!) of yoga into your home. I'm so thankful for the opportunity to continue classes this way."
Deirdre, Facebook