Eyal Shifroni's First Ever Yoga Workshop In Australia
Senior Iyengar Yoga Teacher, Innovative Trainer, And Highly Acclaimed Author
At Flametree Yoga Studio, Darwin.
March 9th & 10th 2019
Eyal has accepted our invitation to teach a workshop with chairs and other props in Darwin. It will be his first visit to Australia.
Eyal is the author of some of the most inspiring and inventive books on yoga. Eyal was trained directly by Mr BKS Iyengar …in many workshops over many years, in India. Eyal is very inventive in his use of props and adapts the poses so everyone can benefit from practising them. He regularly runs renowned workshops around the world.
Everyone appreciates Eyal's training, regardless of their level of experience.
You can expect a mix of posture types (forward bends, backbends, inversions, and twists),including restorative poses.
Eyal will be assisted by Chris Lalor, Flametree's own highly regarded Senior Yoga Teacher.
The venue is the modern, and fully air conditioned Arafura Room at The Novotel Complex within walking distance of Darwin Airport . There's a generous discount to the workshop fee for anyone flying from remote areas or interstate.
This workshop will be even more popular than Mark Gibson's recent workshop, which sold out quickly, so please book now.
Suitable for those who are in Transition to Intermediate, and above.
In some of the pictures you'll see about the Workshop, we are demonstrating what a superb yoga practitioner Eyal is. However, the Darwin workshop will definitely be able to be done by all in Transitional and above.
Everyone will get much from the Workshop, in terms of practice tips, mental approach, and inspiration. You'll witness a yoga master at work, and at work with you.
Why Shifroni is a major international yoga teacher
Eyal Shifroni is a senior Iyengar Yoga teacher who has been practicing since 1978 and teaching Iyengar Yoga since 1985.
He directs his own Iyengar yoga studio in Israel, and conducts Yoga workshops there and around the world.
Eyal has written many articles about the practice and the philosophy of Yoga, and translated two of B.K.S. Iyengar's books to Hebrew (The Tree of Yoga & Light on Pranayama).
He is also the author of the the outstanding books A Chair for Yoga and three volumes of the series Props for Yoga. These acclaimed books highlight the creative use of props in Iyengar yoga.
His newest book offers a unique approach – both theoretical and practical – to the integration of mind and body. It is co-authored by Ohad Nachtomy, Head of the Philosophy Department at Bar Ilan University. Inner and outer peace will be one theme of the workshop.
More about Eyal and some of his approaches, is below.
Workshop Dates In Darwin
Saturday 9 March 2019
Sunday 10 March 2019
Monday 11 March 2019
Teachers Workshop theme: inversions and pranayama
Prices
Full workshop (Sat/Sun): $249
10% discounts (only on full workshop) for Flametree direct debits, and travellers from Interstate, Nhulunbuy and Alice Springs.
Easy instalments available so you can definitely afford to book right now.
Single day: $129
Morning session: $79
Afternoon session: $59
Teacher professional development (Mon): $95
More will be on our Facebook Page soon about accommodation options in Darwin, or get in touch with us for more information.
If you are still unsure, read more below from Eyal Shifoni himself. It is a sample of the unique and powerful insights and approaches he will bring to the workshop. Hurry so you don't miss this once only opportunity.
Enquiries
Brought to you by Darwin's Flametree Yoga Studio, in Woolner, Palmerston, and CBD Darwin.
Text or phone, 0448 11 22 51
Email: [email protected]
Message on Facebook.
What others have said this about Eyal's workshops and books
A wonderful workshop with an amazing teacher! Hoping Eyal will be back again soon.
Aisling, Dublin
… really enjoyed the weekend and Eyal's teaching so genuine and mindful.
Celine, Dublin
I wanted to thank you for the workshop as it was so wonderful. I really loved the 3 aspects of talking, asanas and pranayama. Your sequencing was so incredible as my body worked well. …I have tried many types of yoga but this practice has allowed me to look in depth at the poses and to really observe my own body and mind.
Adrienne, Canada
Thanks a lot for your books! They are precious!
Maria
I use a chair for yoga and props for yoga all the time… my favourite books… can't wait for the next one to come out.
Box Hill studio owner
Summary of key benefits you get with this workshop
Two days of morning and afternoon classes
The most inventive and powerful ways to use props for a large number of postures
Easy instalments, including two day, one day, or half day packages
The opportunity to move more quickly in your yoga via tips you'll get
Restorative poses as appropriate so you can attend throughout
Creative ways to assist you so that you can go further than before
Access to one of the most prolific and acclaimed Iyengar yoga authors
Insightful reflections by a highly intelligent master of Iyengar yoga
The inspiration of seeing an excellent practitioner demonstrate poses
Developing more friendships in our yoga community, including with Interstate visitors.
Don't miss out. Check out the low cost options, and book now.
Eyal Shifoni on his own yoga journey
In 1982 I started to study Iyengar Yoga in Jerusalem with Dina Boger, the first Iyengar yoga teacher in Israel.
Right away I realized the depth of this method and was impressed by the technical precision and intricacy.
I started studying with Dina and in 1988 I went for the first time to study at RIMYI – the Institute of the Iyengars in Pune.
At that time, I studied directly under Guruji, B.K.S. Iyengar. I also studied also with Guruji's son, Prashant and his daughter Geeta. Step by step I came to appreciate the depth of Iyengar yoga and understand the genius of Mr BKS Iyengar.
Iyengar yoga practice has changed my life for the good, at all levels: physical, mental, intellectual and spiritual.
I went to RIMYI in Pune more than a dozen times and participated in many workshops with international teachers like Faeq Biria, Birjoo Mehta, Jawahar Bangera and many others.
Take this unique opportunity to inspire, improve and inform yourself with a workshop by a world class yoga practitioner.
Eyal on body and mind in yoga
Yoga is a practice in which we use the body as a tool to work on our mind.
It is not physical, but it aims at cultivating our mind and psyche to enable a transformation in our perception of reality.
I feel that Mr Iyengar has found a path in which you can walk your entire life and adjust it according to your age, needs and conditions. Any path of realisation is not simple or trivial.
It requires tapas (persistent effort and dedication), but the rewards are enormous.
For me the daily practice is never too demanding. On the contrary, it's a great joy, it's the best part of the day. It gives me energy and strength to tackle the difficulties and challenges of life.
In asana practice we tackle the stiffness, hardness and resistance of the body, but this is just another object for observation, such as how do I react to that resistance? Do I respect the needs of my body or does my ambition to achieve, prove and excel drive me to scarify my health and wellbeing?
The mind is harder to tame than the body. The mind is more stiff and stubborn, and it's also unstable and whimsy.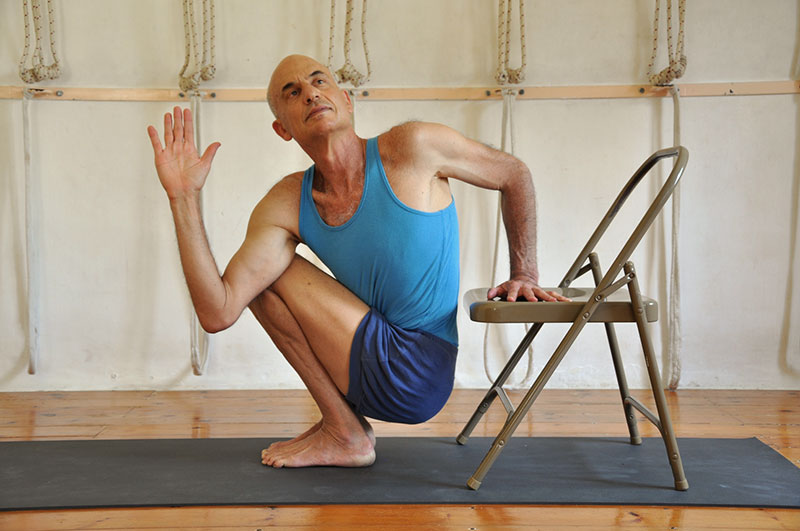 Eyal on conquering the pain of any physical exercise, including yoga
When pain appears in a pose we tend to panic and want to get out of the pose.
Instead, yoga invites us to stay and observe further into what we sense.
There are many kinds of feelings and sensations that are defined as pain: there is the 'good pain' that emerges from a healthy stretch of the muscles; there is pressure related discomfort stemming from a stay in an unfamiliar pose; there is a "stabbing" sensation, a sharp pain and a dull pain.
There is a kind of pain that disappears as soon as you come out of the pose and a pain that stays for days after practice.
There is also the kind of pain that you don't feel while in the pose, but arrives once you emerge out of the pose.
Instead of running away from the pain, we have the opportunity to look into its essence and discern exactly what is it that we feel.
Yoga is a practice intended to develop equanimity, that is, the ability to maintain internal mental homeostasis in the face of external turmoil.
Therefore, staying with the discomfort is an important practice of yoga.
Eyal on developing tolerance, resilience, patience, and non-violence
What happens to us when we feel discomfort in a pose? What is our reaction? What if, contrary to our inclination, we could remain with the inconvenience, keep breathing and observe it?
These are important questions because in life we often encounter discomfort, difficulty, and pain, and these are not always removable. The question is, can we maintain our inner peace and stability and act correctly and wisely in such situations?
This is the practice of developing tolerance and resilience.
Practice related injuries could result from two reasons: lack of sensitivity and ambition.
Perhaps we want to practice a certain pose, but our desire to be in the pose is in our head while our body is not yet ready, in which case we must show care and consideration for our body, listen to its real ability and not force it to do what the mind whims.
This is the practice of ahimsa (non-violence), which is one of the central principles of yoga.
As a result, it is very important to diagnose the type of pain.
One of the important criteria is whether the pain persists when coming out of the pose. Such a pain is usually not a good pain; it is a pain that may cause harm.
However, if the pain disappears immediately after emerging out of the pose, it is usually harmless.
When the pain is not of the 'good' kind, it might be indicative of an unbalanced or wrong pose.
There is also a pain which appears only after practice, sometimes not until the next day, or several days later. During the practice we did not feel any problem, but still, we hurt something. Such a pain is indicative of a lack of sensitivity.
Pain can be our spiritual teacher which inspires us to learn. The conquest of pain, therefore, requires patience, accurate observation, tolerance and discretion. All these qualities are very important.
A true practice of yoga is one in which we do not injure ourselves, and yet, do not run away from pain (of the right types).
Don't miss an outstanding yoga workshop on innovative yoga postures, and powerful mental insights, in Australia for the first time ever.