WHEREFIT: HALF Price Yoga Fitness, Or Meditation.
WHEREFIT Darwin | WHEREFIT Fitness Partner | Corporate Programs WHEREFIT Style | Plus Online.
Exclusive HALF Price 10 Pack Deal, & 20% Off Subscriptions.
Online, Videos, And / Or In 3 Darwin NT Studios.
Just SCROLL down to the very low cost deals. Then, use your Flametree WHEREFIT coupon code as you checkout.
WHEREFIT Darwin & Online
Want WHEREFIT Darwin? Or a WHEREFIT Fitness Partner? Then check out some of the best Corporate Programs WHEREFIT has. Plus, use our yoga fitness online for WHEREFIT Brisbane, WHEREFIT Adelaide, WHEREFIT Perth, or wherever.
Why do yoga fitness?
Get fit, flexible, strong & happy. Cut anxiety, sleep issues, & health challenges.
In addition, yoga works evenly on all parts of your body, & nervous system.
So, you get long, lean, attractive muscles, plus stamina & resilience.
Furthermore, doctors also often recommend new students to us, because yoga helps in new & extra ways.
For instance, yoga helps anxiety, pelvic health, trauma, gut, fatigue, backs, hips, knees, shoulders, & more.
It's especially powerful if you have an unspeakable problem.
Plus, transform both mind and body in a way that only yogic practices will deliver.
So, light your fire with yoga fitness.
Specialist, high quality yoga & meditation deals
Get HALF price 10 class packs.
For instance, online classes cost just $3.95 each. Or, you get studio classes at $4.95 each.
Exclusively for WHEREFIT members, this HALF introductory price deal can be used TWICE.
Choose flexible packages for online, or in-studio, or video, or mixes of all.
Plus, for 6 months, you get 20% OFF pay-by-the-week subscriptions, if you've already bought a package like a 10 class pack.
There are no joining fees, and all equipment and mats are free at the studios.
Plus, Yoga For Backs, & Gentle Yoga
Yoga classes include hatha yoga, flow yoga, Iyengar yoga, & more.
Class options include Yoga For Back, Neck, & Shoulders.
In addition, class options like Gentle Yoga, Immune System Yoga, Fifty Plus, & more.
Best of all, yoga class sequences & options designed and run by our Yoga Therapist, with over 12,000 hours of training.
WHEREFIT Yoga Fitness Online & 3 Darwin NT studios
Packages can be used online, & in 3 studios in Darwin NT. (Woolner, Palmerston, & Casuarina. See addresses & maps).
To join online classes, reserve a class to get a ZOOM link.
WHEREFIT Beginner & Non-Beginner. So, it works for everyone
Non-Beginner packages give you an even larger timetable, & 3 higher levels of yoga fitness classes.
As well, the non-beginner passes can also be used for meditation classes.
In short, a popular option is to start with one or more 10 pass packages.
Then, move to a 20% OFF pay-by-the-week subscription.
HALF price on all Beginner and Non-Beginner 10 class packs, TWICE over.
So, keep your coupon code. Then, use it for 2 ten pass packs. Or, buy 2 now.
For more, click any package for details. To buy, use your discount code at the check out page.
WHEREFIT: 20% OFF BEGINNER pay-by-the-week SUBSCRIPTIONS for 6 months.
Start with at least one of the 10 packs, & if you wish, continue with a subscription.
Subscriptions can be paused or cancelled at any time.
In addition, all subscriptions start with 2 FREE WEEKS.
So, get started by using your Flametree WHEREFIT weekly code as you check out.
Moreover, after 6 months, it will continue at the still low, regular price.
To sum up, subscriptions are the lowest cost option on a price per class basis.
Choose a package. Then, at checkout, use your WHEREFIT discount code.
If you want WHEREFIT Darwin, or a WHEREFIT Fitness Partner, then check out some of the best Corporate Programs WHEREFIT has.
Plus, use our yoga fitness online for WHEREFIT Brisbane, WHEREFIT Adelaide, WHEREFIT Perth, or wherever.
Yoga Video Courses Or Classes.
Yoga videos give you maximum flexibility with your schedule. So, you get high quality yoga at a time that exactly suits you. Plus, yoga at many levels, and on many topics. If you're looking for WHEREFIT Brisbane, or anywhere, then also consider Flametree's video or other online classes.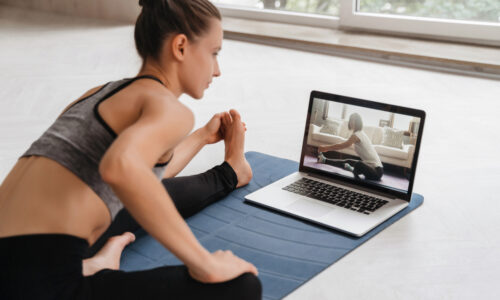 Convenient, high quality, online yoga, or by video, or in 3 Darwin studios. Start now. Then, come on the next Flametree Yoga Retreat. If you want WHEREFIT Darwin, or a WHEREFIT Fitness Partner, then check out some of the best Corporate Programs WHEREFIT has. Plus, use our yoga fitness online for WHEREFIT Brisbane, WHEREFIT Adelaide, WHEREFIT Perth, or wherever.
​More about Flametree Fitness Studio
Flametree is now one of North Australia's better known wellbeing brands. Our classes, and blog posts, employ and teach best practices to modern fitness.
Via partners like WHEREFIT, Flametree offers a unique range of wellbeing employee benefits at exclusive rates and price ranges.
In addition, employee wellbeing for working Australians has been a focus of Flametree for over 20 years.
Now, as a trusted wellbeing partner of WHEREFIT, via offering exclusive corporate benefits, Flametree is able to bring the benefit of an active lifestyle to a range of organisations. They include Australia Post, Reserve Bank of Australia, and many more.
Further, in the Darwin local region, our range of studios means that you can access the WHEREFIT Darwin unique offers, and exclusive offers, in a new area, as well as online.
As well as all that, Flametree's approach to offering different fitness types means that you also get additional wellbeing benefits, such as weight loss.
For more detail, contact us via the CHAT button this page, or the contact details, phone numbers, or email address, at the bottom of this page.
The physical address of our studios are also on the timetable pages at the links above.
The video shows a tiny sample of some yoga poses taught at Flametree Yoga Studio.
WHEREFIT exclusive corporate rates
Flametree is delighted to work as one of WHEREFIT's corporate partners.
As one of WHEREFIT's wellbeing partners in Darwin, and online, it is a great way to give employees access to our yoga fitness studios.
Credit cards can be used online, and at our Woolner studio.
Even while you may be thinking about your way forward, do a first FREE class, as well as access our wellbeing newsletters.
Of course, Flametree is open on all business days, and weekends.
Via the WHEREFIT fitness partner program, try a top WHEREFIT Darwin partner today.
Or, if you're looking for WHEREFIT Brisbane, or WHEREFIT Adelaide, or WHEREFIT Perth, or any other location, then try check out the very cost online and video deals listed above.
Then, you'll get the the benefit of one of the best corporate programs WHEREFIT has.
Achieve your fitness goals
As we've outlined above, personal fitness is just one of the range of benefits you get via our studios, or online fitness courses.
Furthermore, our fitness programs let you maximise the gifts that natural selection, via Darwinian evolution, have given you.
Among other things, given the many issues around using computers for long hours, yoga is especially effective as a posture corrector.
​In addition, Flametree's extensive blog posts, and teacher advice, ranges from the practical use of our extensive fitness equipment, through to our approach to healthy meals.
On our site, you'll also be inspired by the true story of many yoga fitness students.
In Flametree's over 20 year history in Darwin, and long term commitment to our students, Flametree has for a long time, been an important part of the local environment of wellness.
At every class, your yoga teacher will give you all that you may be used to getting from a personal trainer or gym instructor, plus a whole raft of new benefits.
So, get started at Flametree's 3 locations in the Northern Territory, or online.
Try Flametree's WHEREFIT partnership, with exclusive corporate discounts, today.